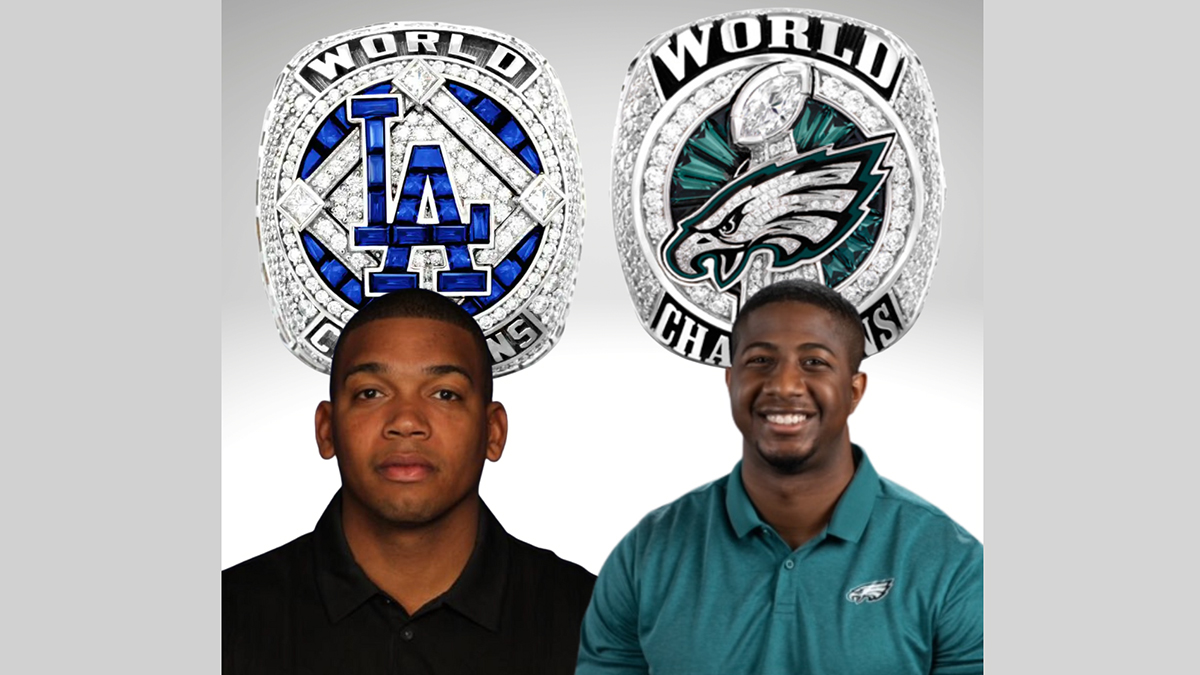 If you were to ask Sport Management majors what their dream job would be, most would say working for a professional sports team. Darien Moore '18 and Jesus Lantigua '16 are two alums living this dream and even have championship rings to prove it.
Moore works for the Philadelphia Eagles and has a 2018 Super Bowl championship ring. The story of how he got a job with the franchise and received the ring could be a movie script. It's a tale of good fortune and perseverance.
Moore stumbled into a part-time job with the Eagles while playing basketball in his hometown of Southwest Philadelphia. One of the other players in his regular pick-up game was the business agent for the carpenters' union. He asked Moore if he wanted to work at the Lincoln Financial Field for the Eagles. Moore took a part-time job as a carpenter apprentice for the team when he was 16 years old.
He continued this job throughout high school and college. When Moore came to Neumann University, he considered athletic training but ended up majoring in Sport Management. He needed an internship, and the obvious match was with his employer, the Philadelphia Eagles.
Moore's internship was during the most spectacular year in recent franchise history, 2017-2018. In March of 2018, after the team had won Super Bowl LII, Moore's vice president called him into his office. At the same time, full-time employees were being sized for Super Bowl rings.
Moore received what he calls a "double whammy" from his vice president. He was told that he was being sized for a ring, too, because he was being offered a full-time job with the team.
"I definitely get emotional talking about it because the ring means so much to me. It was just an awesome, awesome experience. I'll never forget June 14, the day I got my ring," Moore recalled. "I remember every single detail."
During the ring ceremony, Moore was with his coworkers and team players. They found boxes under their seats during the ceremony, and they all opened the boxes at the same time.
"We opened the box, and confetti drops in from the ceiling. This is a moment that always sticks to me and gives me chills just thinking about it," he said. "I grew up in Philadelphia my whole life. I've watched the Eagles my entire life. I bleed green."
Today Moore is the conversion coordinator for the Eagles and works in the stadium operations department. In addition to his regular weekday schedule, he works every home game and concert/event at the Linc. "We do behind-the-scenes work. I like to tell people that we're like the offensive line of the organization."
Like Moore, Lantigua also has a championship ring from the Los Angeles Dodgers' 2020 World Series win. His journey to the ring involves taking a leap of faith during the pandemic.
As a standout baseball player for Neumann, Lantigua majored in Sport Management. Growing up in the Dominican Republic, baseball became a way of life for him.
His dream of a professional baseball career never materialized, but after an internship with the Pittsburgh Pirates, Lantigua landed a job with the organization after graduation. The team hired him as a baseball operations assistant.
In November 2019, the Dodgers asked the Pirates for permission to interview Lantigua for a scouting position. Lantigua loved working for the Pirates and had no intention of leaving for another team. However, he was advised by his boss to have the interview and consider an offer if he were to receive one.
The job offer from the Dodgers came quickly, and Lantigua accepted. He left for the Dominican Republic once again with the plan of joining the team at the spring training in Arizona. The date was March 2020, and things began to unravel quickly due to COVID.
Lantigua never made it to training camp or to any Dodgers games, for that matter. The team continued to train and play, but COVID restrictions made it impossible for him to join them. He continued to work for the organization from his home base in New York City and the Dominican Republic.
He watched the Dodgers win the World Series from the Dominican Republic. There was no ring ceremony for Lantigua. He received his championship ring through the mail. The ring represents so much to him and reminds him always to be grateful for opportunities.
"God gave me this opportunity to work in baseball. That's my passion, and that's why I never take it for granted," he said.
After a change in leadership at the Pirates, Lantigua was given an offer to return to the team that gave him his first shot at a career in professional baseball. He is now the international cross-checker for south and central America, which means he provides a second opinion on first-level scouting reports for that area.