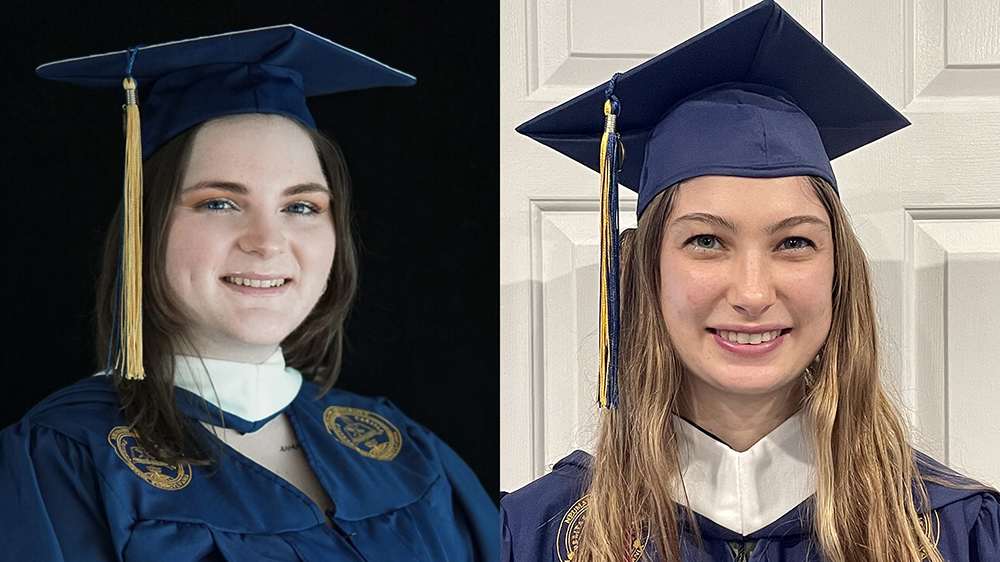 Education majors Adrianna Butterline and Kaci Spicer will be graduating from Neumann University this Saturday with plans to continue their education through service-related opportunities. These opportunities came through agreements that NU has forged with educational partners.
Butterline, who grew up in the Bridesburg section of Philadelphia, will be getting her master's in Education through the Alliance for Catholic Education at St. Joe's University (ACESJU). This two-year service program gives recent college graduates the opportunity to teach in under-served Catholic schools in the Archdiocese of Philadelphia and/or the Diocese of Camden while pursuing their master's at St. Joe's, Villanova, or Neumann University.
Butterline has been assigned to St. Georges Elementary School in Port Richmond, where she will be teaching first grade. Concurrently, she will be completing the reading specialist master's program at St. Joe's.
"I think children in these schools are being underserved, and that is what this program is all about, providing more services to them. I'm excited to see what I can bring to the kids and to the school," Butterline said.
During this two-year placement, Butterline will be living in a former convent with 12 other teachers who are also in the ACESJU program. Along with free tuition for the master's program, she also receives a stipend for teaching. The program begins on June 25. Participants will complete an orientation, service projects, community-building exercises, and attend a retreat prior to stepping into the classroom at the end of the summer.
Spicer, who came to Neumann University as a nursing major, had never considered a career in education. Growing up in Essington, Pennsylvania, she was the oldest sibling and often found herself babysitting and helping her father coach her sister's softball team. Her goal was to go away to college, explore the world, and grow as a person.
Fate has a way of altering plans, and Spicer witnessed that phenomenon first-hand. She changed her major to Education and has thoroughly enjoyed her student teaching placement at Indian Lane Elementary. Her next stop is Drexel Neumann Academy (DNA) in Chester, Pennsylvania.
"I always wanted to explore the world and get out of my comfort zone a little bit. To do that, I thought I would have to go away or do a year of service. I looked into programs, and one of them was the St. Joe's program. I actually interviewed with DNA through the St. Joe's program," she explained.
Since her main goal was to go away, Spicer decided not to pursue the ACESJU program and was about to head to a similar program in Providence, Rhode Island. Family circumstances changed, and she began to question her plans to leave the area. While she was working through various scenarios in her head, DNA reached out about their program.
DNA offers Neumann graduates teaching positions with the opportunity to obtain their master's degree at NU for free.
"I thought this was a sign," she said of the DNA call. "I went to DNA and told them of my situation and the chance to go to Rhode Island. They were supportive and told me that I had to do what was best for me, and that spoke volumes to me. That was exactly the kind of supportive atmosphere that I wanted."
DNA seemed like a family environment to Spicer that would support her as she began her teaching career and took on grad school. She was sold on the program and will begin teaching at the school this fall. In addition, she will begin working towards her master's in Education at Neumann University.
Both Butterline and Spicer had positive experiences at NU, specifically with Neumann's Campus Ministry. Their experiences with this ministry shaped them and led them to these service-oriented programs.
"Neumann has helped shape the person that I am, especially Campus Ministry. It built my confidence and showed me that I could be a leader, and it was a supportive atmosphere for me," Spicer said.
Butterline echoed Spicer's sentiments. She joined Campus Ministry before she even started her classes at Neumann.
"The way Patrick (McKenzie) described Campus Ministry made it sound like it was its own little family inside of Neumann. Coming in as a freshman, you always want to find your place. I went on the Freshman retreat before my first year officially started, and I really loved it. I loved the people that I met there and stuck with it. Now I'm a graduating senior going into a service program, so it worked out," Butterline said.