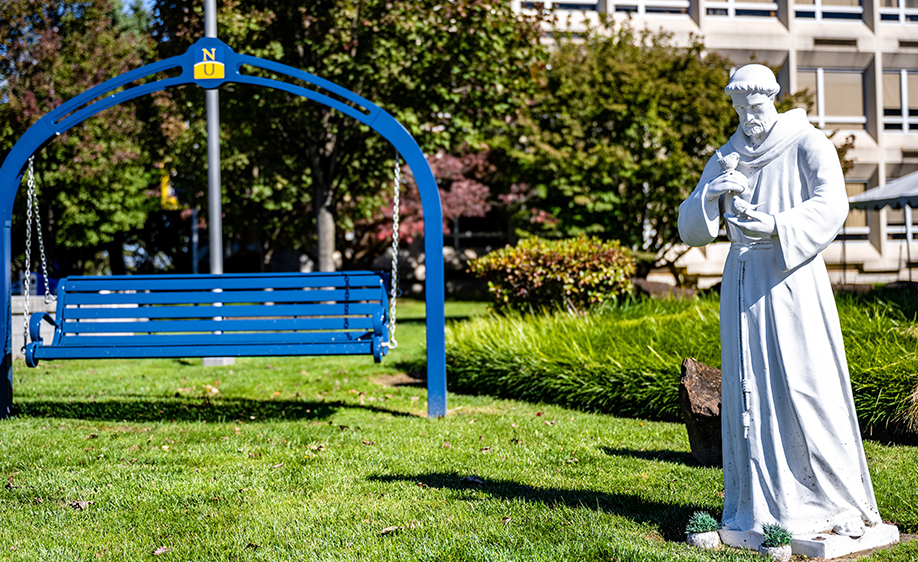 Neumann has instituted a two-pronged program to support diversity and equity on campus and to enhance social mobility opportunities for all students who face barriers to success.
The University Council on Diversity, Equity and Inclusion was formed in late 2019 and began meeting in the spring of 2020. Chaired by Dr. Michelle Santana in consultation with Dr. Chris Domes, the group focused on the current campus environment and began holding conversations and surveying the campus community last summer and fall.
Based on recommendations from its early work, the council created working groups to address five topics: listening sessions and measuring campus climate; dialogue and engagement through programs and speakers; professional development, training and bias reporting; communication, video testimonials and a diversity webpage; and leadership development.
Team members are:
Campus climate – Etsuko Hoshino-Browne, Sr, Marguerite O'Beirne, Marisa Rauscher, Michelle Santana, and Mike Webster
Programs and speakers – Joe Glass, Sam Lemon, Bettsy McKlaine, Je'Nai Righter, Carrie Snyder, and Fr. Stephen Thorne
Professional development – Scott Biely, David Brownlee, Sr. Pat Hutchison, Lauren Sciocchetti, and Preeti Singh
Communication – Kushan Gampalawaduge, Nathan Hardy, Timothy Hollenback, Tiffany McGregor, Francesca Reed
Leadership development – Dr. Chris Domes
According to Dr. Domes, results of the council's work will start to appear this spring: a webpage about the university's diversity plan, a bias-reporting process, and a list of diversity experts and speakers. In the fall of this year, expect broader surveys and a calendar of activities, including an extensive slate of listening sessions.
"We live in a society that has been dealing with this issue for 400 years," Dr. Domes explains. "We're not perfect and we have to build a framework that helps us venture down the road of inclusion and equity. We have to be cognizant of that because it's reflective of who we are as a Catholic Franciscan university."
At the same time as the Diversity Council was assessing the on-campus environment, several Black alumni began contacting Dr. Domes with ideas about how to help students make successful transitions to professional careers. The alumni were particularly interested in assisting students of color, first-generation students, and those with challenging socio-economic backgrounds.
As a result of these conversations and with support from then-Board Chair Ann Baiada and Vice Chair Tony Latini, Dr. Domes formed the President's Advisory Council on Diversity and Inclusion (PAC) to see how an objective, external group might help to advance Neumann's commitment to diversity and equity. He charged the group to "help build students' capacity for professional development and career success." The PAC responded by recommending mentoring programs, summer internship opportunities, and networking partnerships.
Comprised of eight Black alumni, the PAC has begun work to identify internships at Vanguard, Bank of America, and Capitol Hill. Among others, members include Ethelind Baylor '14, a health education and training specialist with the City of Philadelphia; Carolyn Clayton '05, a senior learning consultant with Vanguard; Welyne Jargbah '17, an associate at JPMorgan Chase & Co.; Alloyius McIlwaine '04, CEO/Founder of Cultures Clothing and international mural artist; and Stephen Williams '09, professional staff member of the Homeland Security Committee, U.S. House of Representatives.
"There will be separate business plans for mentoring, internships and networking," says Dr. Domes. "These initiatives are part of Neumann's strategic plan and will impact student retention, graduation rates, and professional preparation."
Dr. Domes believes that a new university position may be required to manage and coordinate the PAC programs, especially with regard to developing networking opportunities with organizations like the Urban League, the NAACP, Rotary, and Kiwanis. Funding for this role will be integrated into the next capital campaign, currently in the planning stage.
The Diversity Council is focused on taking positive steps within the university community while the PAC explores initiatives with external businesses, organizations, and government entities. Both groups are meeting monthly. The PAC will collaborate with staff and faculty to ensure alignment with existing programs and resources.
"Members of these groups, both internal and external, have raised their hands (instead of wringing them) and said they want to help and offer solutions," Dr. Domes notes. "Now we have to build the institutional culture, ethos and muscle to do this on our own. Let's talk about race, LGBTQ issues, social justice, and religious diversity."