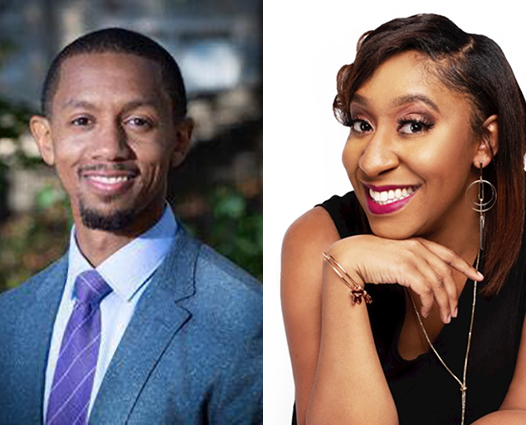 Networking and making connections have long been an integral part of the job search process. And, it warms our Franciscan hearts when two Neumann University alumni help each other in the professional arena.
A perfect example is the connection between Leon Dales III '07 and Chrisheena Boyd '10, who are the new head coach and general manager (respectively) of the American Basketball Association's Delco Desperados.
The ABA is not a new professional basketball organization. The league's inaugural game was played in 1967. Through the years, the league included teams such as the Indiana Pacers, Denver Rockets, and the Houston Mavericks. It also had some very notable players including the legendary Julius "Dr. J" Erving. While today's ABA has no relation to the league of the past, the mission to provide a high level of play in a family-friend atmosphere has remained unchanged.
Today's ABA is a semi-professional men's basketball minor league that started in 1999. The league has had some stops and starts throughout the past 20 years, but Boyd and Dales are committed to bring professional basketball to Delaware County.
"I'm excited. It's an opportunity to get back to doing what I love to do – coaching basketball. I was itching to get back to coaching," Dales said. "I'm blessed and honored for it to actually happen."
Dales has been around the game his entire life and played all four years while at Neumann under coach Brian Nugent. Dales, who is from Abington, PA, has coached high school and college ball. In 2007, he was involved with the USA Pan American Games team which was coached by Villanova's Jay Wright.
Dales received his MBA from Missouri Baptist University while he was assistant basketball coach.
Delco Desperado owner Kinji Ridley first hired Boyd as his general manger. According to Boyd, the two had been business partners and her hiring was a natural transition. Previously, Boyd had worked in development and ran her own life coaching business.
There was some hesitation on Boyd's part to take the job. Unlike Dales, basketball was not a part of her life. At Neumann, she was involved with many activities such as the dance team, but she wasn't a part of the basketball team.
"I looked at the job from the business standpoint of building corporate partners and relationships and those are things I've done. I trusted my skills and abilities," Boyd explained about taking the job.
After Boyd was brought onboard, the next step was finding the perfect coach.
Boyd and Dales were friends while they attended Neumann. While she was not looking to hire a college friend, she was aware of Dale's playing and coaching experience and impressed by his basketball resume.
"He has great experience. Number one, he played basketball and he was a good player. Number two, he has experience in player development and in AAU (Amateur Athletic Union)," Boyd said. "He coached varsity and JV at the Haverford School."
The ABA season starts on November 7, 2020. Boyd and Dales are in negotiations with several area venues that may host the games. The league will have 20 teams with 10-12 players on each team.
"We're excited to build something. We are trying to create an affordable family entertainment," said Boyd.