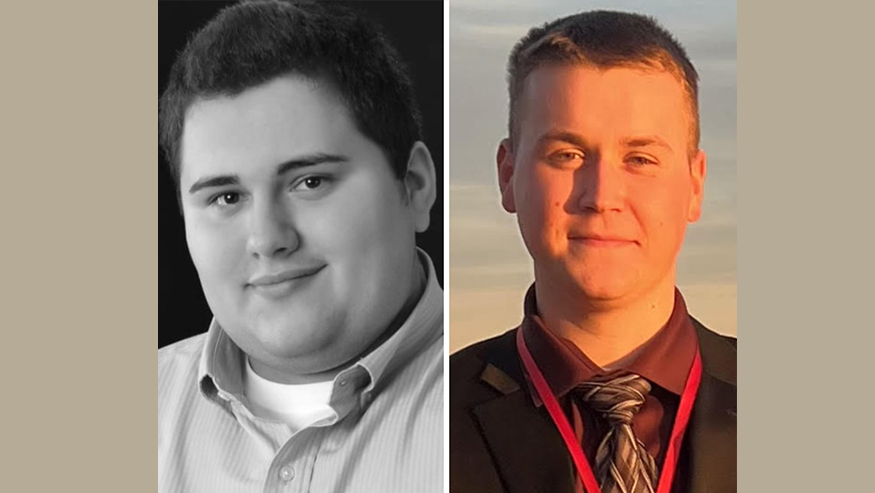 Neumann University will be well represented in two collegiate competitions next month when Sport Management majors Chris Greve and Anthony Hando make their debut on the national stage.
Greve is headed to Dallas, Texas, to compete in the National Collegiate Sports Analytics Competition (NCSAC) in February. He ranked 10th out of a field of more than 80 students in the virtual qualifier last November. The NCSAC is billed as the place "where the best collegiate sports analysts land their dream jobs." College students compete to impress judges, who are sport industry professionals looking for top talent in the analytics field.
The contestants are given data sets relating to player or sport business analytics. They review this information and create a five-minute presentation providing their insights and demonstrating their analytic, visualization, and communications skills.
Greve, president of the Neumann University Moneyball club (a sports analytics club), completed a similar task during the qualifying round. He was given a document containing 700,000 basketball plays that he was charged with analyzing and finding an interesting angle to present. He decided to focus on isolation plays, which refer to one player defending against another single player. His data showed which players were the best isolation scorers and defenders in the league and how teams could use his analytics. The competition rules required that students work solo without the help of their professors.
"I thought I did pretty well. I was a little bit nervous because I wasn't sure if I would get it all in within five minutes. I finished at five minutes on the dot," he said.
According to Sport Management Professor Dr. Julie Lanzillo, this is the first year for the sports analytics competition. She explained that Greve would be watched by numerous industry professionals looking for potential hires. "He's going to have the opportunity to meet a lot of people in the sports industry looking for people like him."
Hando is headed to Atlanta, Georgia, for the National Collegiate Sports Sales Competition (NCSSC) in February. He ranked first, out of 133 students in his virtual qualifier in November.
"When the rankings came out, and Anthony came in first nationally, I was blown away. It's really incredible when you think about someone from Neumann placed first in the nation. It's just phenomenal for him and the university, too," Lanzillo said.
The competition appealed to Hando, even though he did not have much sales presentation experience. He has completed three internships and gained sales experience while working with his supervisors.
"I was assigned a buyer and had to pitch a package. The judges scored us based on a rubric. I got the highest score in the nation," he said of the competition. "I would have never expected this result. Sales prior to this competition was not even in my scope of vision. But now this competition has provided a clear path for me to try and look for a workplace culture fit."
Lanzillo said the end goal for Greve and Hando is to not only win but come away from the competitions with job offers.
"Chris is an honor student minoring in math. He's branded himself professionally to be someone who could work in analytics. Anthony has done the same thing from a sales perspective. He's branded himself as someone who has these skills," she said.
Both Greve and Hando are seniors graduating this May.
Baylor University's Hankamer School of Business first developed the NCSAC, and the competitions have expanded to include sales like the NCSSC. Last year, Sean Flannery '22 participated in the NCSSC finals in Atlanta and came in 89th place. Through this experience, he was able to secure a job with NASCAR.