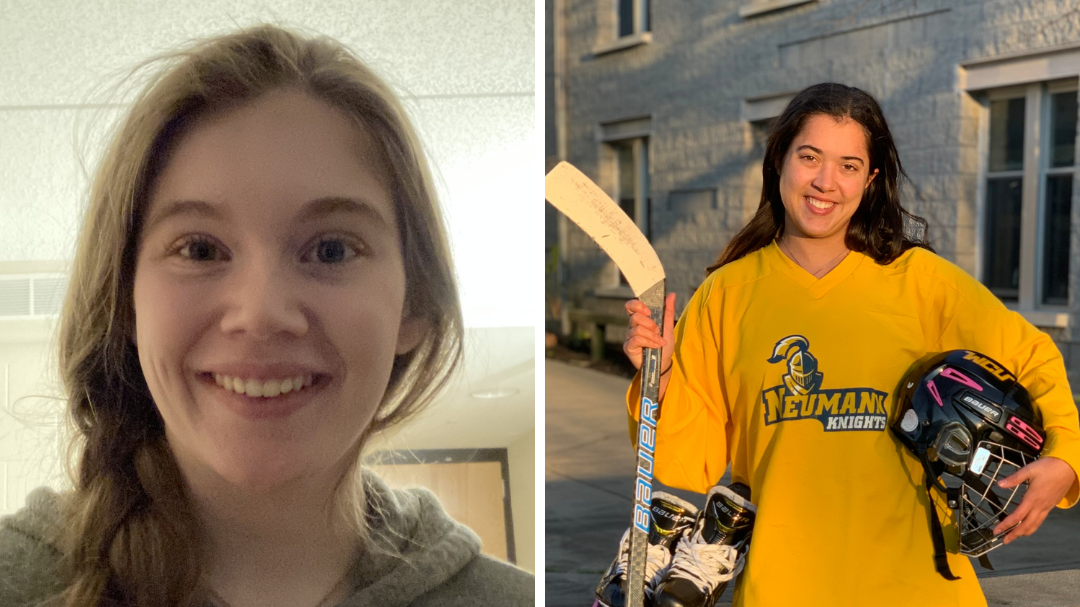 Thanks to the Ed Snider Youth Hockey Association's Goals & Assists Scholarship, Jasmine Martinez and Victoria Maloney are not only playing on the women's ice hockey team, but also enjoying a free ride at Neumann University.
The Goals & Assists Scholarship was created through a partnership between the Ed Snider Youth Hockey Foundation and Give Back, which provides Snider Hockey participants with the opportunity to attend one of several post-secondary institutions tuition free. The scholarship is provided to help inspire and academically motivate young people to excel, despite financial and social challenges.
Martinez, a junior sport management major, and Maloney, a freshman majoring in business administration and finance, have both participated in after-school programming, traveled with hockey teams to compete across the country, represented Snider Hockey at numerous special events, and earned several scholarships throughout their time with the program. Both are now part of the Snider Hockey coaching staff and serve as role models for younger students.
Ice hockey has been a part of these two athletes' lives since they were young girls. They strapped skates to their feet when they were in elementary school. They both learned to skate near their homes in Philadelphia at rinks that hosted Snider Youth Hockey Association programming.
For Maloney, that rink was at the Simons Rec Center located in the West Oak Lane section of the city. She first went out on the ice when she was 11 years old. Her father challenged her to learn to skate after she watched her brothers skate. She quickly fell in love with the sport and joined the program offered by the Snider Hockey Association.
"I found that hockey helped me perform better in a lot of areas. Academically, I started to do better, and my mind just started getting quicker," Maloney said. "Snider is more academic focused that hockey focused. They want you to start planning for your future and they offer a wide variety of opportunities," she said.
The scholarship was a deciding factor for Maloney coming to Neumann. Due to the pandemic, she was never able to physically walk around campus and get a proper tour, but she did do a drive-through and fell in love with NU.
"The scholarship was definitely a huge part of coming to Neumann. I knew that I would never be able to afford it," said the first-generation student. "I wanted to play hockey and I wanted to make sure that I would have a good future for myself after hockey," Maloney explained.
Martinez followed a similar path through the Snider Youth Hockey program as Maloney did. Her journey after high school included a stop at West Chester University where she played club ice hockey. She transferred to NU this year to pursue a degree in sport management and play for a Division III team.
An avid ice hockey player who started skating at the age of six, Martinez was also lured to the sport by her brother who skated with the Snider program.
"I love the family aspect that Snider offers. They don't just do hockey. It's almost like having two families," Martinez said of the program.
According to Martinez, she was not able to afford Neumann after high school but when the Snider program offered the scholarship at NU, she quickly decided to take advantage of it. Neumann was always on her radar because a few of her Snider coaches were NU alums.
Martinez, who plans on obtaining her master's degree in sport management at NU, said that the Snider program taught her much more than simply how to play ice hockey.
"They taught me a lot about self-respect and independence. I gained a few internships while I was in high school. One was at Comcast," Martinez said, adding that she became friends with Comcast Senior Executive Vice President David Cohen while interning at the global media and technology company.
These two young women have been able to lace up their skates for practice, but both are eager for on-ice competition which has been on hold because of COVID.