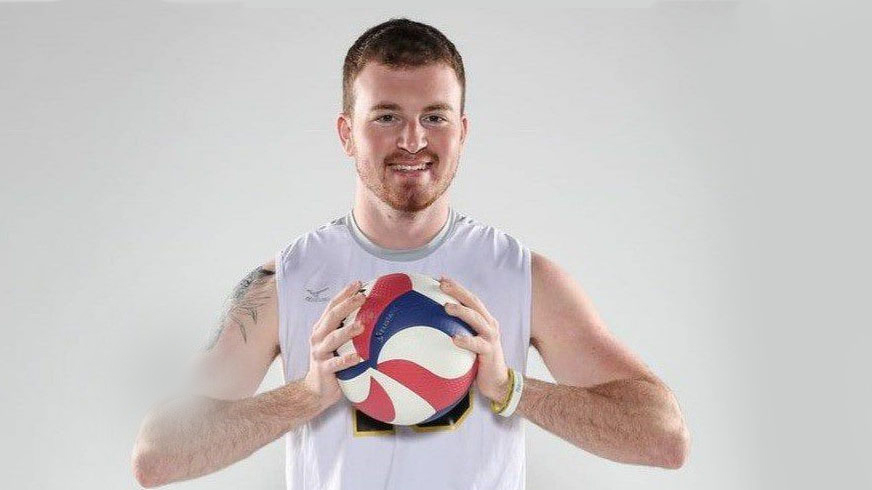 This fall, Eric Van Horn, a senior sport management major, eagerly anticipated starting his internship with the Archbishop Carroll High School athletic department. This placement turned into much more than a typical college internship when he was offered a head coaching position with the girls' volleyball team.
Van Horn came to Archbishop Carroll with a great deal of experience with the sport. He is a member of the Neumann men's volleyball team and has played the sport since high school. The high school administrators knew of his association with the sport, and when the current volleyball coach resigned, they needed to fill the position immediately.
"It happened within five minutes of me walking into the building," Van Horn said. "I was excited, but I had to make sure it was something I could do and commit the time to the job."
And commit to the job he did by taking his team to the playoffs. Garnet Valley High School knocked them out on November 9, 2021. Archbishop Carroll has successfully won numerous class and district titles since the Catholic League joined the PIAA in 2008.
Van Horn did have coaching experience before joining the Archbishop Carroll team. He had coached CYO basketball. However, this was his first experience coaching girls.
Van Horn recalls coaching his first game at Lower Merion High School, which he describes as "a bit rocky." His coaching style is intense and aggressive, and he realized he needed to change that to relate to his players.
"I had to teach myself how to coach in a different way. They (players) were great over the course of the season. I've built some pretty cool relationships with the players," he explained.
The Archbishop Carroll internship was Van Horn's second attempt at getting some workplace experience. In the summer of 2020, he started an internship with Monsignor Bonner High School. He was eager to work with all of the fall sport teams, but COVID-19 halted the fall season and the internship.
Van Horn is ready to get back on the volleyball court with his Neumann teammates, where he plays right-side hitter. Since coaching, he now sees the sport from another perspective and feels this will help his game. He credits his NU coach, Joan Braid, with helping him become a better coach.
"My coach helped me a ton along the way. When a game didn't go well, I'd call her, and she would give me advice. She kept me even-keeled and was really excited that I was coaching," Van Horn said.
While Van Horn's career goal is to become a high school athletic director, he would love to return for another season with the Carroll volleyball team. "If they'd have me back, I'd love to coach again."