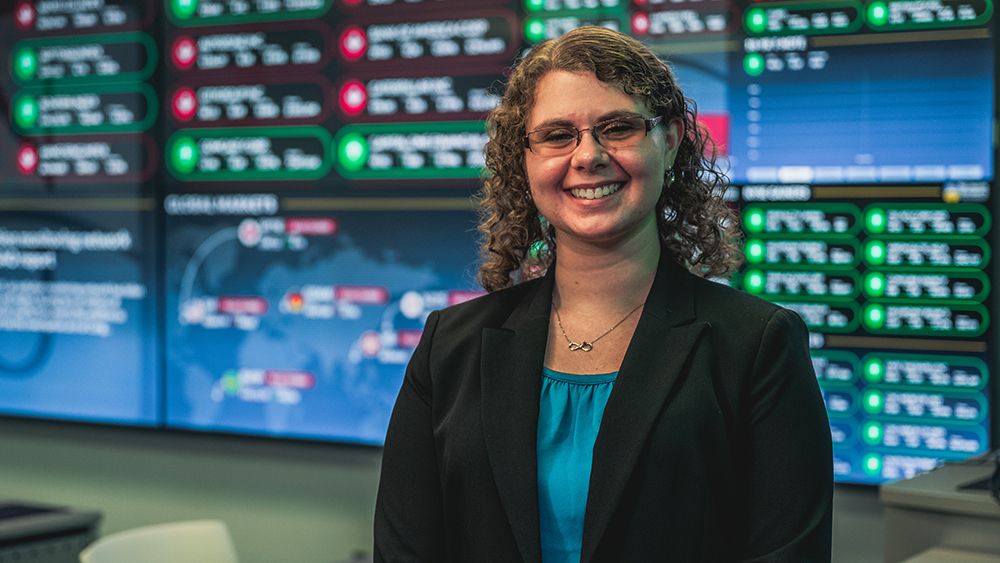 It's not just intellectual prowess that propelled Amanda DeCarolis to the class of 2021 valedictory medal. She has the academic credentials, of course, all earned in three-and-a-half years: a summa cum laude GPA, the Excellence in Business Administration award, two minors, an Honors Program certificate, and membership in three national honor societies.
As a member of Dr. Robert Till's senior seminar, she even led a three-student team to a top 50 finish in the Business Strategy Game, an international business management contest that involved 2,968 teams from 164 colleges.
In addition to academics, however, DeCarolis has also been one of the most active students on campus since she arrived from Lancaster Catholic High School in 2017, diving into a host of activities and volunteer opportunities. Her favorite extracurriculars were Neumann Media, where she served as anchor and field reporter for the weekly Neumann Update broadcast, and the University Jazz Band, playing clarinet.
"Neumann Media was a good pairing with my major," she explains. "I was shy when I first arrived on campus and being on camera pushed me out of my comfort zone. It helped me develop the presentation skills that I'll need for business, too."
Music had been part of her life since third grade. "The Jazz Band has a really good group of people, and practice was always the highlight of our week."
She didn't stop there. In her time on campus, DeCarolis was a Neumann Navigator, Presidential Ambassador, retreat leader for Campus Ministry, and volunteer at St. Francis Inn and for the University Advancement phone-a-thon. She also researched and created two presentations for the LEAD Honors Conference and one for the annual SEPCHE Honors Conference.
Since graduating in December, DeCarolis has been "searching like crazy" for a job. Her preference is to land a position in human resources and talent management, a challenging field that would allow her to use the skills she learned in her two minors, HR and Strategic Communications.
She feels called to help individuals reach their full potential and admits, "I relish that connection with people" that a career in human resources would offer.
DeCarolis calls attending Neumann "the easiest choice I ever made," explaining that she was drawn to the university's traditions and atmosphere after taking a virtual tour. Once she visited in person (on her 18th birthday in November of her senior year) and took a real tour with Dr. Larry DiPaolo, VP for Academic Affairs, she was convinced that Neumann was a perfect fit.
"I was more excited to come here than I was to turn 18," she confesses. "I Neumannized my car with clings and stickers, and I didn't apply anywhere else."
Neumann hasn't disappointed her. "Everyone here treats you like a person and knows your name. You're not a number."