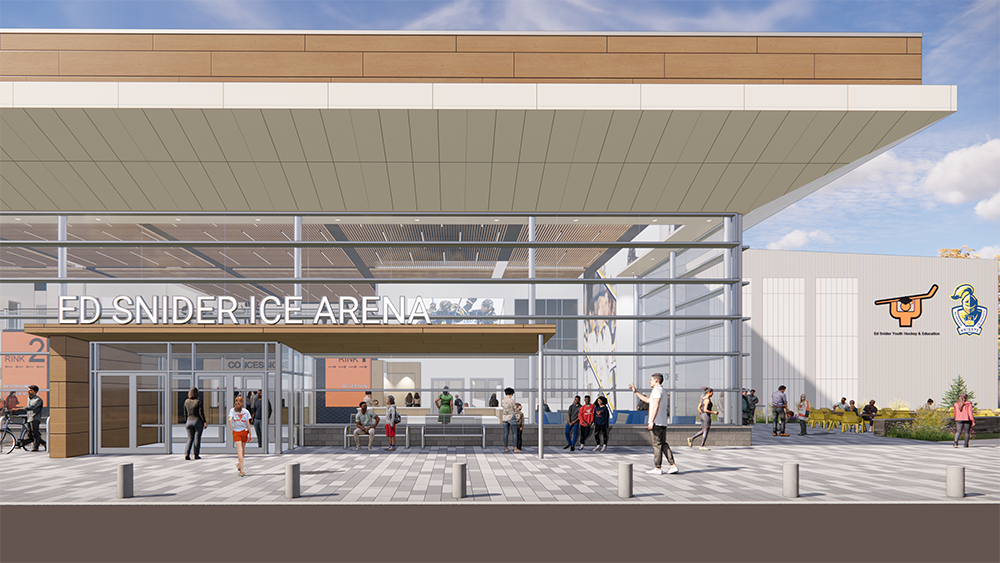 When Neumann matches the $15 million challenge grant offered by Ed Snider Youth Hockey & Education, the university will be able to move forward with construction of the Ed Snider Ice Arena on campus.
Neumann has two years (until October 25, 2025) to raise its $15 million and secure the SNIDER grant.
The structure will be located on the north end of Neumann's campus, behind the turf field that sits next to homes on Convent Road.
The 98,108-square-foot arena (larger than the 72,000-square-foot Mirenda Center) will be LEED certified as a healthy, efficient, green building. It will include two ice rinks, one serving as the home for Neumann's ice hockey teams and another designated as the official home for SNIDER programming and outreach in Chester and Delaware County. The rinks will have seating for 750 and 300 spectators, respectively.
Two classrooms and dedicated office space will support SNIDER's educational programs in the arena.
For players and fans, the building features ten team locker rooms with 272 lockers, training and treatment areas, exam rooms, hydrotherapy space, kitchen and concession spaces, and a 7,000-square-foot lobby with tiered seating for campus and community presentations and meetings.
Plans also include storage spaces, referee locker rooms, offices and meeting rooms for coaches and athletic staff, media and sportscasting rooms for home and visiting teams at each rink, and a skate rental area.
And, of course, a Zamboni garage.
Revenue generated by renting ice space to hockey clubs and organizations in the region will enhance Neumann's ability to support its academic programs and provide scholarship assistance to students.
According to Dr. Chris Domes, the facility will also position Neumann as a unique Division III campus in the region and boost the local economy with an influx of teams and their families traveling to Delaware County for tournaments.
The timing of the grant announcement comes at an appropriate time in the university's history. With the 2022-23 season, Neumann celebrated the 25th anniversary of its men's ice hockey program. In 2009, the men's team won the NCAA Division III national championship, the university's only NCAA title in any sport. The women's ice hockey team began play in 2001, three years after the men.
To learn more, visit the Ed Snider Ice Arena webpage.