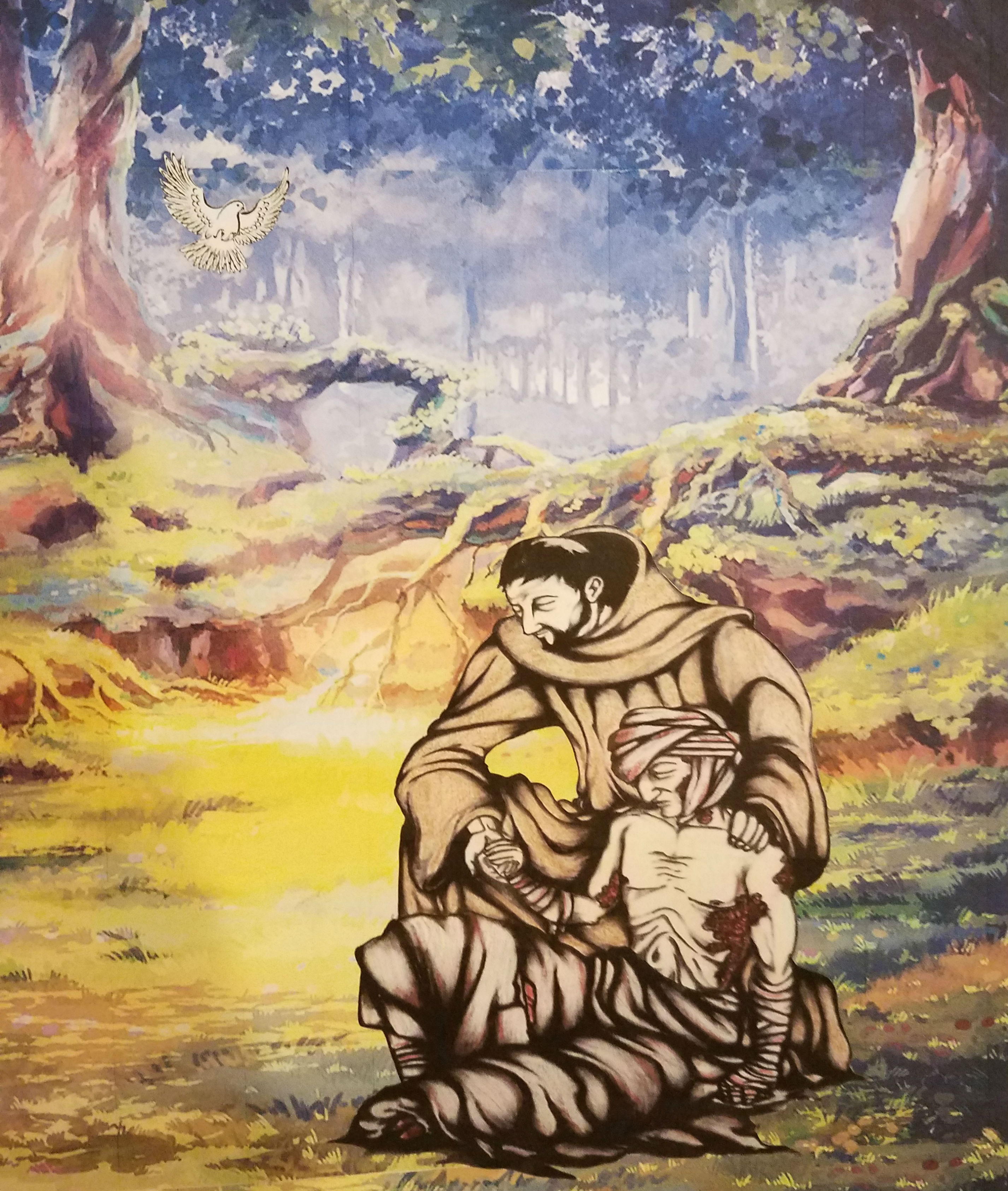 Lauren Skurla, a Nursing major, has won second place in a national art contest sponsored by the Franciscan Action Network. She will receive a $250 prize and her art will be displayed at the Franciscan Monastery of the Holy Land in Washington, D.C., from January 11-27.
Submissions had to reflect a theme related to Saints Francis or Clare of Assisi and be no larger than 27 x 39 inches. There were 56 entries from across the country.
"I created a mixed media piece that tells the story of St. Francis and the leper," explained Lauren. "I think that the compassion St. Francis exhibited in caring for the leper is similar to the compassion that nurses show in caring for the sick. I see a real connection between the Franciscan tradition, the profession of nursing, and the values of Neumann University."
The story of St. Francis and the leper begins with the detail that, in his youth, Francis was terrified of lepers. As a young man he used to run away from them at the mere tinkling of the bell they were forced to ring as they walked down the street. Shortly after his conversion, however, he heard the bell that announced the coming of a leper, and instead of running away, he walked up to the leper, embraced him, and kissed him. In that moment he found that the object of his fear was not a monster, but a man.
According to Art Professor Glenn Holmstrom, "The Franciscan Action Network art contest is a FANtastic opportunity to showcase the artistic talent of Neumann students in a setting outside the university. The contest presented students the opportunity to learn something about the life of St. Francis while engaging in the making of art."
A member of Delta Pi, Neumann's chapter of the National Catholic Honor Society, Lauren lives in Lincoln University, PA. She admits that she only "dabbles in" art projects from time to time and was pleasantly surprised by her success in the contest. She hopes to travel to Washington and see her creation on display in late January.
In its mission statement, the Franciscan Action Network (FAN) describes itself as "a collective Franciscan voice seeking to transform United States public policy related to peace making, care for creation, poverty, and human rights." FAN board members judged the submissions in the art contest.