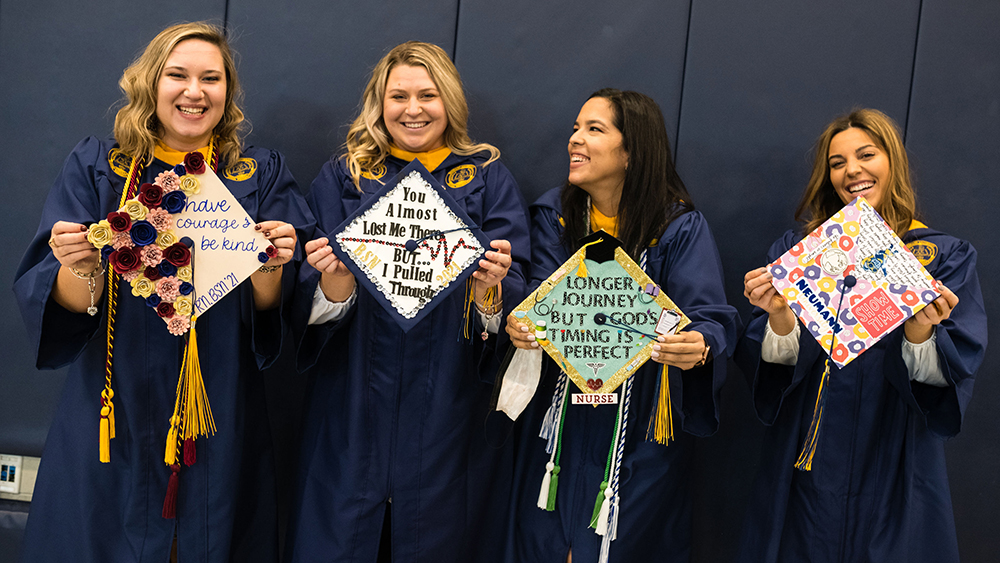 After a year without winter graduation, Neumann dusted off its academic regalia and hosted two commencement ceremonies in the Mirenda Center on December 22.
While the university awarded Latin Honors based on GPA, a couple of Greek letters had already influenced plans for the day. The Delta and Omicron variants of coronavirus were surging throughout the Northeast, altering preparations for large, indoor gatherings. As a result, even though the number of winter graduates was modest, the university split the celebrants into two smaller crowds in the cavernous athletic facility to allow plenty of room for graduates and their families to mask up and spread out.
Dr. Lawrence DiPaolo, vice president for academic affairs, referenced the pandemic in his opening remarks. "You overcame, you adjusted, and you completed your mission under difficult circumstances," he told the graduates.
Dr. DiPaolo also acknowledged Dean Kathleen Hoover, who is retiring after leading the School of Nursing and Health Sciences for 17 years. Dr. Hoover received sustained applause from the students.
In his commencement address, Dr. Chris Domes, university president, congratulated the graduates "for earning a college degree during tumultuous times."
He added that "Commencement is a day to reflect on the journey that you just experienced and consider how your life has changed … This is a moment of joy, hope, and anticipation of the journey ahead."
"Choose mentors who are compassionate leaders," he advised. "Always do your best, never stop pursuing your passions, and always show care and respect for each person you encounter in life."
With no honorary degrees awarded and no outside keynote speakers, the ceremonies were completed efficiently, each taking less than one hour.