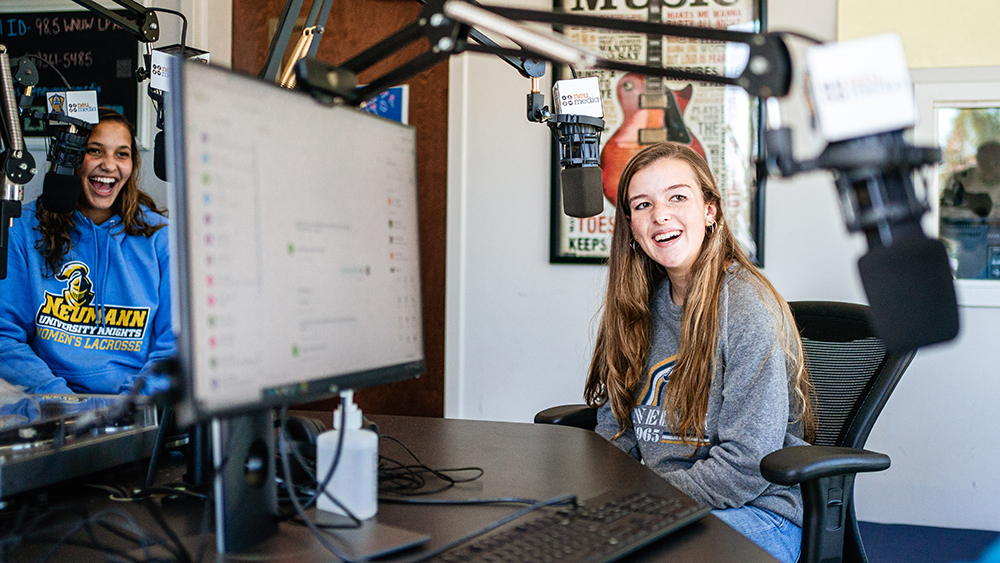 98.5 WNUW will broadcast live for 24 straight hours on Friday, October 7, to celebrate College Radio Day and generate support for the Knights' Pantry.
The celebration will begin with a kickoff party at 12 a.m. in the Mullen Communication Center studios and continue until midnight (and maybe beyond) on the day of the 12th annual event to build awareness of the creative programming that college radio stations offer.
"College Radio Day is a day where students who are searching for their voice get amplified on a global level," says Sean McDonald, director of Neumann Media and general manager of the radio station. "College radio is one of the last unfiltered platforms for creative expression and music discovery. This is our 10th year celebrating CRD, and we decided to show the power of our microphones and help our fellow community members by organizing a food drive for the Knights' Pantry."
The highlight of the day will be an outdoor broadcast from noon to 4 p.m. in St. John Neumann Circle. Nick Coppola and Alex Castells, both CDM majors, will anchor a four-hour food drive to benefit the Knights' Pantry, which will have a pop-up mac and cheese table to feed guests during the segment.
Coppola and Castells are embodiments of the "theory and practice" experience that Neumann provides. They have been doing radio shows together since the fall of 2021, and both currently work at WXTU as members of the country station's promotion crew.
Residence Life will also be involved in the College Radio Day festivities, sponsoring a 2 p.m. dodgeball tournament with the final match broadcast live. Athletics and Recreation will provide other games and activities (cornhole, techball, etc.) during the fundraiser.
Guests from Campus Ministry and other departments will join the on-air discussion to generate donations to the pantry and discuss food insecurity on campus.
Other programs during the College Radio Day broadcast include Beatles Hour (1 a.m.), Christmas Hour (3 a.m.), Vinyl Hour (8 a.m.), Mindful Music Hour (9 a.m.), and a collection of shows hosted by students.
The Knights' Pantry was established in September of 2021 by Rina Keller and Mary Beth Davis. In recognition of their efforts, Pennsylvania Governor Tom Wolf designated Neumann a "hunger-free campus" a year later.
The aim of College Radio Day is to raise awareness of the many college and high school radio stations that operate around the world. According to the CRD website, "college radio is one of the last remaining bastions of creative radio programming, free from the constrictions of having to be commercially viable, and the only free live medium brave enough to play unsigned, local, and independent artists."