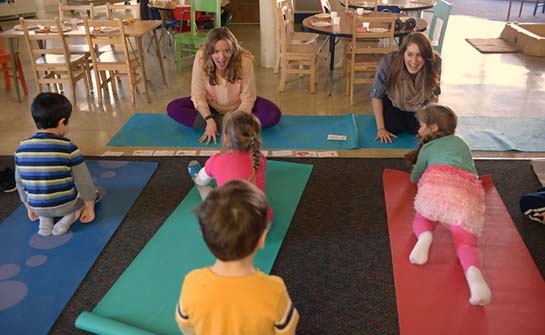 When the colorful mats roll out at Neumann University's Child Development Center (CDC), it's not nap time, but children do get a chance to relax. Yoga class has come to the CDC thanks to Sarah Kurpel, the Athletic Department's coordinator of compliance and student services, senior woman administrator and head field hockey coach, and Stephanie Fortunato, assistant director of alumni relations.
Once a week Kurpel and Fortunato volunteer their time to teach yoga to the children. In addition to being Neumann University employees and alumni, both women are registered yoga teachers, having been certified by the YogaLife Institute in Devon, Pennsylvania.
At the CDC yoga classes, it's hard to tell who is enjoying it more – the students or the instructors.
"I think I'm getting as much, if not more, out of our classes as they are," Kurpel said. "Adults often do yoga for relaxation or fitness, but with children it's mainly about fun and confidence building."
The CDC students were not able to have their regularly scheduled gym classes this semester because the University library has been temporarily relocated in the Bruder gym. Kurpel and Fortunato offered their services to CDC director Mary Ann Melisi, and she supported the idea.
In the course of two months, the children have mastered many yoga poses and also learned the importance of relaxation and breathing.
"The little ones can learn some calming and relaxation techniques, which has been very interesting to watch and teach because they are very literal. We cannot ask rhetorical questions, everything has to be about imagination," Kurpel explained.
For the children, yoga can become a life-long practice with numerous health benefits.
"Through yoga exercises linked with breathing, the kids start to learn how to be mindful of their bodies in space, how to be resilient, how to listen to their bodies, and develop healthy habits and a positive outlook," Fortunato said.
The CDC yoga classes are a win-win situation for the instructors and the children. During the classes, creativity, energy and laughter fill the room.
"My favorite is when they get to make up a pose to show to the rest of the class, and they pull elements from their own worldview. Traffic light pose, giraffe pose, and dinosaur pose were some of the great inventions from the kids' minds," said Fortunato.