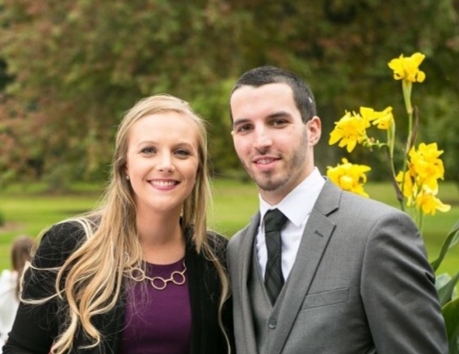 During his college years, Steve Warhola '15 planned on becoming a high school history teacher. He thoroughly enjoyed his student teaching assignment at Brandywine High School in Wilmington, Delaware. After graduation, however, he began to focus his energies on the political arena, and he has never looked back.
Today, Warhola is the campaign manager for John Kane, Democratic candidate for Pennsylvania's 9th District State Senate seat. His job is to get Kane elected in the April 28th primary and face off with incumbent State Senator Tom Killion in the November 3rd election. As a political science major, Warhola is well equipped for the job.
Warhola's political career began in Bucks County and took him all the way out to Montana. During this journey, he developed a passion for the Democratic party and, perhaps more importantly, a passion for the political process.
While at Neumann, Warhola was a dual athlete. He was recruited to play basketball and joined the soccer team, too. After an injury sidelined him in his junior year, Warhola spent eight months recovering. It was during this time that he started paying attention to election coverage.
"The fall 2014 was the first election I ever paid attention to. The low voter registration really surprised me, and I wanted to get involved with getting young people to vote," Warhola explained.
He started his political journey as a volunteer with the Bucks County Democratic Committee in 2015. He worked to get Democratic candidates elected to county offices and quickly moved from volunteer to part-time employee.
"It was incredibly intriguing to me. It was a competition by a different name, and I love competition," Warhola said. "When you win this competition, you get to help people."
One of Warhola's Bucks County campaign co-workers had spent some time in Montana working with the state's Democratic party. It piqued his curiosity and he investigated the possibility of doing the same thing. In August 2016, Warhola found himself in Helena, Montana, working for the state's Democratic party and traveling all over the state.
Warhola returned to Bucks County in December 2016 and was asked to run the campaign for county offices. He proudly reports that the county won four out of five seats in 2017. This was the first time Bucks County Democrats had won any county seats since President Ronald Reagan was in office.
"We were on a high for a long time. We had an influx of new energy into our campaign," said Warhola.
Soon after the election, Warhola took over as executive director of the Bucks County Democratic Party. He was 25 years old.
Because of his stellar political track record, Warhola was recommended to be John Kane's campaign manager. Now his job is to make sure that Kane beats out the other two candidates running for the Democratic state senator nomination.
"I'm so happy. He's (John Kane) a great guy with a truly incredible story. I think the whole state would benefit from his experience," Warhola said.
So, what does the future hold for Warhola? It all depends on what happens on November 3, 2020.
"Ideally, I get to work for John in the state senate. I'm a political operative," Warhola said. "I'd like to take it to the next level and step into a public service role."