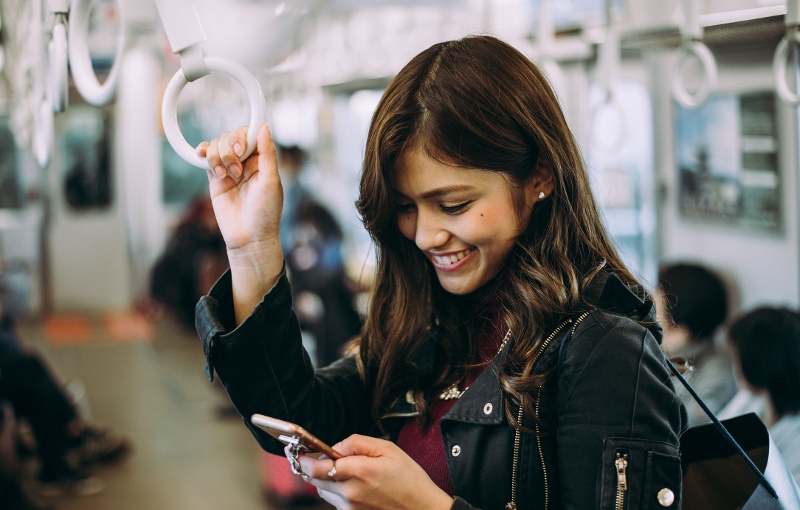 There's an exasperating question that's all-too-familiar to commuter students: "Aren't you afraid to miss out on the college experience?" This question perpetuates the misconception that there's only one way to "do" college, and it means living on campus.
The reality is this: YOU are the author of your own college story. So, read on and let us debunk these myths that surround commuting to college.
Myth 1: You won't make any friends.
Myth Debunked: Remember how we said that you are the author of your college story? Nowhere is this more true than in the friend department. Everyone starts their college social life at square one, both residents and commuters.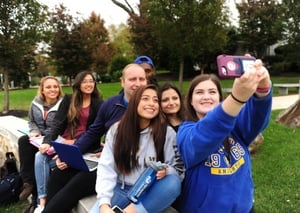 From the beginning, start by making connections with students in your classes or with students in the library. Ask your classmates to lunch, offer to study with them, and be sure to make yourself available to small talk. You'd be surprised how many small talk interactions can blossom into real friendships.
Bonus Perk: If you live off campus, you have the opportunity to invite your classmates over as a break from residential hall life.

Myth 2: You won't get a "real college experience."
Myth Debunked: Your college experience will be as fulfilling as you make it! There are many, many students who choose to live at home with parents or guardians for financial reasons or who choose to live off campus for other reasons. These students still can have a great college experience by getting involved on campus, joining various clubs, making friends with other students who live off campus — just to name a few solutions.
Bonus Perk: Getting involved in an extracurricular activity looks good for your resume. Check out this list of clubs and athletics if you want more information about NU's options!
Myth 3: Scheduling will be too complicated.
Myth Debunked: Commuting to campus requires some planning, but you can still maximize every minute if you want to! You'll need to be organized about coordinating class times and fitting in your social life, work life, and extra clubs and commitments. Between classes or while you wait around for an evening social event, you can go to the library to finish that homework like nobody's business.
Bonus Perk: If you can find any of your textbooks or literature in audio form, listen to your reading on your commute. Boom — double efficiency.
Myth 4: Getting help with assignments will be too difficult.
Myth Debunked: Nope! If you need help with your homework or with better understanding an assignment, your professors will all have scheduled office hours, during which you can visit and make sure to get the help you need.
Bonus Perk: By visiting your professors during their office hours, you will be able to engage with them on a deeper level. By getting to know your professors (and by them getting to know you!), you won't just be another name in their class. They will know that you care about their class and about your academic growth. You might even be able to ask them for a letter of recommendation later for an internship or future job!
Myth 5: You can't be as involved on campus.
Myth Debunked: Most campus opportunities are available to all students. You can buy a commuter meal plan if you want the freedom to accompany resident friends to the dining hall. As a commuter, you are just as eligible for joining sports teams, music or dance groups, and the rest of the clubs Neumann University has to offer, for instance.
Bonus Perk: Neumann has several other programs intended to integrate and enrich the commuter student experience!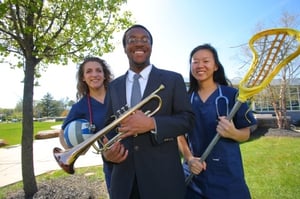 Myth 6: Living at home shelters you from "the real world."
Myth Debunked: Commuter students have to learn to manage adult responsibilities like extra time management and better organization since they aren't living where they are taking classes. Commuter students start to learn things like planning for traffic, packing the essentials to be away from home all day, and preparing to make the most of their time while they are on campus.
Bonus Perk: You can use your commuting time to listen to professional development podcasts. This will put you ahead of the game and give you a competitive edge!
you are the author of your college experience!
So, back to being the author of your own story — if Dostoevsky told Jane Austen and Ernest Hemingway that there was only one way to write a novel, we'd be missing out on some incredible literature. You don't need to experience college in the same way that someone else does. What is right for them might be wrong for you!
Whether you're an international student, a transfer student, or a first-generation college student, the professionals at NU are dedicated to helping you succeed. Choosing to commute to campus is just one way that you can write your own college story, and we hope you'll inquire more about what it would mean to be a part of the Neumann University experience.
Check out our free digital resource: The Pathway to College — How High School Students Can Best Prepare For College
!