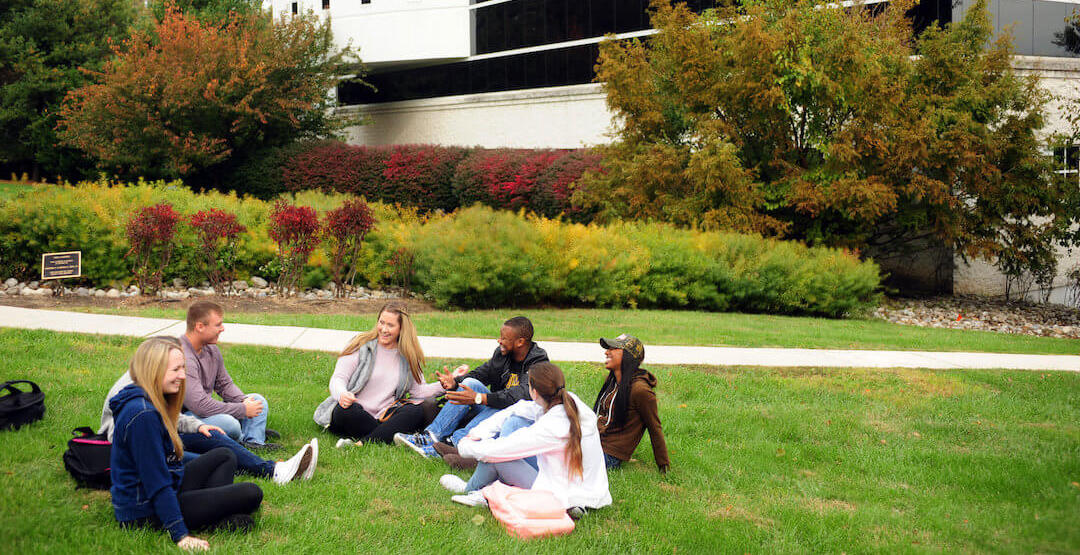 You've nearly made it. You're almost there. You're well on your way to finishing your high school years, and now it's time for you to tackle your next academic hurdle!
Preparing to go to college is a big decision, and the last thing you need to do is stress about whether you can afford it or not. So, if you're concerned about how you're going to fund your college experience, don't worry! We're here to help explain everything you need to know about filling out the FAFSA for the first time — which is just one way to help you figure out how to pay for college.
So, for now, let's focus on the FAFSA and all of the ins-and-outs of this particular financial aid application.
Check out FAFSA's original video below!
1. And since we're starting with the basics, what does the FAFSA stand for?
FAFSA is an abbreviation for the Free Application for Federal Student Aid. The application gives prospective undergrad and graduate students the opportunity to apply for federal aid. Once this application is submitted, the government decides your eligibility to receive assistance and funding level.
2. How do I fill out the FAFSA?
It's important to stay organized because the FAFSA has several sections that you must fill out before submitting it. Before you start the FAFSA, you need to create a FSA ID, which is a username and password that allows you to access information online.
Besides a FSA ID, you will need to collect and keep track of a few different documents. Depending on your situation, the below documents are ones you may need when filling out your FAFSA:
Your Social Security number
Your parents' Social Security numbers if you are a dependent student
Your driver's license number (if you have one)
Your Alien Registration number if you are not a U.S. citizen
Federal tax information or tax returns including IRS W-2 information, for you (and your spouse, if you are married), and for your parents if you are a dependent student:

IRS 1040, 1040A, 1040EZ
Foreign tax return

Records of your untaxed income, such as child support received, interest income, and veterans noneducation benefits, for you, and for your parents if you are a dependent student
Information on cash, savings, and checking account balances, bonds etc., for you, and for your parents if you are a dependent student

Be sure to gather all the necessary documents before you begin the FAFSA. It may take more time to gather these documents than it will to fill out the actual application. It only takes about 30 minutes, on average, to fill out the FAFSA.
Once you have all of these documents in place, you can begin filling out the FAFSA on October 1 for the next school year. It is recommended that you begin this right away in order to meet FAFSA deadlines and because much of FAFSA's aid comes on a first-come, first-served basis.
Keep this in mind: You should begin filing your FAFSA at fafsa.ed.gov. Be extra careful that you are on the right website! The FAFSA is free, so if a website asks for credit card information, you are on the wrong site.
3. You need to apply for the FAFSA every year.
Yep, that's right. Please remember that you will need to fill out the FAFSA form each year that you're enrolled in college, because your financial situation can change from year to year! You can also continue to apply for grants and scholarships while in college.
4. Don't make these common FAFSA mistakes.
Although some parts of the FAFSA are straight forward, it can be fairly easy to make simple errors, but even simple errors can cause significant delays.
Here are a few common errors you should be careful to avoid:

Make sure you don't leave any fields blank. If necessary, enter "0" or "not applicable" rather than leaving a field blank.

Never use commas or decimal points in numeric fields. Make sure you are always rounding to the nearest dollar.

Double check your social security and license number.

Be sure you are entering your full name and address. Don't use a nickname or a campus address.

Send in a copy of your income tax returns! You do not need to include a copy of your tax returns with your FAFSA.

Obtain and include the Federal School Code for the college you plan on attending and list it along with any other schools where you'll also apply. (Note: Neumann's Federal School Code is 003988.)

Be sure to count yourself as a student: The student completing the FAFSA must count himself or herself as a member of the household attending college during the award year.
5. Parents! Pay attention to these FAFSA tips and pointers.
Keep in mind that it is important to fill out the FAFSA, whether or not you think you may qualify for financial aid. Many parents don't encourage their children to complete the FAFSA because they believe they earn too much to be considered for financial aid, but everyone is eligible for some amount of financial aid! Thus, you should complete the FAFSA no matter your income level.
Note: Many schools have additional scholarships for students to apply for, and even if they are not determined by financial need, a FAFSA is still required to be on file as part of the application.
Prior to filing the FAFSA, be sure to move money out of your child's bank and brokerage accounts. Time Magazine explains that the FAFSA formulas assume that students should be able to spend 20 percent of their assets on college. For parents, the rate maxes out at 5.64 percent of assets. According to Kantrowitz, moving this money over to a 529 account in a child's name shields it from consideration as a child asset in FAFSA calculations. A 529 that a parent controls will also be evaluated at the lower 5.64 percent rate, just like any parental asset.
Exploring Neumann University's Financial Options
At Neumann University, we want to make it easy for you to discover and qualify for the many grants, student loans, and work-study opportunities available to you. Neumann is committed to making it financially possible for academically-qualified students to pursue their studies at Neumann University.
Each academic year, various scholarships are available to incoming students who are admitted and enrolled at Neumann. Neumann awards merit-based and other types of scholarships to freshmen who have succeeded in their academic pursuits throughout high school and college, and these scholarships can cover more than half of your tuition.
Explore our website and find out if Neumann University is the right choice for your college experience! We promise to do everything we can to make your college admissions experience as easy and as enjoyable as possible.
Have questions about financing your education? Check out Financing Toolkit: A Resource for College-Bound Students for some advice!