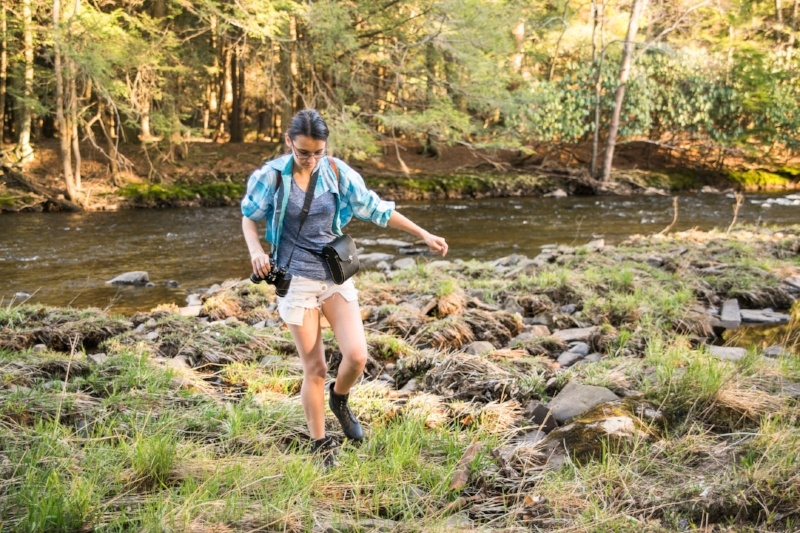 What are you looking for in the area that you attend college?
Historical culture? Sports? Job opportunities? FOOD?
As you're considering where to go to college, you should consider a school's surrounding area as well as the institution itself. That said, Pennsylvania is a hub for all sorts of entertaining activities and opportunities. We highlighted just a few to give you an idea of what you can expect if you choose to attend a college in Pennsylvania.
Check 'em out!
1. Philly's Super Cool & so Not Boring History:
Pennsylvania has played a significant role in a number of historical events. About 20 miles away from Neumann University, Philadelphia is home of the Liberty Bell and Independence Hall, where both the U.S. Constitution and the Declaration of Independence were debated and signed. (Not to mention Philadelphia was the United States' first capital city before Washington D.C.!)
Neumann University is also a short distance from Washington D.C. and New York City, as both are about 2 hours and 30 minutes away.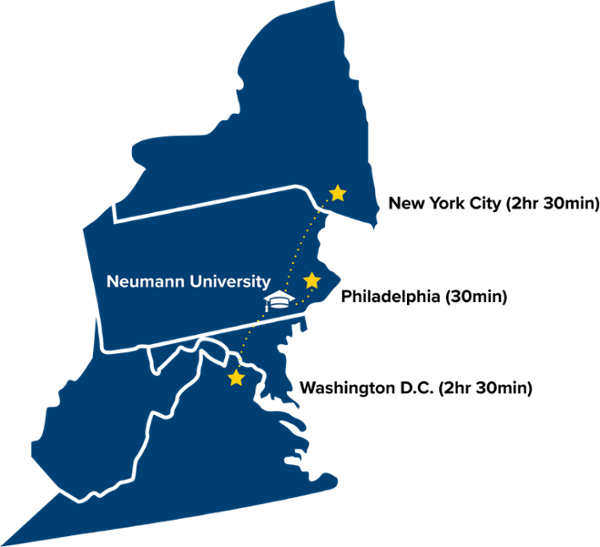 Aside from what you might find in a history textbook, PA has a museum for just about every interest — if you want to take a day trip with your friends.
Art enthusiasts can enjoy the Philadelphia Museum of Art, literary "nerds" can see the Edgar Allan Poe House, and if you enjoy touring creepy and potentially-haunted prisons, you can take a tour of the Eastern State Penitentiary!
2. Grand canyon of PA — Yeah, we said it.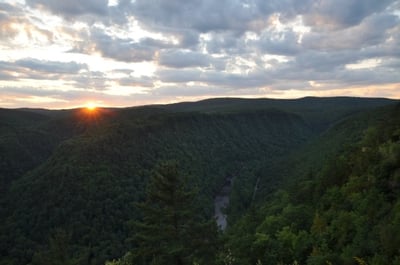 Along with it's history and historical sites, Pennsylvania has 121 state parks and 18 national parks.
Some have historical significance, like the Independence National Historical Park in Philadelphia, which preserves several sites that are associated with the American Revolution.
Some of the more scenic parks include Upper Pine Bottom State Park. If you don't have the time to fly out to see the Grand Canyon in Arizona, the Pine Creek Gorge serves as what many call the "Grand Canyon of Pennsylvania." Hickory Run State Park in White Haven, which spreads across the Pocono Mountains, offers activities such as hiking, biking, boating, and camping.
3. What's up, Sports Fans?
Sports bring friends and family together (and sometimes puts them at friendly or not-so-friendly odds!), and Pennsylvania isn't short on sports teams.
Philadelphia is home to the Eagles football team, who happen to be the 2018 Superbowl Champions. The city also houses two-time World Series champions, the Philadelphia Phillies.
And if you aren't a Philly fan...:
If you have some time off on the weekend, Pittsburgh also has it's share of football fame with the Pittsburgh Steelers, who have six NFL championships under their belt. Hockey has also been in the spotlight more recently with the Pittsburgh Penguins' recent Stanley Cup wins in 2016 and 2017.
4. $$$$:
The majority of people who flock to Pennsylvania are moving to the state for the job opportunities. As an incoming college student, you're probably curious where you can gain experience in your field to benefit you in your future career. Companies like Comcast, Vanguard, and NutriSystem are all based in the Philadelphia area and are constantly posting new job and internship positions.
The universities are also great resources for finding internships in your area of study. Depending on your school, you will likely have access to a career database for students and alumni. Neumann University is one of these schools that uses sites like College Central and CareerShift to help students and graduates with job hunting and career management.
5. A (Cheesesteak) taste OF Philly:
If you're worried about where and what to eat, let your concerns be put to rest! Pennsylvania is chock-full of famous foods and eateries. Philadelphia, specifically, is known for its many street vendors. Soft pretzels have been called the crepes of Philadelphia, and some residents claim that no other city makes better pretzels. You also can't forget about the Philly cheesesteak, which you can find at most restaurants in the area.
The Reading Terminal Market has been around since the late 1893 and has food from hundreds of farmers and distributors. You'll find everything from Chinese cuisine to fresh produce to authentic Amish food. The Italian Market is another popular destination for tourists and residents alike and features a number of grocery stores, cafes, bakeries, and more. The variety is endless, so you never have to worry about finding a tasty meal or treat.
PA is pretty cool — just sayin'.
While it's important to consider the quality of your college and program, it doesn't hurt to look into the surrounding area of where you'll be staying during your undergraduate years.
Neumann University is located in Aston, PA — about 20 miles from Philadelphia. In addition to Philly, there are so many hidden gems in Pennsylvania just waiting to be found.
We hope you'll request more information today and figure out if going to college in Pennsylvania is right for you!
Check out our digital resource page — The Pathway to College: How High School Students Can Best Prepare for College — for help on conquering the college admissions process as a first-generation student.