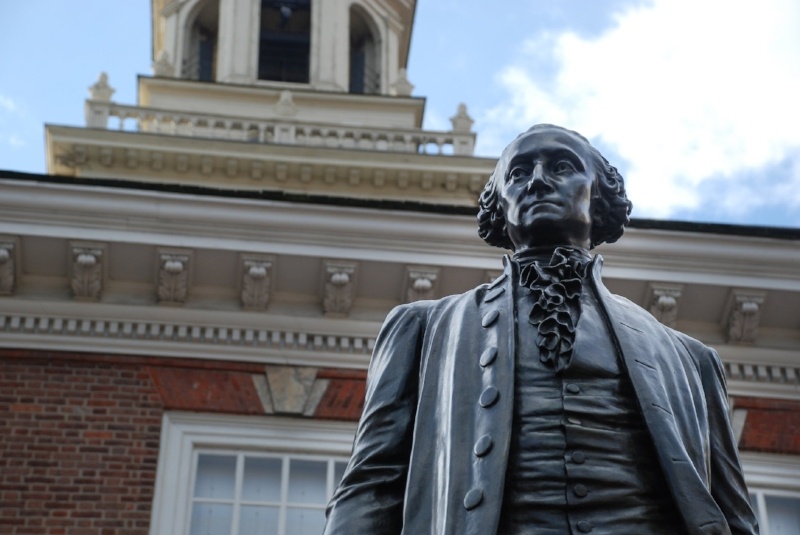 Are you unhappy or feel out of place at your current four-year school?
Or are you attending a community college and are looking to finish your four-year degree?
Are you wondering how to transfer colleges?
Listen, if this is how you feel, we're here to tell you not to spend one more minute at a college that isn't the right fit for you. Your college years are short, and it's so worth attending a school where you're happy, challenged, and supported. Similarly, if you're finishing up your time at a community college, you should start considering the importance of earning your bachelor's degree.
Here are a few reasons that the Admission Team at Neumann University thinks that Pennsylvania is one of the most dynamic and valuable places to attend college if you're planning on making a change!
1. TRANSFERRING made easy:
Many colleges are working to make the transfer process easy and efficient for transfer students.
Following suit, Neumann University strives to make the transfer process as seamless as possible by offering dual admissions agreements and financial aid options for transfer students wishing to make Neumann their home! At Neumann, you can transfer with many (or all) of the credits you've already completed by following their admissions agreement.
2. A unique culture and a timeless history:
One of the biggest draws to transferring to a college in Pennsylvania is the amount of historical significance in the area. Just a few miles away from Neumann is the former U.S. capital, Philadelphia, which, by the way, is the largest city in Pennsylvania and the fifth largest city in the U.S.! Philly is home to Independence Hall, the Liberty Bell, the Museum of the American Revolution, and so many more pieces of the nation's history. Also, don't pretend like the Philly Cheesesteak isn't a huge part of PA culture — and a delicious one at that.
Neumann University is also a short distance from Washington D.C. and New York City, as both are about 2 hours and 30 minutes away.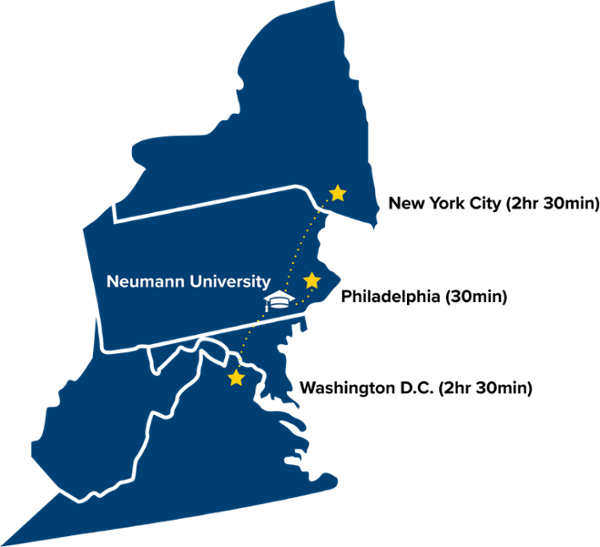 3. surrounded by a few of the nation's largest employers:
Pennsylvania's job market is nothing to dismiss. A total of 21 companies from Pennsylvania made the Fortune 500 list for 2017! These companies include Comcast, PNC Financial Services Group, Aramark, and Hershey. These Pennsylvania businesses are some of the nation's largest employers!
So, once you graduate and are looking for a job with a reputable company, Pennsylvania won't steer you wrong!
4. PA-Specific FInancial Aid Options for transfers:
Students hoping to attend college in PA need not worry about missing out on financial aid opportunities. While you can apply for national scholarships, there are also many scholarships specific to students planning to attend school in PA.
Neumann University is ready to help you explore all your financial aid possibilities, offering more than 30 scholarship programs, designed to help virtually every student from those with unique needs (such as single mothers) to those seeking specific majors (e.g., Nursing, Business). For many of these, transfer students are just as eligible as any other student.
5. PA Alumni are building powerful careers:
Alumni of Neumann University are prepared to go on to pursue advanced degrees, while others jump straight into the workforce and start their own successful careers in business, education, sports, health care, or nonprofit work.
Other alumni have found fulfilling positions in social work, medicine, and psychology after pursuing a STEM-related degree at NU!
neumann university can help you transfer Now!
Transferring to a new school doesn't have to be a stressful or intimidating process — we promise. We encourage you to take advantage of all that Pennsylvania and that Neumann University has to offer, from culture, to food, to job market, to financial aid opportunities!
If you're a college student thinking about transferring to Neumann University, we hope you'll request more info today!
We can't wait to hear from you.
Check out our digital resource page — Your Guide to Transferring to Neumann University — for everything you need to know about transferring to Neumann!