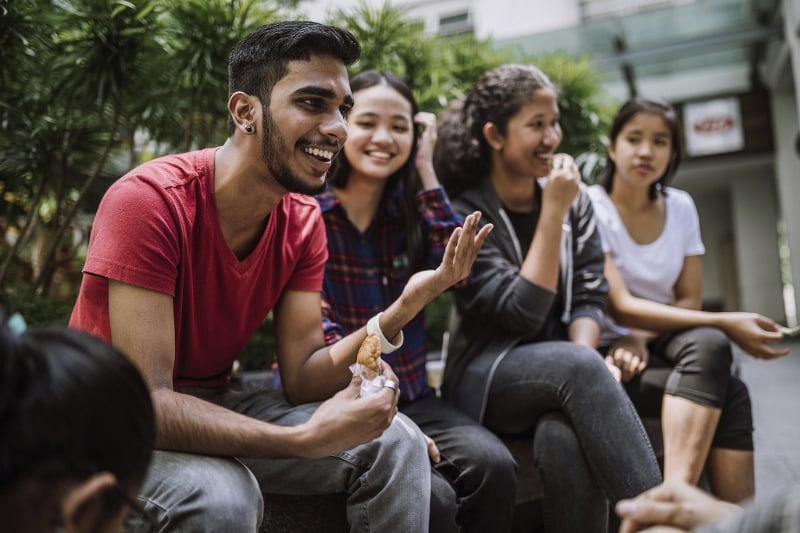 Between making the decision to attend college in a different country, figuring out how to pay for college, gathering all of your application materials in a timely manner, and thriving as a student once you are admitted, international students have much to consider and many decisions to make.
If you're an international student thinking about attending Neumann University, you'll be excited to know that NU's campus in Aston, PA is only about 30 minutes from Philadelphia! We're here to provide you a quick regional overview of Philly, the City of Brotherly Love.
Set in the heart of Delaware County, Neumann's scenic campus offers an intimate, small-town atmosphere with easy access to the cultural hub of Philadelphia, which is less than 30 minutes away by car. Neumann University is also a short distance from Washington D.C. and New York City, as both are about 2 hours and 30 minutes away.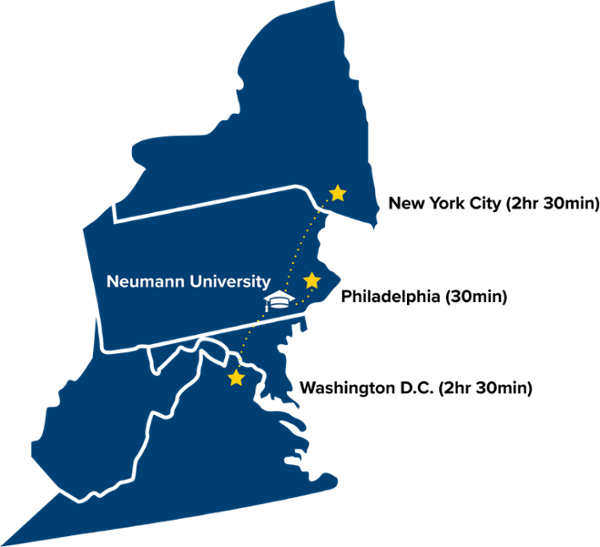 Philadelphia's Rich History:
Philadelphia is commonly referred to as Philly, The City of Brotherly Love, or the Birthplace of America. A centerpiece of early American history, Philadelphia gave birth to the American Revolution and American independence. It was here that America's Founding Fathers met and created the Declaration of Independence and the U.S. Constitution. It served as the nation's first capital in 1774 and was the most populous city of the young United States.
Today, the Philadelphia metropolitan area has a population of 5.8 million and is the fifth-largest in the United States. Below are just a few of the many things to see and do in this culturally-rich and wonderfully diverse city.
Looking for some historical landmarks? Independence Hall, Independence National Historical Park, the Liberty Bell, Benjamin Franklin's print shop, Betsy Ross' House, Battleship New Jersey Museum, Christ Church, Elfreth's Alley, and Valley Forge are all noteworthy historical spots in Philly.
Getting Around Philadelphia:
Philadelphia's mass transit system, SEPTA, operates a coordinated system of bus, subway, elevated train, and trolley lines that covers the city and surrounding counties. During the academic year, Neumann offers shuttle service to the Elwyn Train Station, where you can take the R3 train directly to downtown Philly. The Philadelphia International Airport can be reached by taking the R3 train to 30th Street Station, then taking the R1. If driving, the airport is only a twenty-minute drive from campus.
After a 38-minute SEPTA ride from the Elwyn station to the 30th Street Station, Neumann students can catch an Amtrak train to New York City and Washington, D.C. Taking the bus is another, inexpensive option for traveling to and from New York and Washington D.C. Check out the Chinatown Bus, Bolt Bus, or Greyhound.
Art Museums & Performing Arts:
The Philadelphia Museum of Art, the Rodin Museum (featuring the largest collection of Rodin's works outside France), the Barnes Foundation (featuring a celebrated collection of French Impressionist painting), the Pennsylvania Academy of Fine Arts (housing important American paintings and sculptures).
Philadelphia Orchestra (at the Academy of Music), the Pennsylvania Ballet, the Opera Company of Philadelphia, the Wilma Theater, the Arden Theater Company, the Walnut Street Theater, World Café Live, Kimmel Center, Prince Music Theatre, Fringe Festival.
Cultural Districts & Other Attractions:
There are so many cultural attractions in Philly. Check out the following: The Atwater Kent Museum, Adventure Aquarium (across the Delaware River in Camden, NJ), the Philadelphia Zoo, the Reading Terminal Market (great place for lunch), the Mummer's Museum, the National Constitution Center, the Franklin Institute (museum of science and technology), South Street, the Italian Market, Old City, Rittenhouse Square, King of Prussia Mall, Chinatown, Society Hill, University City, Penn's Landing and the Waterfront.
Food, food, Food:
If you're worried about where and what to eat, let your concerns be put to rest! Pennsylvania is chock-full of famous foods and eateries. Philadelphia, specifically, is known for its many street vendors. Soft pretzels have been called the crepes of Philadelphia, and some residents claim that no other city makes better pretzels. You also can't forget about the Philly cheesesteak, which you can find at most restaurants in the area.
The Reading Terminal Market has been around since the late 1893 and has food from hundreds of farmers and distributors. You'll find everything from Chinese cuisine to fresh produce to authentic Amish food. The Italian Market is another popular destination for tourists and residents alike and features a number of grocery stores, cafes, bakeries, and more. The variety is endless, so you never have to worry about finding a tasty meal or treat.
Sports & Recreation:
Among Philadelphia's outdoor attractions is Fairmount Park, the largest urban park system in the United States with five major parks located throughout the city, each offering a variety of recreational facilities. Philadelphia is also a city of sports lovers, and is home to professional teams in four major spectator sports; the Eagles (American football), Phillies (baseball), 76ers (basketball), and Flyers (hockey).
Day Trips:
Make it a day trip and visit one of the following spots: Hershey Park (chocolate-themed amusement park), Lancaster County (famous for its Amish settlements), the New Jersey shore (beaches, great seafood, etc.), the casinos and boardwalk of Atlantic City, Baltimore, Pocono Mountains, and Longwood Gardens.
THINKING ABOUT MAKING NEUMANN YOUR HOME?
If you're thinking about coming to America to study at Neumann University, we invite you to contact the Global Development Office at cpd@neumann.edu.
Whether you're a transfer student, an international student, or first-generation college student, Neumann is dedicated to preparing the next generation of leaders — in a variety of ways. We hope to hear from you soon!
Explore our digital resource page — The Financing Toolkit!