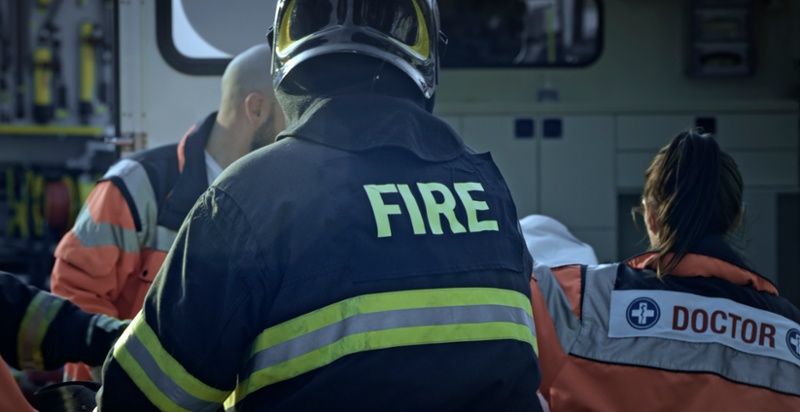 When you see a firefighter, the words courage, strength, and drive might come to mind. But you probably don't immediately wonder — does that firefighter have a college degree?
Despite your initial assumptions, you should know that various public safety fields are placing more and more emphasis on higher education and are prioritizing professionals who hold a college degree, even for those working in fire service.
At Neumann University, we recognize that going back to college to complete a four-year degree can be a challenging decision to make. But we're dedicated to helping students of all backgrounds, including adult learners, complete their bachelor's degree. In response to the many adult students hoping to go back to school, we offer degree completion programs for non-traditional students who need an accelerated, flexible program option.

What is a degree completion program?
So, what is a degree completion program? Who should enroll in a degree completion program?
A degree completion option is designed specifically for adult learners who have some post-secondary education but who have not yet completed a four-year degree.
Applicants of a degree completion program often bring some college credit to the table, whether from a four-year university or a community college, and some may have earned an associates degree or hold some prior work experience. Degree completion programs exist to build upon the work students have already completed and to help them earn a four-year undergraduate degree to better their personal and professional lives.
What is a Public Safety Administration degree?
Students who get a public safety administration degree are interested in working in a unique administrative environment with specific emphasis on the skills needed to meet the challenges in public safety structures. Students in a public safety administration program will study a number of organizational configurations and how they work in coordination to provide timely and efficient emergency services.
Neumann University offers an accelerated, degree completion program in Public Safety Administration, and we'll dive into some of the details about the degree later on in this article. For now, check out this short video to hear from one Public Safety Administration alum, Tom Johnson, who experienced this unique and flexible degree completion program at Neumann University.
Now, let's dive into just a few of the reasons that firefighters specifically should pursue a Public Safety Administration bachelor's degree:
1. consider career mobility:
Maybe you're a "lifer" in your public safety career, but maybe you think there might be a "career after the career" ahead of you. Beyond the fire department, it's likely that you'll need to obtain an undergraduate degree before you would even be considered for an interview.
But getting a job is just part of the equation, keeping that job is another topic altogether. According to the Bureau of Labor Statistics, those who hold an undergraduate degree earn more and are less likely to be unemployed than those with an associates. If an organization experiences a difficult financial period or is downsizing for other reasons, having a college degree will help public safety professionals to get another position in another department more quickly. A public safety professional's rank and seniority will also be taken into consideration when pursuing another position.
2. It's a strategic way to network:
Seriously, networking with those in the fire service and others in the realm of public safety is very important for building both personal and professional relationships. Having a network of peers and mentors that you can bounce ideas off of and who understand your professional goals can be a significant source of support for someone in your unique professional field.
Going back to college and getting a bachelor's degree in public safety administration will place you squarely in the foreground of other public safety professionals (including firefighters) who can help guide you as you pursue a degree and a long-term career in this unique administrative environment.
3. you'll prepare for promotional exams:
As a firefighter, you will be required to take a variety of exams — from entrance exams to proficiency tests throughout apprenticeships to promotional exams.
But did you know that having a college degree can often get you extra points on your promotional exams? In such an often-tight promotional race, having an extra point added to your test score can seriously make the difference for whether or not you get promoted.
4. the fire service prioritizes professionalism:
More and more industries continue to recognize the seriousness of having a college degree. So, if you want to make yourself indispensable — especially in a unique field like public safety administration — you need to demonstrate self-discipline and the ability to lead a team effectively. Employers will more readily recognize determination, grit, and intelligence in those who obtain a college degree.
In the words of Dr. Jilian Donnelly, the Executive Director of the Adult and Continuing Education (ACE) unit at Neumann University: "The fire service now, more than ever, is seeing its leadership take on the seriousness of higher education. Don't get left behind ... Increase your ability to be an effective administrator by pursuing a college degree."
5. increased personal Self-Satisfaction:
There are many reasons why people want to go back to school and get a college degree. Many people consider getting a college degree, at any age and at any career stage, simply because it's something they WANT on a personal level, or because they want an intellectual challenge, or because they want to prove themselves to other professionals. All of these reasons are good reasons for going back to school and getting a bachelor's degree.
And apart from earning higher salaries and having greater job options and security, four-year college graduates often report higher levels of self-satisfaction when evaluating their employment.
Exploring NU's Public Safety Administration degree completion program:
Neumann University's Bachelor of Science in Public Safety Administration is an accelerated, online undergraduate degree completion program for adults currently working in the fire service, law enforcement, and emergency medical services fields.
As part of this program, students will complete in-depth projects that rely on experiential learning elements applicable to a variety of public safety administration situations to foster an understanding of how challenges and opportunities develop in public safety administration settings, and what is needed to effectively address real-world issues in these environments.
Graduates of the Public Safety Administration degree completion program will be able to:

• Demonstrate the ability to think critically and creatively in public safety administration problem-solving
• Write, present, and communicate effectively
• Identify and describe key functions and competencies to be effective in today's public safety administration environments
• Describe public safety organizational dynamics through multiple perspectives
• Apply the body of knowledge to real-world public safety issues through experiential learning projects

If you're interested in pursuing the Public Safety Administration bachelor's degree at Neumann University, we encourage you to request more information today. We can't wait to hear from you!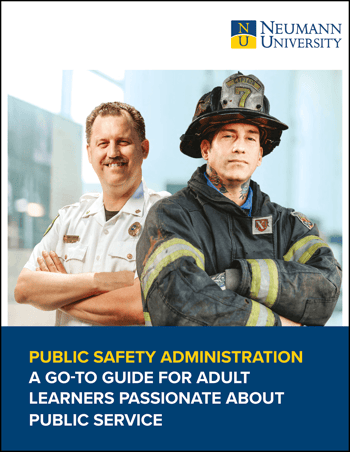 Explore our digital resource page —
Public Safety Administration: A Go-To Guide for Adult Learners Passionate About Public Service!