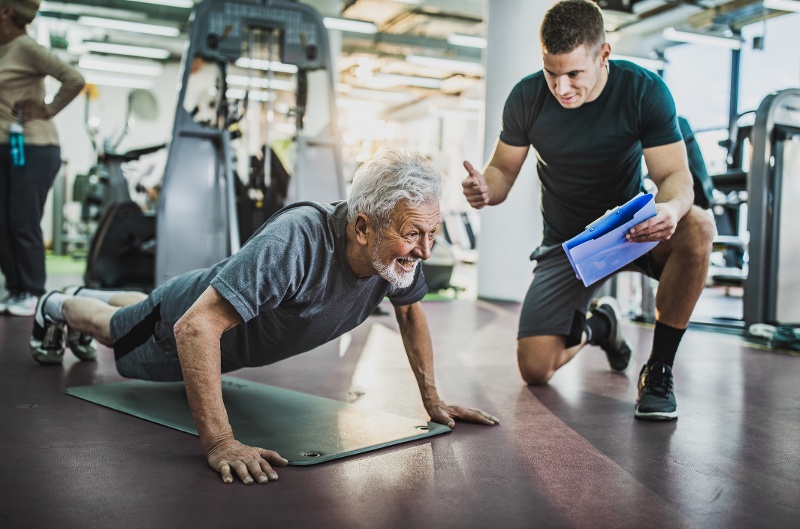 At Neumann University, we recognize the ever-changing environment of health care in the world today, and our faculty who teach in the Athletic Training graduate program strongly believe that the profession of athletic training is quickly becoming a career that is both highly desirable and respected — both in the state of Pennsylvania and across the nation.
For these reasons, Neumann University offers a respected master's in Athletic Training for compassionate, detail-oriented individuals who have a passion for helping others in the state of Pennsylvania, and beyond.
WHAT IS ATHLETIC TRAINING?:
So, what is athletic training? Where do athletic trainers work? Do I need a master's in athletic training to boost my career? These are the kinds of questions that many aspiring athletic training professionals are considering.
According to the professionals at Neumann University, "certified athletic trainers are highly qualified, multi-skilled health care professionals that work in collaboration with physicians. The practice of athletic training encompasses preventing, examining, diagnosing, treating, and rehabilitating emergent, acute or chronic injuries and medical conditions in the physically active population."
Certified athletic trainers work everywhere from hospital emergency departments and sports medicine clinics to secondary schools, industrial settings, and professional sports teams. You may be surprised to hear that athletic trainers have also been becoming increasingly valuable in the U.S. military, where they play a valuable role in ensuring the health and safety of active duty soldiers. Public safety is another setting where athletic training professionals can be of use. Here, they work with firefighters and police officers in preventing injuries in these often strenuous professions.
In short, athletic trainers have the ability to work in a variety of industries and are prepared to impact change no matter where they work.
Understanding the Athletic Training salary and job outlook in Pennsylvania:
Due largely to an aging population as well as to a growing awareness of the seriousness of sports-related injuries, athletic training is a field that is expanding rapidly. The athletic training industry is expected to grow an astounding 19 percent by 2028, which is much higher than the national average.
The salary that you can expect to earn as a certified athletic trainer may vary by state. In Pennsylvania, skilled professionals can earn upwards of $60,000 annually.
Job prospects in other major cities are attractive as well: In New York, athletic trainers can earn over $70,000 per year, whereas top earners in Washington, D.C. have the potential to earn over $100k annually.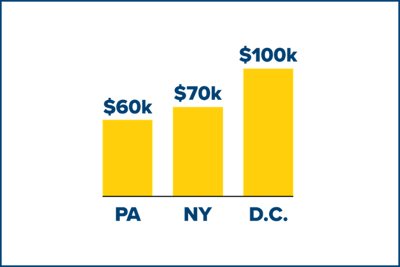 NU's Athletic Training graduate program in Pennsylvania
—

and what makes it unique:

The 43-credit master's in Athletic Training can be completed in 2.5 years. This program is aligned with the competencies and proficiencies established by National Athletic Trainers' Association (NATA.org) and Commission on Accreditation of Athletic Training Education (CAATE.net). The didactic portion of the program is taught by experienced faculty in a hybrid format, utilizing online and face-to-face instruction in our new state-of-the-art Health Science Center.

The Neumann Athletic Training program in Pennsylvania offers a low student-to-faculty ratio that provides individualized learning in both the classroom and clinical settings. There are four clinical (practicum) experiences that enhance classroom content providing an opportunity for applied learning under the supervision of a certified athletic trainer. Students will also participate in at least one "immersive clinical experience" during the last year in the program.

Neumann's location in the greater Philadelphia region complements our offering of a wide variety of unique clinical opportunities, and this allows students exposure to both traditional (to include professional sports), as well as non-traditional clinical athletic training experiences. Students will also have the opportunity to participate in sports medicine research under the guidance of our faculty.

Neumann University's Franciscan values and traditions are embedded into all aspects of our Entry-Level Program. The holistic approach to exposing students to not only academic excellence but social responsibility, personal accountability, and service to the community.
Clinical Experiences in NU's Athletic Training graduate program in Pennsylvania:
Coursework and clinical experiences will provide advanced sequential knowledge and skill acquisition that, at its completion, will prepare students to take the BOC examination. Lastly, students are exposed and encouraged to participate alongside faculty in a variety of professional development opportunities.
During a four-semester clinical rotation, each student will work to become skilled in the areas of Upper Extremity, Lower Extremity, Equipment Intensive, and General Medical. Neumann University offers a wide variety of clinical experiences. Students have the ability to work with professional teams, universities, high schools, clinics, and much more.
Clinical site options include:

Join the Athletic Training graduate program in Pennsylvania at Neumann University:
Recognizing the ever-changing environment of health care in the world today, the faculty of the Athletic Training graduate program are committed to providing students with contemporary and cutting-edge instruction to respond to the needs of the profession as well as to appropriately prepare graduating students to be competitive in job market.
If you're interested in jumpstarting your career in this fast-moving field by pursuing an athletic training graduate program in Pennsylvania, our Team at Neumann University would love to help you explore the exciting field of athletic training.
We encourage you to request more information or start your online application today!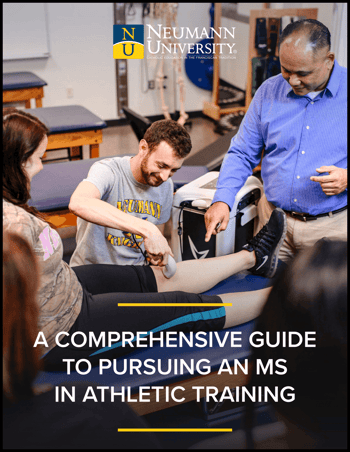 Check out our digital guide — A Comprehensive Guide to
Pursuing an MS in Athletic Training!