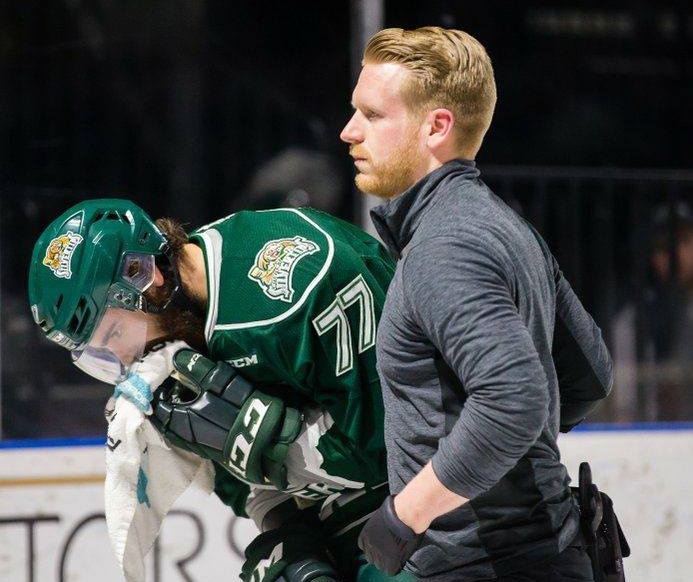 Athletic training is an ever-evolving profession within an ever-changing health care environment.
With an M.S. in Athletic Training, you'll be in the heart of the action, wherever you go — whether you working in a high school or college, in professional sports, or in a clinic.
Keep reading for a closer look at Neumann University's M.S. in Athletic Training (now accepting applications for Summer 2019!), a program for professionals looking to work in fast-paced and dynamic health care environment.
Introducing Neumann's M.S. in Athletic Training
Neumann's master's in Athletic Training program provides educational opportunities that prepare students for a career as Certified Athletic Trainers. Throughout their course of study, students gain a sound educational basis for beginning professional practice, which is infused with Franciscan values and traditions.
This Master's Level course of study gives the student a strong foundation in both didactic and clinical practice that is also aligned with the competencies and proficiencies established by the National Athletic Trainer's Association (NATA) and the Commission on Accreditation of Athletic Training Education (CAATE) which are essential to professional practice as a certified athletic trainer.
Students that successfully complete this Program are eligible to sit for the National Board of Certification Exam (BOC).
Neumann's Program Design:
Minimum of 4 semesters
43 Credits
All courses instructed in a hybrid format
Classroom learning and clinical rotations
A wide variety of clinical experiences
Neumann's Outcomes:
Graduates of the program are able to utilize, through competent practice, the cognitive knowledge and clinical proficiency required in emergency care, the care of patients, the prevention of injury and illness, and the assessment of injury and illness.
They demonstrate currently acceptable professional practices in athletic training, and effectively apply that knowledge in the care of patients. Graduates are prepared to view learning as a lifelong process, and to value the inherent dignity of human beings regardless of individual differences.
Neumann's Program Philosophy
Recognizing the ever-changing environment of health care in the world today, the faculty of the Athletic Training Program are committed to providing students with contemporary and cutting edge instruction to respond to the needs of the profession as well as to appropriately prepare graduating students to be competitive in job market.
The athletic trainer is an individual who must be ready to assume a variety of new roles in the profession, such as meeting mandates by state education systems for all high schools to employ athletic trainers, responding to the armed forces' requirement to have an athletic trainer at all military installations, or being prepared for insurance carriers awarding provider numbers for athletic trainers. The future of the profession is certainly one without boundaries, and Neumann University is in the position to educate students to succeed in this evolving profession of athletic training.
You could be Neumann's next Athletic Training graduate student:
Pursuing a career in Athletic Training isn't for the faint of heart: It requires hard work, dedication, intelligence, and ambition.
At Neumann, we're dedicated to helping you achieve your goals. We invite you to request more information today and let us help you as you consider pursuing your academic and professional goals!
Interested in learning more about the graduate programs offered at Neumann University? Subscribe to our weekly blog — NeuPerspectives!