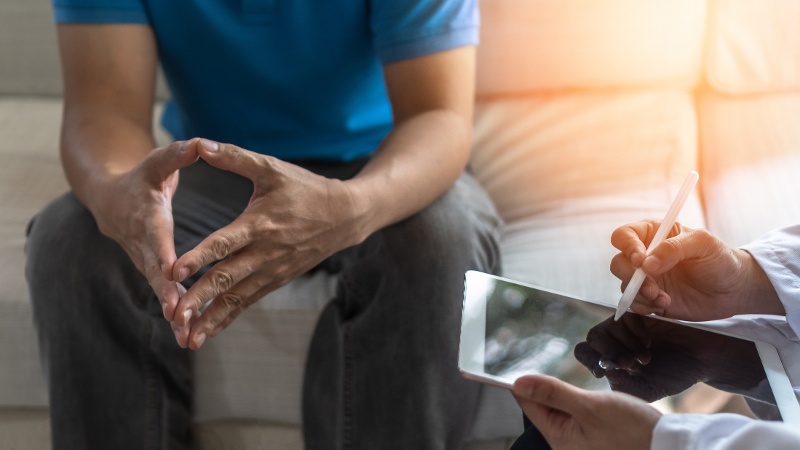 Currently, we are all facing unique mental and spiritual demands of a culturally diverse world.
Pastoral clinical mental health counselors are particularly valuable in today's mental health field because they are trained to provide holistic patient care — recognizing the connection between body, mind, and spirit.
We had the opportunity to speak with a graduate of Neumann University's Master of Science in Clinical Mental Health Counseling, Blair Souder. Here's what he had to say about changing careers to a job in pastoral counseling.
what is pastoral clinical mental health counseling?
So, what is pastoral clinical mental health counseling? Students pursuing a master's in pastoral clinical mental health counseling receive the same training and instruction as other clinical mental health counselors, but they integrate a pastoral perspective into every part of who they are and what they do.
This integration of spirituality allows pastoral counselors to care for their clients from a holistic and integrated perspective, acknowledging the connection between the body, mind, and spirit. It's one of the most impactful fields today.
Students who choose to pursue a master's degree in pastoral clinical mental health counseling will be prepared for a career in clinical practice in a variety of settings. An MS in clinical mental health counseling is a highly flexible degree and offers graduates the opportunity to work in a variety of environments including:
Mental health agencies
Private practice
Faith-based counseling organizations
Rehabilitation programs
Schools
Hospitals and other health institutions
Nonprofits
Various government programs.
Now, let's talk to one graduate of Neumann University's Master of Science in Clinical Mental Health Counseling program — and who changed his profession to a career in pastoral counseling.
Tell us a little bit about yourself: name, age and hometown?
My name is Blair Souder. I am 58 years old, and I live with my wife on a small farm in Oxford, Pennsylvania — in Chester County.
I originally received a bachelor's degree in Chemical Engineering in 1985 (University of Delaware); I also received an MBA degree in 1995 (University of Connecticut). These supported my "first career" — first as an engineer and later as a business leader.
What motivated you to obtain a graduate degree?
As I reached midlife, I realized I wanted to transition into a different vocation where I was directly supporting people in need. After some volunteer work (hospice), I chose to pursue a "second career" in counseling, which required a master's degree, so I immediately began to look for a program that could enable that.
What graduate program did you pursue at Neumann University?
As I thought about my own personal growth journey, I knew that there was an integration of psychological and spiritual factors that were influential and transformational for me.
As I researched graduate counseling programs, I was attracted to Neumann's pastoral counseling program (Master of Science in Clinical Mental Health Counseling) because it integrated spirituality and psychology while providing the necessary foundation for professional licensure.
I was also attracted by my initial conversations with faculty (Sr Suzanne Mayer) — the passion and enthusiasm she exuded, the small but interactive class size, and the ability to complete the program in evening coursework format so I could continue to work my "day job."
What was your favorite thing about the Neumann University pastoral counseling program?
To be a professional counselor, one needs the necessary education, clinical skills, and experience. However, the introspection and self-awareness that Neumann University's pastoral counseling program encouraged and fostered has enabled me to not only engage with clients in ways that are more effective and healing, but also helped me to continue to learn and grow as a person independent of my profession. That is a true gift.
Did you participate in a counseling internship while at Neumann?
Neumann's pastoral counseling program required two internships. For my internships, I was placed with organizations in Philadelphia and Wilmington working with social services organizations — supporting the re-integration of homeless populations and women's shelters.
I was fortunate and grateful to have had internships that were challenging enough mentally and emotionally to allow me to learn and grow substantially and that were also transformational for me by opening up different and deeper perspectives.
I am truly grateful to my professors who created opportunities that enabled me to have these experiences that also fit into my challenging work schedule.
Now that you've graduated, how have you seen your pastoral counseling degree make you more marketable and successful in your field?
For me, the definition of "success" has shifted for me later in life. My Neumann experience helped me to learn and grow in ways that enable me to be more effective in service to those who are in need of support.
While my current focus is in my private practice, I intend to leverage my Neumann experiences in the coming years as I engage with social services organizations to more broadly support those in need.
The awareness and emphasis on the importance of mental health continues to grow, and the world needs qualified mental health professionals to fill those needs — Neumann has equipped me well to do that.
Tell us about one faculty member who greatly influenced you and enriched your time in the Neumann University pastoral counseling program.
I can't narrow if to one, but certainly Sr Suzanne Mayer for her inspiration, vision, and much needed pep-talks when I doubted myself; Professor Sophia Park who challenged me to trust myself and be willing to move beyond my comfort zone with clients; and Professor Beth Toler (no longer at Neumann) who mentored me through the transformational internships I experienced.
What is the one piece of advice you would give to someone considering Neumann University's pastoral counseling program?
I would encourage prospective students thinking about Neumann's Pastoral Clinical Mental Health Counseling program to be really clear about what they want to experience and why.
For me, my experience at Neumann wasn't just about equipping me with knowledge and experience to find success in my career, but to also learn and grow as a human being — to discover more fulfillment both in my vocation and in my personal life.
In my experience, Neumann clearly delivered that for me.
Thinking about getting a pastoral counseling degree? Connect with Neumann University today!
The need for mission-minded and service-oriented clinical mental health counselors is evident. These individuals must be highly qualified and expertly trained in order to meet the needs of the present-day and to anticipate the challenges of the future. If you feel the call to fill this role, we invite you to reach out to us.
If you are prepared to get started with your advanced degree, you can request more information or begin an application online. Thank you for answering this call to serve, we are excited to hear from you soon!
As an aspiring mental health professional, it's important that you pick the pastoral counseling program that's right for you.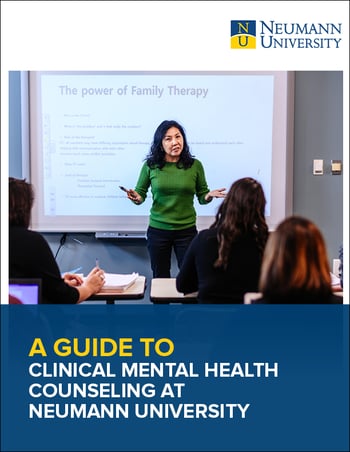 Download A Guide to Pastoral Clinical Mental Health Counseling at Neumann University today!