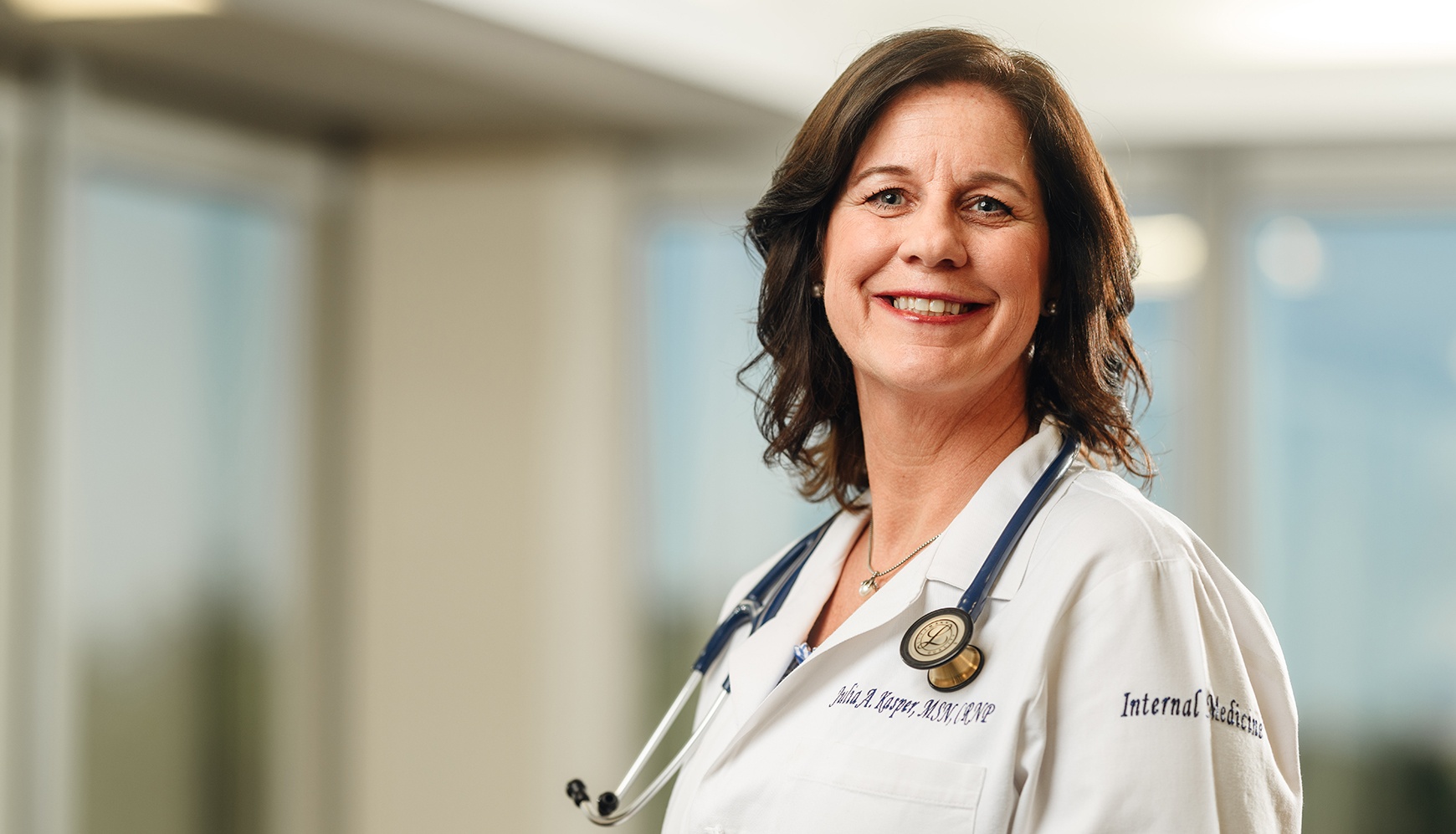 Great things happen when your professional aspirations meet our educational inspiration.
At Neumann University, we value an exceptional education from our community of experts who are dedicated to preparing you to further your career and enhance your income as a nursing leader. We enable graduates of our Master of Science in Nursing program to deliver holistic, patient-centered, and evidence-based primary care. Not to mention, we ground it all in the tenets of ethical behavior and respect for human dignity.
If you're thinking about pursuing an advanced degree in nursing, we hope you'll keep reading and let us tell you a little bit more about the Master of Science in Nursing program available at Neumann.

What can you expect from graduating with an M.S. in Nursing from NU?
Students may choose from the following options:
Adult-Gerontology Nurse Practitioner- Primary Care, M.S.
Post-Masters Certificate
Adult/Gerontology Nurse Practitioner Post-Master's Certificate
With your M.S. in Nursing: Adult-Gerontology Primary Care Nurse Practitioner (AGNP), you will be prepared to provide comprehensive, primary care to adolescents and adults across their lifespan.
Program graduates and Post-Master's AGNP Certificate-earners alike may apply to sit for the national certification examination, and apply for state licensure.
Facts about our MSN Graduates:
100% pass rate — 2017 Adult Gerontology Primary Care National Certification examination
All graduates rated their overall satisfaction with NU's program with the highest rating possible and would recommend the program to others.
NU Adult-Gerontology Primary Care Nurse Practitioner

graduates surpass the national average for first-time pass rates

on American Nurses Credentialing Center (ANCC) national certification boards.
All 2015 graduates were employed in their field of study within 12 months of receiving their national certification.
Average time for program completion for 2016-2017 was

3 years, and

ALL

students completed the program within

5 years.
Salaries for the 2015 graduates range between

$85,000 - $110,000.
"Individualized mentorship alongside seasoned faculty who are invested in you and your success."
—Mary Powell, PhD, CRNP, CDE Associate Professor and Director, Graduate Nursing Program
What kind of academic courses will you take during your time in NU
's

advanced Nursing program?

Although just a few, below are examples of the kinds of courses you'll have the opportunity to take while enrolled in NU's program.
NUR 601

– Conceptual Models and Theories of Advanced Practice Nursing
NUR 606

– Health Policy, Legal and Ethical Issues in Advanced Practice Nursing
NUR 607

– Advanced Pharmacology
NUR 611

– Advanced Pathophysiology
NUR 612

– Advanced Health Assessment and Diagnostic Reasoning
NUR 626

– Special Topics in Graduate Nursing
NUR 630

– Health Promotion and Disease Prevention for the Advanced Practice Nurse
NUR 632

– Nursing Research: Linking Evidence to Practice
What are Neumann
's

admissions requirements?

Neumann University's Nursing programs are accredited by Accreditation Commission for Education in Nursing, Inc. (formerly the National League for Nursing Accrediting Commission).

View a list of Neumann's supplemental application items.

Applicants with a baccalaureate degree in Nursing from a regionally accredited, degree-granting institution; and a nationally accredited agency in Nursing Education who have successfully completed all prerequisite courses are eligible for entrance to the Master of Science in Nursing program. Subject to the approval of the Program Director, acceptance is on a competitive basis after submission of all credentials and an interview.

At Neumann University, Franciscan values and traditions are linked to a strong liberal arts and professional education. Graduates of the advanced Nursing programs will have the knowledge, skills, and attitudes required for competent, ethical, professional practice: for lifelong development of that practice, for advanced study in nursing, and for fulfillment of professional and societal responsibilities.

We hope you'll visit our website to learn more about the advanced Nursing programs at Neumann University and let us help you make an informed decision regarding your future as a nursing leader.
Interested in learning more about the graduate programs offered at Neumann University? Subscribe to our weekly blog — NeuPerspectives!