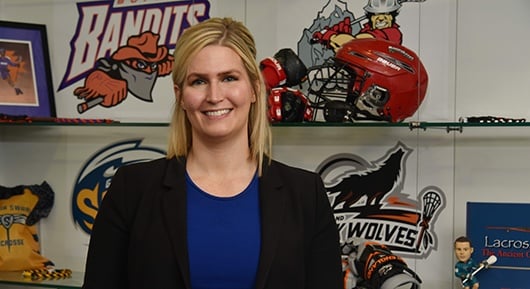 Hard work pays off. Just ask Ashley Dabb, who earned her MS in Sport Management in 2010. She was recently recognized at the Leaders Under 40 Awards, the global search for the best talent in the business of sport under the age of 40.
Dabb was nominated by National Lacrosse League Commissioner and mentor, Nick Sakiewicz, who has referred to her as "an invaluable asset to the league."
Dabb was selected out of 585 nominations from 51 countries along with 41 other candidates to join the Class of 2017 under the category of marketing and communications.
After the Leaders Under 40 Awards Class of 2017 was announced, the members were celebrated at a prestigious awards dinner, held in October at the Natural History Museum in London.
Dabb, who is currently the Chief Marketing Officer for the National Lacrosse League (NLL), oversees all branding, marketing and communications efforts and coordinates with PR, marketing and digital staff on each of the NLL's nine teams across the U.S. and Canada.
Under Dabb's leadership, the NLL's digital footprint has been able to expand through initiatives she spearheaded to give fans an unprecedented level of access to the game including a brand new website for NLL.com to house the rebranded league logo, a live-streaming partnership with Twitter and CBS as well as the launch of the NLL Productions studio and NLLTV.
Prior to her position at the NLL, Dabb spent nearly a decade at the Philadelphia Union, Major League Soccer's 16th franchise, climbing the corporate ladder. She started at an entry level position, "I was an administrative assistant, which is not what I went to college for or what I wanted to do, but I had my foot in the door," Dabb says. "It was basically a catch-all position, and it was a good start."
Here's the evidence that her hard work did pay off. After being promoted several times, Dabb eventually was named Vice President, Marketing and Communications at the Union.
"It was here [at the Union] where I was able to see Ashley's passion and drive for creating memorable fan moments through engaging content, special events and communications. No matter what the task is, Ashley tackles it with enthusiasm and vigor and is always looking for ways to innovate and push the envelope," Sakiewicz adds. During Dabb's tenure at the Union, Sakiewicz was at the helm as CEO of the soccer team.
Read more success stories from Neumann University alumni by subscribing to our weekly blog — NeuPerspectives.