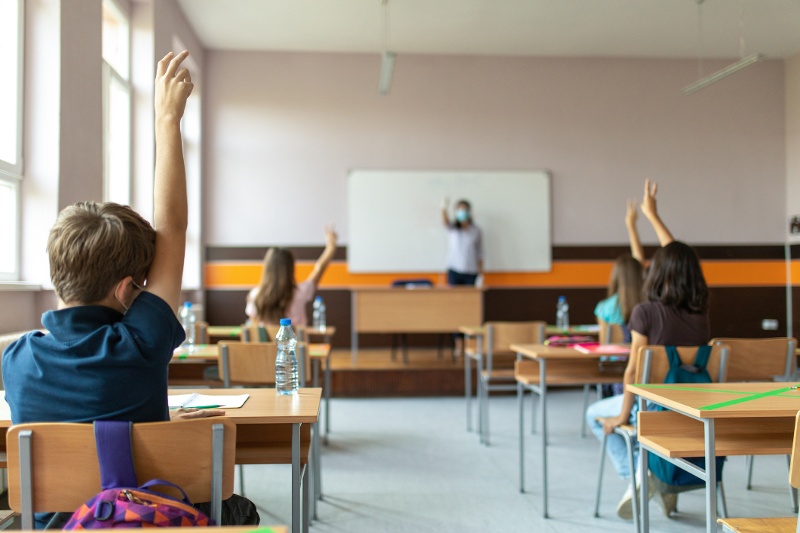 When it comes to a career in education, pursuing a master's degree in education is a step you can take to solidify success.
Not only does obtaining your master's degree increase your earning potential (earnings climb thousands of dollars above the nationwide average for several regions), but you will develop the skills needed to transform the lives of students — in an academic setting and beyond.
Wondering what life is like while pursuing a master's degree in education? Recent Neumann University graduate Blair Combs shares his personal experience earning his education degree online.
Keep reading to learn more about opportunities and experiences straight from a postgraduate student.

Tell

us a lit

tle bit about yourself: name, age and hometown?

My name is Blair Combs, from Wilmington, DE, and I am 30 years old.
Where did you graduate with your bachelor's? What was your major?
I graduated from Neumann University with a BA in Elementary Education in 2014.
Why did you choose to obtain a master's degree in education?
The reason that I chose to obtain a master's degree was because I really wanted to find a teaching job working with students with Autism and the Master's of Special Education with an Autism Endorsement seemed like the best fit to keep me on the right path to my ultimate teaching goal.
Why did you specifically choose an online MS in Education program?
I specifically chose an online MS in Education program because during my search for programs, I spoke with some friends who had gone through this program before. They said that it was perfect for people who are working full-time but also wanted to further their education. This program worked beautifully with my busy daily life and work schedule.
What was your favorite thing about the program?
My favorite thing about the program was the support that I received not just from other students in the program but also, the professors. They understood that not only are we in this educational program, but many of us were already full-time teachers navigating first-time virtual teaching.
Tell us about your practicum experience. How did that experience make you a better educator?
My practicum experience was great. I was able to use the knowledge and skills that I learned from my courses and apply them directly to my practicum teaching in my previous Emotional Support classroom.
What is your current position? And how did Neumann specifically prepare you to achieve your long-term career goals?
Currently, I am a new Emotional Support teacher for 1st-3rd grade students at the Green Tree School and Services in Philadelphia.
Neumann has prepared me to achieve my goal by giving me the tools I need to be an even better teacher. This program also helped me to refresh some of the information that I had learned in some undergrad courses and my experience working in my previous school.
How did you juggle work and school at the same time?
I worked full time while I was also in the program. In the beginning, it was tricky because I had to prepare for the beginning of a new school year teaching and try to manage my time to get classwork and projects completed.
I literally had to make myself a calendar so that I could write in due dates of assignments and whatever was due at work. This helped me to work smarter not harder because I was able to prioritize what needed to be done first and what could be done a little later.
What is the one piece of advice you would give to someone considering Neumann's online MS in Education program?
One piece of advice I could give would be to manage your time. You have to make sure to not overwork yourself. Planning out your time and assignments will really be beneficial to you because this will allow you to still have some freedom to throw in some relaxation time too. Just don't forget to do your assignments!
READY TO JOIN A COMMUNITY OF EDUCATORS AT NEUMANN?
We hope reading about Blair's experience helps you better understand what life would look like while earning your master's degree in education online.
At Neumann University, we have several different advanced programs so that you can choose to focus on whichever area you're most interested in.
If you're ready to pursue a graduate education degree that will open doors to competitive opportunities in the education field, then we invite you to learn more about our master's, certification, and endorsement programs