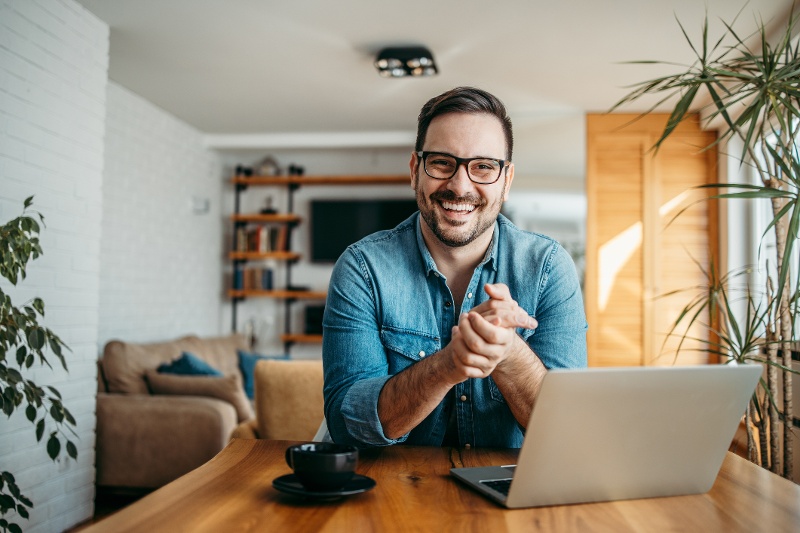 Earning a graduate business degree that is rooted in leading organizational change can set you up for a lifetime of career success.
The business world is thriving and extensive, and it offers plenty of opportunities for professional growth and development. With a wide range of fields, organizations, and leadership careers available in business, your career can follow whatever direction you find most fulfilling — as long as you develop the change leadership skills needed to impact positive change in your industry.
If you're interested in pursuing a meaningful career in business, you may be asking yourself one very important question: Should I get an MBA? While earning a Master of Business Administration often becomes the default route to take, the traditional MBA might not be the best option for everyone.
Let's talk about some of the alternatives to an MBA degree, why leading organizational change is so important, and how you can jumpstart a meaningful leadership career this year.
Alternatives to MBA Degree:
An MBA isn't necessarily the most strategic graduate business degree option for all professionals.
An MBA offers many individuals a broad foundational knowledge of business practices, operations, and management. Programs typically explore all areas of business while helping students develop the critical thinking skills needed for a successful career in business.
What you may not know is that there are other types of graduate business degrees designed to prepare you for success in ways that an MBA might not.
The business world is extensive, encompasses a variety of industries, and includes people in a wide assortment of roles and responsibilities. While a graduate degree in business administration may provide a solid foundation of business acumen, for those interested in focusing their career on a specific area of the business world, there are alternatives to an MBA. If you desire to have the biggest potential impact in your chosen field, a specialized business degree can empower you to do just that.
leading organizational change is necessary for landing a successful leadership career:
The role of business leaders is expansive and extends far beyond the company they work for and the people they interact with. A true leader helps set the tone for their entire team, organization, and industry, a tone which spills over into the day-to-day lives of employees and customers. When leaders are able to connect with and encourage others, their teams become more cohesive and productive.
Unfortunately, good leaders can be difficult to find.
Businesses need good leaders, so why do many companies struggle to find strong leaders? Strong leadership skills are what set some managers apart from others. Leaders must not only practice strategic thinking, understand business goals, and make data-driven decisions, but they must also inspire trust and transform teams through exemplary social and emotional intelligence.
For those interested in pursuing a career in business and change leadership, finding a good graduate business program is the first step toward career advancement. In fact, a degree in business leadership increases earnings, offers opportunities for promotion, presents strong job security, and creates higher levels of job satisfaction upon entering the workforce.
Types of Graduate Business Degrees:
Compared to the traditional MBA, there are other types of graduate business degrees that provide graduates with subject-specific and expert-level knowledge in a chosen area. These alternative graduate business degrees are perfect for those who know what sector of business they want to dive into and where they want their career to go.
Here are a three types of graduate business degrees to consider — alternative to an MBA degree:
1. Business and Organizational Leadership:
For those who want to grow and hone their change leadership skills, a master's degree in business and organizational leadership will equip you with a foundation of knowledge rooted in an interdisciplinary approach to business that provides graduates with skills that are relevant and transferable to a variety of fields and business leadership careers. Students will learn critical thinking skills and problem solving abilities, in addition to learning the "nuts and bolts" of successful business best practices.
In a Master of Science in Business and Organizational Leadership, the curriculum centers around the human elements of business, such as communication techniques, leadership theory, multicultural workplace dynamics, and team development. This differs from an MBA, which generally provides a broad overview of all business operations and takes an analytical approach to management, rather than a human one.
By emphasizing more personal and creative approaches to management and change leadership, this unique business degree enables students to work with the emotional intelligence of individual subordinates, inspiring them to their fullest professional potential.
2. Accounting:
By pursuing a Master of Science in Accounting with an emphasis on Forensics and Fraud Detection, you will learn how to collect and examine evidence, demonstrate knowledge of transaction reconstruction, and apply the science of forensics to financial statement analysis. These sought-after skills will make you indispensable as an employee and create opportunities for career growth in the unique field of forensic accounting — one of the fastest growing fields in law enforcement.
Unlike an MBA that only touches on understanding the basics of accounting, an MAcc will give you the specialized knowledge needed to work in the area of business that you are most excited about.
3. Sport Business:
Sport business is a very unique and specialized area of business. While a general understanding of business management and operations is critical, there are far more industry-specific skills one can develop through a rigorous graduate program that is focused on preparing your for a career in sports.
The master's in sport business focuses more exclusively on the sports industry and the business practices within that industry. Students learn about the business elements of sports, from the perspective of the sports industry, as opposed to an MBA program where students learn business fundamentals and then apply them to the field of sport management.
A Master of Science in Sport Business can provide you with the skills and experience needed to excel in careers in sports. Classes focus on analytics, leadership and ethics, marketing and partnership activation, legal and regulatory issues, events and facilities, revenue generation, financial management, and digital media/communication. Students are also exposed to networking opportunities, which often lead to internships and career relevant experiences that can help them later down the road.
Careers in sport business are often competitive, and a specialized business degree will help you to distinguish yourself as one of the top candidates.
Earn your graduate business degree at Neumann University:
At Neumann University, we incorporate an interdisciplinary, liberal arts approach to business, making it possible to develop acute business acumen, while nurturing invaluable "soft skills" that will prepare you for a successful, fulfilling career in your chosen industry. Our graduate business programs prepare students to immediately apply what they learn in the classroom to their professional careers and to ultimately, reach their full professional potential.
To learn more about our programs, we invite you to explore our upcoming virtual events calendar or start your online application today. We look forward to helping you achieve your goals and pursue a successful leadership career in business!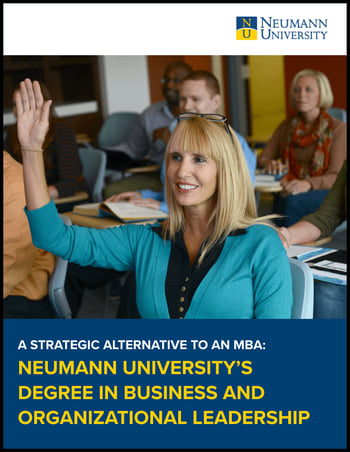 Choose to boost your leadership career in 2020. Download Neumann University's Business and Organizational Leadership Guide.