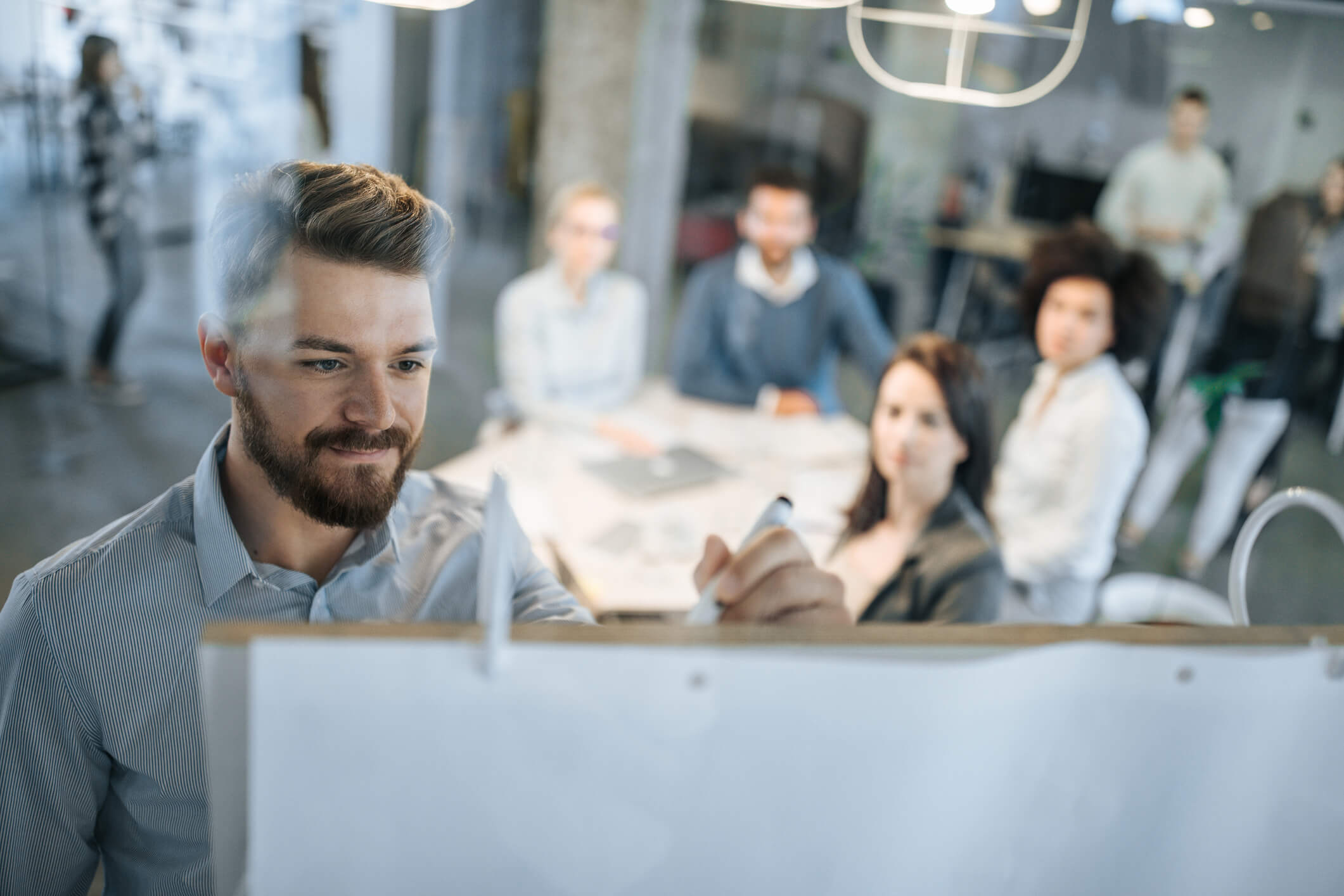 OnlineMasters.com, a source for college rankings and higher education planning, has included Neumann University in its Best Online Master's in Organizational Leadership Programs for 2019. The research identifies the top 50 programs in the nation based on curriculum quality, program flexibility, affordability, and graduate outcomes. This program is also listed as the degree program with the Best ROI for Employers.
When considering a graduate degree in something related to leadership, like NU's Organizational and Strategic Leadership program, you might be wondering: What is the career outlook for me? What is the real ROI of a degree like this? What kind of jobs can I pursue?
Keep reading to learn about four in-demand careers that are available for graduates of NU's niche and respected program!

1. Human Resources Manager
Average Salary according to Bureau of Labor Statistics: $113,300
Bridging the gap between all departments, human resource managers are responsible for maintaining and improving the overall well-being of a company. HR professionals make sure that processes run smoothly and that an employee's experience - from onboarding to exiting the company - is handled professionally and efficiently.
Obtaining a master's in Organizational and Strategic Leadership can help you lead your HR team, organize schedules, and increase work productivity! The Bureau of Labor Statistics reports that Human Resources Managers will experience a 9 percent job growth rate over the next decade.
2. Sales Manager
Average Salary according to the Bureau of Labor Statistics: $124,220
Sales managers are an important role within any company. Not only do sales managers set and meet sales quotas, they also motivate team members and come up with various innovative ways of generating better results and increasing ROI.
Pursuing a master's in Organizational and Strategic Leadership is the perfect degree if you can envision yourself excelling as a sales manager because you'll gain the knowledge to effectively lead while coming up with innovative ideas and processes. The projected 10-year job growth rate for sales managers is 7 percent, which is about the national average.
3. Training and Development Manager
Average Salary according to the Bureau of Labor Statistics: $111,340
This in-demand career (projected to grow 10 percent in the next 10 years) is perfect for those who enjoy traveling and training future or existing team members! This niche set of managers will visit various business sites to teach employees at all levels how to effectively perform new tasks and utilize new technologies.
A master's degree in Organizational and Strategic Leadership will allow corporate training and development managers to effectively lead their training team as well as implement new strategies on how to optimize their job and increase productivity.
4. Chief Executive officer
Average Salary according to the Bureau of Labor Statistics: $104,980
Chief Executive Officers are some of the best-paid professionals in Pennsylvania's job market. Top business executives devise strategies and policies to plan, direct, and coordinate operational activities of companies/organizations. While CEO positions are competitive, NU's Organizational and Strategic Leadership graduate degree will prepare business leaders with the skills needed to succeed in all sorts of organizations who have CEO roles or similar executive roles.
Right now, the project 10-year job growth rate is 8 percent, but because CEOs are needed in every industry, the job outlook for this career will only grow.
Ready to jumpstart your leadership career?
If you're looking to establish yourself as a true leader who can increase ROI in any given company, obtaining a master's in Organizational and Strategic Leadership at Neumann University could be the perfect next step for you.
Neumann's M.S. in Organizational and Strategic Leadership provides the coursework necessary to master the skills and behaviors of competent leaders to help you become an effective leader in your industry and create a cooperative team that focuses on healthy business practices. Note: This graduate program can be done fully online or on campus in an 18-month accelerated format.
If you want to learn more about the types of business degrees offered at Neumann University, you can request more information, or if you're ready, you can start your application!
Download our digital resource: Types of Graduate Business Degrees — Which One is Right for You?