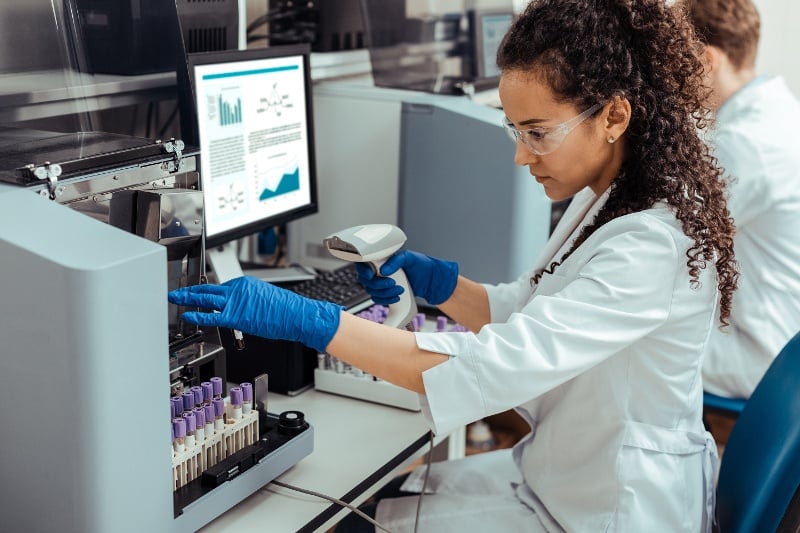 Due to the 2020 pandemic, hospitals, clinics, and other medical centers have experienced (and are still experiencing) significant staffing shortages.
As a result, professionals working in the medical field are also dealing with the ramifications of burnout and professional/personal anxiety — leading to a desperate need for medical professionals in all roles across the nation.
One of the niche medical fields experiencing significant growth is clinical laboratory science. These mission- and data-minded professionals are responsible for identifying diseases, infections, and other mutations in patients.
There's no denying the need for skilled professionals in this diagnostic field — as clinical lab scientists play a crucial role in diagnostic patient care.
But exactly — what does a clinical lab scientist do? Where do they work? And how can you break into this important field? Let's talk about it.
What does a clinical lab scientist do?
Clinical laboratory scientists spend their days performing lab tests and assessing test results. Work in clinical lab science could involve developing results from specific viral tests (such as COVID-19) or evaluating the results of broad, routine blood tests. CLS professionals then identify a diagnosis and present their findings to doctors or other relevant medical professionals.
Clinical lab scientists also research and implement new testing methods and evaluate lab results. The types of tests that clinical lab scientists do may vary, but here are just a few to consider:
Testing DNA for genetic diseases

Evaluating enzymes related to heart attacks

Blood and tissue samples to detect and treat cancer

Evaluate blood types for successful blood transfusions

Examine cells to look for abnormalities

Test samples for infectious diseases and viral infections (COVID-19)
Clinical lab scientists apply their expertise in microbiology, immunology, and other branches of science to diagnose patients based on their lab results.
Using cutting-edge equipment, they are vital voices and researchers using new research and methods to test and report on lab work. And by working with doctors, nurses, and other medical professionals, clinical lab scientists help complete patient care by being the eyes and ears of the body's inner workings, fulfilling a critical role in the diagnosis process.
Where do clinical lab scientists work?
Clinical lab scientists may work anywhere that medical tests are conducted. They take the time to analyze selected samples from a variety of sources and record the results to send back to doctors. The versatility of this field allows clinical laboratory scientists to work in a variety of locations and environments.
Some of the most common places clinical lab scientists work are:
Hospitals

Clinics

Research facilities

Biotechnology facilities

Fertility clinics

Pharmaceutical companies
What is the job outlook for clinical lab scientists?
With the continued effects of COVID-19 and the rising awareness of other critical diseases, the need for clinical lab scientists has never been greater.
According to the Bureau of Labor Statistics, the job growth for medical scientists is expected to rise 17 percent over the next decade, and the average salary for these niche medical professionals is $75,897 per year.
How to Become a Clinical Laboratory Scientist?
If you're interested in helping your community by being at the frontline of diagnosis and treatment, pursue a master's degree in clinical laboratory science. By taking this step, you will open up your future and prepare yourself to step into the future of medicine.
At Neumann University, our Master of Science in Clinical Laboratory Science equips you to serve your community. Our program can be completed in two years or less, giving you the chance to graduate and begin helping people quickly.
Pro Tip: Learn more about our CLS degree here.
Our program is also offered in flexible formats, allowing you to complete degree requirements in person or through a hybrid format. The clinical lab degree program involves classroom lectures and student lab courses, followed by a 16-week clinical practicum completed in a local hospital.
To learn more about how you can help diagnose diseases and save lives through clinical lab science, request more information. And if you're ready to start your education today, apply now.

Ready to learn how to become a clinical laboratory scientist? Download our CLS Lab Degree Program Guide!