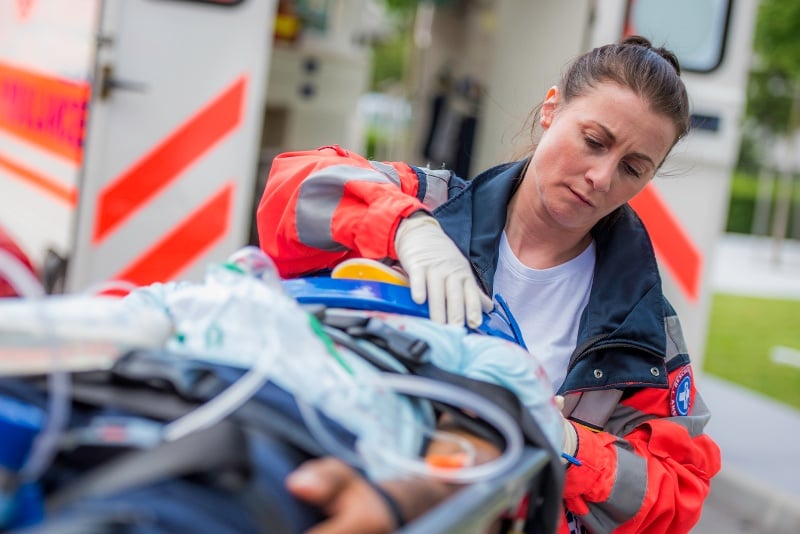 Many people are familiar with the field of public administration — a field for leaders in public affairs looking to reform policy in a variety of ways — but you might not be as familiar with one field that has seen growth in recent years: public safety administration.
Allow us define this dynamic and multifaceted career and showcase Neumann University's own Public Safety Administration degree completion program.
What is public safety administration?
First things first: What is public safety administration?
Sometimes confused with the field of public administration, it's important to understand that the two fields are not interchangeable. Public administration focuses on policy-making and prepares civil servants for work in the public, private, and nonprofit sectors.
Public safety administration, on the other hand, is a niche area of study that focuses on nurturing and sharpening the valued skills needed to meet the challenges in public safety structures.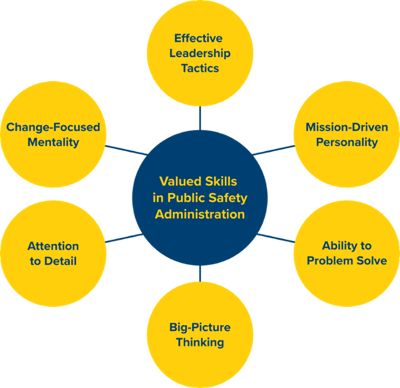 Who should work in public safety administration?
A public safety administration degree is unique in that it's specifically designed for adults currently working in the fire service, law enforcement, and emergency medical services fields. In other words, many public safety administration programs (including Neumann University's own degree completion program) have an expectation upon admission that professionals will have prior training or even education directly related to these fields.
Professionals who pursue a public safety administration degree are then prepared to pursue competitive, leadership roles in public safety. Specifically, work in public safety administration includes managing environmental safety workers, safety management, collaborating with other professionals to prevent safety hazards, and much more.
Professionals in this field can pursue careers in many different industries including government, public, or nonprofit organizations — at the local, state, and federal levels.
Here are just a few of the careers in public safety administration:
Note: For more information on careers in this field, read Top 10 Careers in Public Safety Administration.
Neumann University's Public Safety Administration Degree Completion Program:
So, what is a degree completion program?
A degree completion program is an academic program option that is designed specifically for adult learners with some post-secondary education but who have not yet completed a four-year degree. Applicants often bring some college credit to the table, whether from a four-year university or a community college, some may even have already earned an associate's degree, and some have work and military experience. Students who enter a degree completion program do so with the intention of earning their four-year degree as a way of advancing their career.
Neumann University's Bachelor of Science in Public Safety Administration is an accelerated, online undergraduate degree completion program for adults currently working in the fire service, law enforcement, and emergency medical services fields.
As part of this program, students will complete in-depth projects that rely on experiential learning elements applicable to a variety of public safety administration situations to foster an understanding of how challenges and opportunities develop in public safety administration settings, and what is needed to effectively address real-world issues in these environments.
Boost your career in public safety administration at Neumann University:
It's never too late to prioritize your education, and it's so exciting that you're considering going back to college to finish your four-year degree. As someone who's working in a public safety field, it's crucial that you choose the right degree completion program that is going to allow you to work while you complete your degree and most importantly, teach you the skills you need to be a leader in the field of public safety administration.
If you're ready to transform your future and the lives of others by obtaining a Public Safety Administration bachelor's degree at Neumann University, please reach out to us!
We can't wait to help you achieve your goals.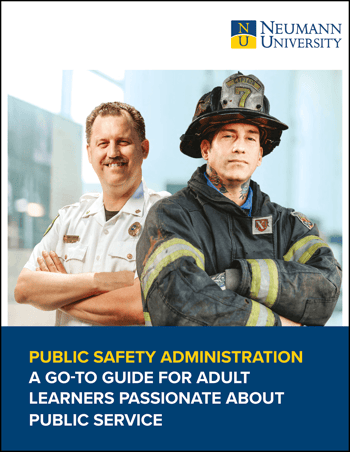 Interested in pursuing a career in public safety? DOWNLOAD NEUMANN UNIVERSITY'S PUBLIC SAFETY ADMINISTRATION GUIDE.