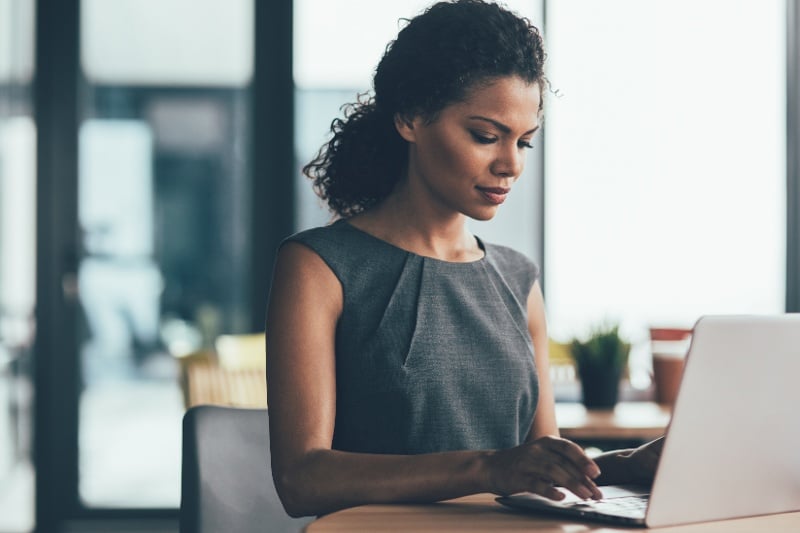 While all types of business degrees have unique and valuable aspects, one might provide you with a better fit over another. When looking at which degree to pursue, it can be helpful to evaluate the degrees keeping in mind your goals.
If you desire to have the biggest potential impact in your chosen field and if your objective is to further your knowledge and skills in a specific area of business, a specialized business degree — like the three listed below — could be the right fit for you.
By the way, if you are still having trouble deciding after reading this blog post, take this Interactive Quiz: Should I Do a General or Specialized Master's? By evaluating your goals, industry interests and preferences, and personal habits, the quiz is designed to help guide you toward pursuing the optimal master's program.
Master of Science in Business and Organizational Leadership
The curriculum in a graduate program like organizational leadership is typically centered around the human elements of business, such as communication techniques, leadership theory, multicultural workplace dynamics, and team development. This differs from an MBA, which generally provides a broad overview of all business operations and takes an analytical approach to management, rather than a human one.
By emphasizing more personal and creative approaches to management, this specialized business degree enables students to work with the emotional intelligence of individual subordinates, inspiring them to their fullest professional potential.
At Neumann University, our Master of Science in Business and Organizational Leadership has been ranked among the "Top 10" management programs in Pennsylvania, and the "50 Best Online" organizational leadership programs nationally.
Through the program, students are prepared to lead high-performing teams, develop effective strategies, and make a positive impact in the lives of others. The curriculum includes extensive study on knowledge management, legal issues and public policy, fiscal planning, change management, and ethical responsibilities. Students are strongly encouraged to connect research projects with their prospective careers, so employers can see first-hand a return on their investment.
Note: The degree consists of 30 credit hours and is offered in an accelerated 18 month curriculum.
Master of Science in Sport Business
A master's in sport business focuses more exclusively on the sports industry and business practices within the industry. Students get an inside perspective regarding the business elements of the sports industry, as opposed to an MBA program where students learn business fundamentals and then apply them to the field of sport management.
At Neumann, our Master of Science in Sport Business program is designed to give you a comprehensive understanding of the management of sport organizations. With classes focusing on analytics, leadership and ethics, marketing and partnership activation, legal and regulatory issues, events and facilities, revenue generation, financial management, and digital media/communication, your extensive and expert knowledge will help you make impactful decisions in your chosen profession.
Note: This hybrid program is comprised of 30 credit hours and can be completed in as little as one year.
Master of Science in Accounting
A master's in accounting is a specialized business degree that focuses on honing your analytical skills and preparing you to work in a number of different roles, in virtually every area of industry. Sometimes abbreviated MAcc, this degree will give you expert-level training that will allow you to slide into the financial sector of any company. Coursework will provide you with training in subjects such as taxation, auditing, cost analysis, ethical issues, and business law and financial regulations.
At Neumann, our Master of Science in Accounting program has a particular emphasis on Forensics and Fraud Detection. Forensic accounting is one of the fastest growing sectors of law enforcement. It is these sharp sleuths that comb through personal and corporate financial records looking for discrepancies and evidence of illegal activity such as fraud or other financial crimes.
Note: This 30-credit hour degree can be completed in as little as 18 months and is offered in either an in-class or hybrid format.
Which business degree is right for you?
It can be difficult to know where to begin when it comes to a graduate business degree. However, with the abundance of MBAs in the workforce and the rise in popularity and demand of the specialized business degree, it is a great option for those looking to spend minimal time in school, and reap the maximum professional reward.
After evaluating all the options, it seems the only question left is, which specialized business degree will you choose?
Explore our digital resource page: Types of Graduate Business Degrees — Which One is Right for You?