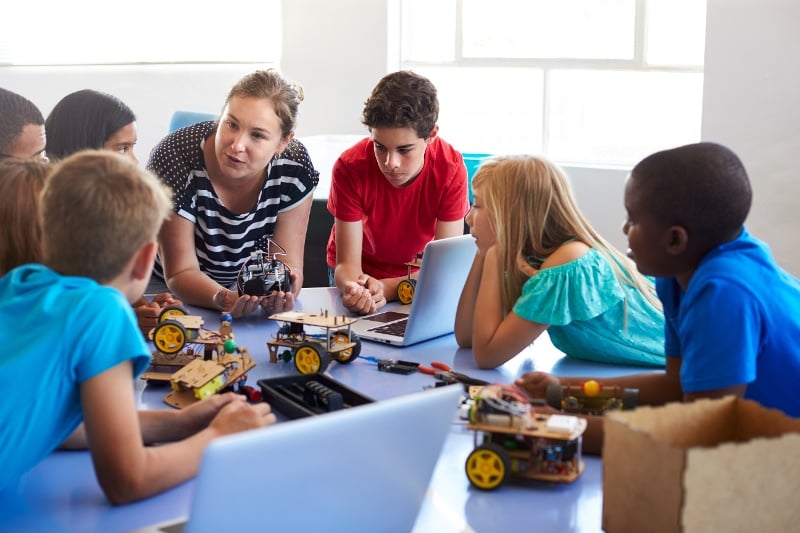 As a professional in the field of education, it is crucial that you approach the art of teaching from a holistic perspective — addressing the emotional, social, mental, and psychological wellness of a student.
With this in mind, we are here to help you understand why obtaining a master's degree is important for professional advancement in the field of education.
Let's talk about a few of the reasons you should go back to school and earn a master's degree in education — especially if you're dedicated to launching a successful career that will truly transform the lives of students.
Why do teachers need a master's?
Some reasons are practical and some are exciting — let's talk about the data-backed reasons that teachers should pursue a master's degree in education.
A graduate education degree will sharpen your skills.
By understanding the needs of our current educational landscape and by earning a master's degree in education that provides you with practical, transferable-to-the-classroom skills, you will be better equipped to make data-driven decisions for your students and employers and ultimately, establish yourself as an expert educator across school environments.
Here are just a few challenges that the education field is facing and how a graduate education program can bridge the gap and allow you to impact change:
Access to Technology — The pace at which new technology continues to emerge and existing technology continues to improve is running at an exponentially increasing rate. Academic institutions need ambitious, tech-savvy educators who can successfully use available technology to augment their teaching techniques, skills that are often learned while engaged in a graduate education program.
Innovation — Implementing innovative teaching practices is a top agenda for many educators working today. More and more academic institutions are prioritizing the hiring of progressive and organized teachers who have earned a master's degree in education and who have honed the skills to implement forward-thinking educational techniques.
Achieving a master's degree in education will increase your earning potential.
"On average, a master's degree earns teachers an additional $2,760 in their first year of teaching compared to a bachelor's degree. This salary advantage expands to an average of $7,358 per year by the time a teacher reaches the maximum point of the pay scale." —NCTQ, 2018
We've all heard the myth: Teachers simply don't make very much money, but we're here to debunk that claim.
While there's a range, the national average for teachers sits around $60,000, according to data from the Department of Education's National Center for Education Statistics.
That said, earnings climb thousands of dollars above the nationwide average for several regions including Pennsylvania at just over $70,000, Washington D.C., Maryland, New Jersey, Connecticut, Massachusetts, California, Alaska, and New York.
Consider tuition inflation when thinking about a master's degree in education.
If you're determined to eventually obtain your graduate degree, financially, you should know that now is the best time to do so. According to Higheredjobs.com, "tuition has increased 100 percent since 2001, even after accounting for inflation" and is predicted to continue to increase.
Further, tuition costs have risen between 2.7 and 3.4 percent per year over the last two decades, and although these figures don't seem incredibly significant when added up over time, it actually does make a significant difference in what tuition will end up costing you.
By going back to school for a graduate degree now, as opposed to waiting a few years, you can potentially save thousands of dollars, and who doesn't want that?
NEUMANN UNIVERSITY'S MASTER OF SCIENCE IN EDUCATION: SOCIAL EMOTIONAL LEARNING PROGRAM
Now that we've outlined the reasons that teachers should get a master's degree, let's talk about one of Neumann University's most unique graduate education degrees: a Master of Science in Education with an Emphasis on Social Emotional Learning.
But what is social emotional learning?
What is a social emotional learning program?
The mission of a social emotional learning program is to provide educators the opportunity to acquire a wide range of knowledge and skills designed to prepare them to assess and meet the social, emotional, mental, and behavioral needs of all learners in their schools.
By analyzing and interpreting data-driven social and emotional learning theories and by applying cutting-edge wellness and teaching practices, graduate students enrolled in a social emotional learning program become healthy educators teaching the whole child.
Social emotional learning in the classroom is truly one of the most impactful strategies today. Are you ready to enroll in this transformative program?
Connect with Neumann's education professionals.
Emotional health, social awareness, psychological safety: There are so many factors that directly impact a student's ability to learn and acquire knowledge. With Neumann University's Master of Science in Education with an Emphasis on Social Emotional Learning, graduate students develop the skills needed to understand students' emotions, set positive goals, show empathy, and ultimately, transform the lives of students — in an academic setting and beyond.
If you are ready to make yourself indispensable to employers and nurture the skills needed to be an effective educator, I encourage you to request more information or start your online application today.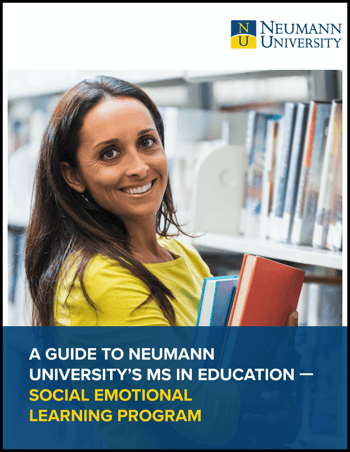 Download A Guide to Neumann University's MS in Education — Social Emotional Learning Program!