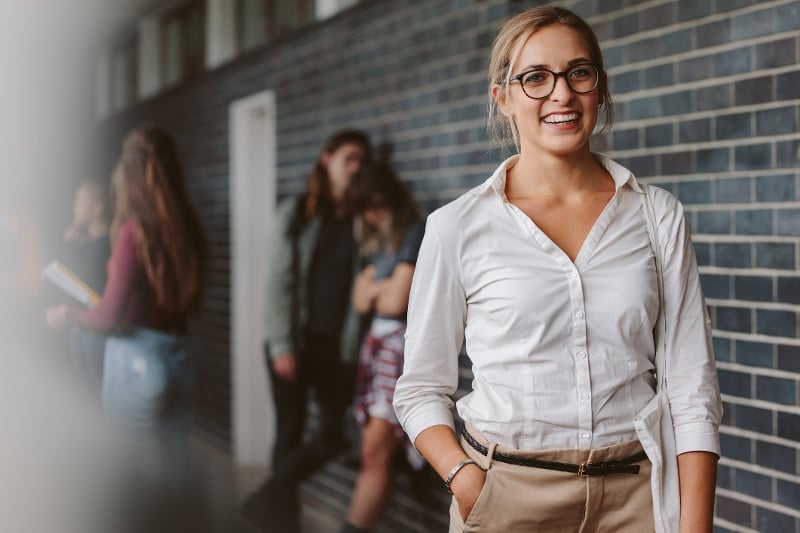 Choosing a college major can be one of the most challenging decisions that you'll face during your undergraduate journey, especially given today's dynamic, complex, and volatile job market. The following majors are fields of study that will provide you with valuable skills and knowledge to help you stand out to future employers.
Take a look at the top 15 college majors worth pursuing this year.
1. Cybersecurity
According to Forbes magazine, the global cybersecurity market is expected to reach 170 billion dollars by 2020. Technological trends such as bring your own device (BYOD), the internet of things (IoT) and the increase in cloud based computing has emphasized the driving need for protection against cyber threats.
Neumann University's degree in Cybersecurity, proposed for fall 2019, will give students a background in network security, operating systems, programming, and information assurance – all skills designed to prepare you for a career in this growing field.
As a political science major, your classes will involve constant debate about issues such as foreign policy, national security, and current campaigns. Your courses in politics, history, and economics will help you develop a nuanced and informed view of today's rapidly changing political landscapes, and the writing, research, and critical thinking skills that you gain in these courses will prove to be an asset in almost any position.
Political science majors can find exciting careers that range from political campaigning and government positions to academia, think tanks, and NGOs. Last year, the median annual wage for political scientists was $115,110.
College graduates with strong media and public relations skills will be top candidates in most applicant pools. Communications is a prime example that not every in-demand degree requires strong STEM abilities. Depending on what you choose to specialize in, your classes as a communications or digital media major could range from public relations and strategic communication to documentary production and graphic design.
The career possibilities are nearly endless: TV producer, public relations professional, or journalist, to name a few. The national average salary for a digital media manager is $70,193 in United States.
4. Sport Management
In Neumann University's Sport Management program, you'll learn from teachers and interact with guest speakers and advisory board members who have extensive experience working within the sports industry with organizations such as the Philadelphia Union, NBC Sports Philadelphia, Major League Soccer, Philadelphia Flyers, Philadelphia Eagles, National Lacrosse League, and so many more!
Our staff is dedicated to finding you opportunities for internships and career placement because students work directly with our program director and industry relations specialist to create strategic volunteer and internship plans leading to job placement, from the moment they enter the program. Additionally, the U.S. Bureau of Labor Statistics predicts that job growth in sport management will grow faster than the average industry growth through 2026 because of expansion due to multi-billion-dollar profits from the sport industry.
The abilities to understand consumer needs and how to meet them efficiently are just as appealing to many businesses as are other more technical abilities. Core classes in the marketing major will include marketing strategies, project management, and advertising.
A degree in marketing will strengthen your writing and sales skills and give you the creative knowledge you need to become a successful project manager, public relations representative, or market research analyst. The national average salary for a marketing manager is $80,673 in the United States.
6. Nursing
Nursing blends expertise in science and technology with the practice of caring and compassion. Nurses promote health, prevent disease, and help individuals, families, and communities cope with illnesses in a myriad of professional settings from hospitals, long-term care centers, and doctor's offices to schools, research facilities, rehabilitation centers and homes. Nurses work closely with doctors and other health care professionals, and serve as the advocates for patients and families.
The kind of work that you do will depend on the educational path you choose. There are more than 100 different specializations in Nursing.
Neumann's Social Work undergraduate major is designed to prepare service-oriented, compassionate students to succeed in a variety of careers. The program requires students to improve their written/verbal communication skills, their emotional intelligence, and their critical-thinking skills in order to thrive in diverse professional landscapes. Graduates of an undergraduate degree in social work are not limited in career opportunities; social workers can work in environments like family advocacy organizations, criminal justice agencies, mental health facilities, foster care agencies, and so many more.
Whether you want to specialize in elementary education, secondary education, or special education, skilled teachers are always in high demand. A kindergarten or elementary school teacher can expect a median annual salary of $56,900.
A degree in education lends itself to other opportunities as well: Education majors can also find positions as school counselors, education administrators, or family support workers.
A business administration degree is a lucrative and marketable major, boasting a high rate of full-time employment.
You'll study statistics, economics, business, and financial management, courses that will prepare you for the challenging management positions that business administration majors often attain. Specializations such as human resources or international business can add another level of potential to your future career.
With this degree, you can expect to find employment in business management, where you can earn an annual salary between the ranges of $47,900 and $66,376.
Do you like the idea of perpetuating innovation in a variety of industries? If so, consider the field of engineering. The engineering industry will appeal to people who are results-driven and mission-minded. So, if you want to problem solve and promote innovation, we encourage you to learn a bit more about Neumann's Pre-Engineering program.
Neumann University has partnered with Drexel University College of Engineering to offer students the ability to obtain a B.S. in Mathematics and a B.S. in Engineering in approximately five years. The Pre-Engineering program is highly selective and is only open to those students who have achieved a minimum score of 550 math score on the SAT and a high school GPA of 3.0.
Because of the substantial role that technology plays in today's workforce, computer skills will be in high demand no matter what career path you decide to take. Computer information systems is a savvy degree that will give you much-coveted technical expertise while also incorporating a broader, more business-centered aspect into its coursework.
Valuable technical knowledge combined with skills such as project management will make you a prime candidate for management positions. You can expect to earn a median annual salary of about $97,792 as an IT manager.
Majoring in criminal justice is ideal for students who wish to work in law enforcement or government agencies. You will take courses on judicial process, the psychology of crime, and the juvenile justice system. Valuable skills that you'll gain in this field of study are critical thinking, analysis, and ethical reasoning.
As a police officer or detective, you can expect to earn a median annual salary of $62,960. Increased wages can be earned from those who are bilingual or have relevant college degrees.
The cultural knowledge and analytical writing skills that you can gain from majoring in English are certain to prove valuable for a future career in publishing, marketing, editing, or education. Because of this major's emphasis on critical thinking and writing, English is one of the undergrad majors suggested by the ABA to best prepare a student for law school.
Authors and writers can expect to earn a median annual salary of $61,820.
Depending on your interests, your coursework as a biology major may include classes on microbiology, organic chemistry, or human anatomy. Those with degrees in biology often utilize their skills in careers as pharmaceutical representatives, biochemists, or research assistants.
Life scientists will earn about $73,700 in median annual salary. Although you don't need a higher degree to land a lucrative job, many biology majors choose to continue to medical school or other programs of graduate study.
According to the Bureau of Labor Statistics, the career outlook for math majors is bright. Employment of mathematicians is expected to grow nearly 30 percent by 2026, and the median annual salary is quite lucrative, even at the entry level. Mathematicians and statisticians can earn a median annual salary of up to $84,760. If you enjoy math, now is the perfect time to take advantage of the job market.
As a math major, you will take courses ranging from differential equations to calculus to statistics. This degree will prepare you for a rewarding career as a statistician, an actuary, or an operations research analyst.
Are you ready to transform your future?
At Neumann University, we offer the 15 college majors listed above (and many more!), and we're excited to help you jumpstart your career with a valuable education and a marketable degree. If you're still struggling with what field of study to pursue, don't worry! You still have time to take a few classes to figure out where your strengths and interests lie. In the meantime, check out the video below to hear from one of our Nursing students.
Whether you've already pretty much decided on your college major, or whether you're a current college student thinking about how to transfer colleges, or whether you're a first-generation college student thinking about how to pay for college, the professionals at NU are dedicated to helping you succeed. Feel free to request more information today; we can't wait to hear from you!
Check out our digital resource page — The Pathway to College: How High School Students Can Best Prepare for College — for help on conquering the college admissions process as a first-generation student.