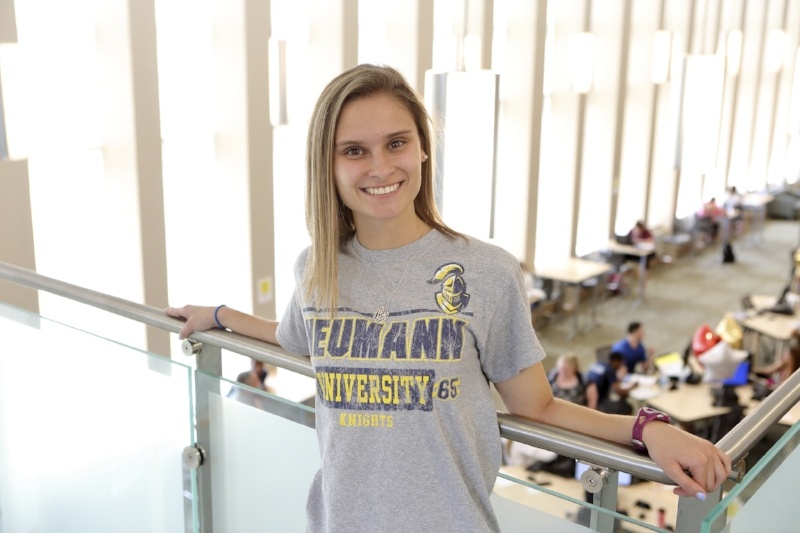 At Neumann University, we know that making the decision to transfer schools can be a difficult one, one that comes with a lot of questions.
Luckily for you, we can clear up most of your questions right here in this blog post! Keep reading for a list of 11 of the most frequently asked questions of aspiring NU transfer students! By answering them, we'll help you figure out how to transfer colleges.
How do I transfer credits from another institution to Neumann University?
For college credit to transfer into Neumann University, the following criteria must be met:
You took courses at an academically accredited, degree-granting institution.

You earned a grade equivalent to a "C" or higher (2.0 on a 4.0-point scale).

The courses are considered comparable in content, nature, and intensity to those offered at Neumann University.
With the offer of admittance, all applicants will receive a preliminary credit evaluation.
I would like to visit Neumann University and take a tour. What do I do?
Register for an information session online.
I would like to transfer, but when should I send in my application?
Please send in your application the semester before you would like to attend Neumann University. Students are welcome to apply at any point since we use a rolling admissions schedule. However, all prospective students are urged to apply early. Some majors, such as Nursing, fill more quickly than others.
Please note, housing is not guaranteed and is on a first come first serve basis. After you apply, we will let you know if we need additional information (transcripts, course descriptions, etc.) from you.
I
don't have 12 transferable credits. Should I apply as a transfer?
The admission committee will let you know if you meet the transfer requirements or if we need to hold your file pending completion of certain courses. But no matter what, apply today! The admission committee can change your application after you submitted it to ensure you receive the best possible review!
If I am currently in a course that is needed to fulfill Neumann's transfer requirement, should I apply?
Yes. Please apply and the admissions committee will review your file. We will let you know if we need additional information or we need to hold your file pending final grades from the course.
May I live off campus as a transfer student?
You have the choice to live on or off campus but on-campus housing is only available based on date of deposit and is not guaranteed.
Once I've been accepted, what do I do next?
Your admit packet has instructions and contact information. First, send in your deposit form and either $500 for resident students or $200 for commuter students. Then once the deposit is made, you will receive information about Orientation and the need to set up an appointment to register for classes.
When will I meet with my advisor to register for classes?
All transfer students who have paid their deposit will register for classes with a faculty advisor. You may contact the Academic Advising Center if you have more questions at 610-361-5222.
When do I apply for financial aid, and what are the deadlines?
Please electronically file the Free Application for Federal Student Aid (FAFSA) form by March 1 prior to the academic year for which you will be enrolling. This date is not a deadline. It is a priority date, and meeting it will help ensure that you are considered for the most aid available.
Does Neumann offer transfer scholarships?
Yes. Neumann University offers scholarships ranging from $9,000 - $13,000 simply by holding a cumulative GPA of 2.0 and higher. These scholarships and grants are awarded every fall and spring to transfer students.
Note: Phi Theta Kappa is the International Honors Society of two-year colleges and academic programs. Students looking to transfer to Neumann who are members of PTK are eligible for an additional $2,000 scholarship in addition to any merit scholarship awarded. Students must submit a copy of PTK membership to receive the scholarship.
If I have further questions that are not listed above, whom should I contact?
Please email the admissions office at neumann@neumann.edu or call us at 610-558-5616. Also, feel free to reach out to Megan Schroeder, Neumann's Assistant Director of Admissions & Transfer Outreach and Recruitment professional, at schroedm@neumann.edu to arrange a visit!
Neumann's Community could be the academic home for you!
We have that this list of frequently asked questions has been helpful as you figure out how to transfer colleges and as you make plans to transfer to join the NU community! If you have additional questions about transferring to Neumann, we invite you to request more information today!
Check out our digital resource page — Your Guide to Transferring to Neumann University — for everything you need to know about transferring to Neumann!