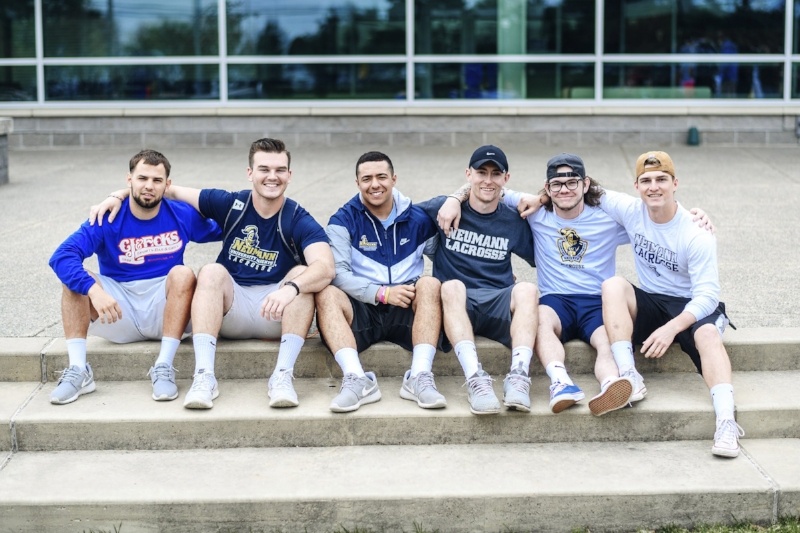 Transfer students, especially if they're also commuter students, can sometimes feel at a disadvantage when it comes to feeling apart of the community on their college campus. Transfer students might feel like they're going to have a hard-time making friends if they're coming in midyear, and commuter students might feel separate from the community because they don't live on campus.
We're here to tell you that there are several easy and low-commitment ways to getting involved on campus, no matter what your situation is! We'll also offer you the opportunity to learn more about how to transfer colleges!
1. Start simple: Introduce yourself!
Your classmates — the people you find yourself in line with at the dining hall or someone reading on a bench — are all starting a fresh semester alongside you, offering the perfect chance to build new relationships.
2. Find your niche.
Once you join the Neumann community, don't just define yourself as a "transfer student." Jump right in and checkout our opportunities for connecting with others. Whether you are living on campus immersing yourself in resident life or you choose to fill your time with extracurricular activities, you get to choose your own identity as a Neumann student.
3. Don't be shy with your professors.
Their office hours are always a good space to discuss coursework but also a place for you to proactively take hold of your education. Professors can give you academic pointers, career advice, and life wisdom. They're a crucial part of the NU family, so don't forget about them!
4. Hang out on campus!
Use the public spaces and the library for studying and pack your lunch rather than leaving the moment classes are over. If you stick around and live life centered around campus, you'll have more opportunities to meet people and make friends.
5. Engage with the local community.
Even if you don't live on campus, you can become familiar with the area surrounding NU by taking advantage of our volunteer opportunities. Service is a core part of the Neumann mission so it's the perfect way to meet other students and to embody our ideals.
6. Attend events for commuter students!
If you're a commuter student, NU has a couple commuter representatives whose job is to help commuter students build community. Together, they plan meals, service projects, and trips. Don't miss out on using them as a resource!
7. Get involved with extracurricular Activities.
Neumann University has a wide range of extracurricular activities to experience. Choose one or choose several, but find something that you enjoy!
We have a strong athletic presence for students who want to play for recreation.
NU offers plenty of ways to engage with the arts: several choirs, dance groups, drama opportunities, and a jazz band.
There are also clubs to develop your academic interests such as the Computer and Information Management Club and the Psychology Club.

And in addition to our volunteer opportunities, we have groups to foster service like the Knights for Education and Students for Environmental Awareness.
At Neumann University, we want to make you feel at home.
Have no fear, our admissions team is here to help you make the transfer process as easy as possible — including making you feel at home once you get here! Whether you've got some reservations or you feel confident to jump in with both feet, Neumann is ready to come to your aid.
This digital resource should cover the basics of what you need to know, but don't hesitate to call us at 610-558-5616 or visit us for more assistance.
We can't wait to see you on campus!
Check out our digital resource page — Your Guide to Transferring to Neumann University — for everything you need to know about becoming a transfer student here at NU!