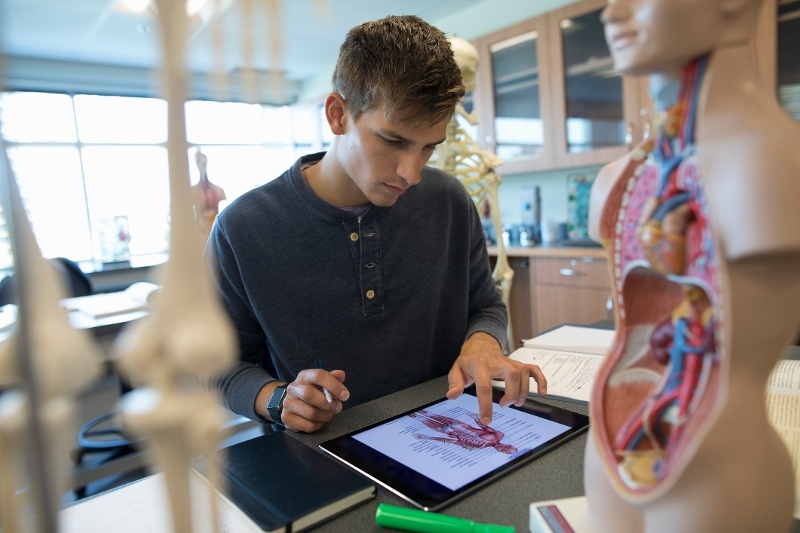 Do you see yourself working in the health care industry? Are you hoping to land a career that will allow you to help others?
At Neumann University, we offer a variety of undergraduate programs that will prepare you for a fulfilling career in a health-related field. Keep reading to check out seven of them!
Medical schools seek broadly educated applicants who have a solid foundation in the natural sciences, strong communication and analytical skills, and experience in the health professions in the forms of employment, volunteer work, and /or internships.
Neumann offers a Pre-Med academic option for students who are interested in medical careers to meet as a group with the Pre-Medical Advisor during their freshman and sophomore years. Formal professional advising, however, does not begin until the second semester of the sophomore year and only after the student has applied for the advising process and is interviewed and selected by the members of the Pre-Medical and Pre-Professional Advisory Council of the Division of Arts and Sciences.
Neumann University is excited to offer our Pre-Occupational Therapy Program to students who wish to be part of this rapidly growing and rewarding field in health care.

The Pre-Occupational Therapy program at Neumann University is an academically rigorous program. Most master's programs in Occupational Therapy will require students to have achieved a grade of "B" or better in their prerequisite courses and to maintain a cumulative grade point average of a 3.0 on a 4.0 scale throughout their college career.
Nursing blends expertise in science and technology with the practice of caring and compassion. Nurses promote health, prevent disease, and help individuals, families, and communities cope with illnesses in a myriad of professional settings from hospitals, long-term care centers, and doctor's offices to schools, research facilities, rehabilitation centers and homes. Nurses work closely with doctors and other health care professionals, and serve as the advocates for patients and families.
The kind of work that you do will depend on the educational path you choose. There are more than 100 different specializations in Nursing.
To become a Certified Athletic Trainer (ATC) you must receive a bachelor's or master's degree from a college or university with a program that is accredited by the Commission on Accreditation of Athletic Training Education (CAATE). Once the candidate receives their degree they must then pass the national certification examination conducted by the Board of Certification (BOC).
Neumann University offers a Pre-Athletic Training bachelor's program for driven and energetic students looking to work in a specialized health care sector.
For students considering a career in either chiropractic or podiatric medicine, Neumann University has established educational partnerships with both the Northeast College of Health Sciences in Seneca Falls, NY, and the New York College of Podiatric Medicine in New York, NY.
Students who have been accepted at Neumann and who have declared their intent to continue their studies at either the Northeast College of Health Sciences or the New York College of Podiatric Medicine take three years of prescribed courses at Neumann which lead to a Bachelor of Science degree with a major in Biological Science.
Neumann University and Duquesne University have developed a cooperative program of study leading to the Doctor of Pharmacy (Pharm.D.) degree. This six-year doctorate program begins with the Pre-Pharmacy Early-Entry Program at Neumann University.
At Neumann, academically qualified students who have been accepted into this program begin two years of pre-pharmacy course work before transferring to the Duquesne University Mylan School of Pharmacy.
Depending on your interests, your coursework as a biology major may include classes on microbiology, organic chemistry, or human anatomy. Those with degrees in biology often utilize their skills in careers as pharmaceutical representatives, biochemists, or research assistants.
Life scientists will earn about $73,700 in median annual salary. Although you don't need a higher degree to land a lucrative job, many biology majors choose to continue to medical school or other programs of graduate study.
At neumann university, you can jumpstart your future as a leader in health care!
We offer undergraduate (and graduate) program options that are designed to prepare you for your dream career. Beyond academics, Neumann also creates a welcoming environment for all students, from those right out of high school to non-traditional learners who want to complete their bachelor's degrees.
Whether you're a transfer student, an international student, or first-generation college student, Neumann is dedicated to preparing the next generation of leaders — in a variety of ways. We hope to hear from you soon!
Explore our digital resource page — Financing Toolkit: A Resource for College-Bound Students — for advice on how to pay for college!