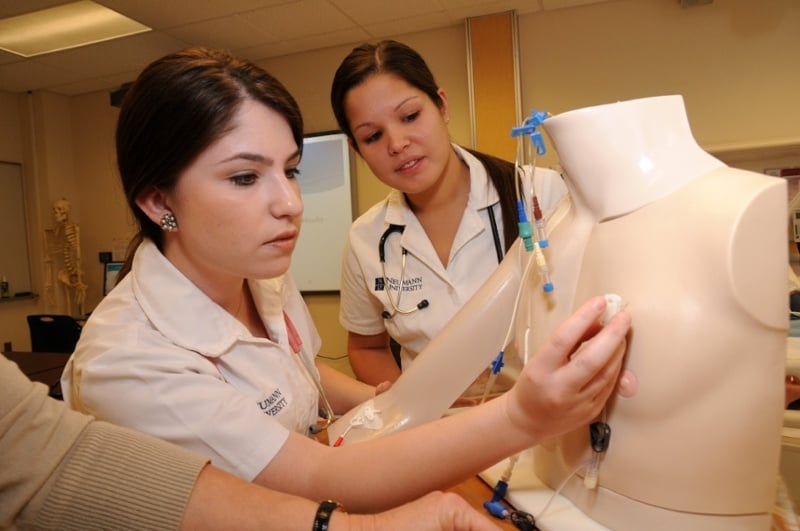 Majoring in nursing isn't for the faint of heart. Nursing is a competitive and intellectually challenging industry that needs leaders who are caring, compassionate, and innovative problem solvers.
If you think that the field of nursing is calling you to make a difference in the lives of others, keep reading, because we're here to tell you almost everything that you need to know about Neumann University's Bachelor of Science in Nursing.
How NU defines Nursing:
Before choosing to enroll in NU's Nursing program, it's important to know the answer to this question: What is nursing? Below is how NU defines the field of nursing:
"Nursing blends expertise in science and technology with the practice of caring and compassion. Nurses promote health, prevent disease, and help individuals, families, and communities cope with illnesses in a myriad of professional settings from hospitals, long-term care centers, and doctor's offices to schools, research facilities, rehabilitation centers and homes. Nurses work closely with doctors and other health care professionals, and serve as the advocates for patients and families."
NU's Nursing Fast Facts:
Here's a list of some of NU's noteworthy facts and important acknowledgements.
In the last four years, Neumann graduates consistently score at or above the national average. View NCLEX Results here!
Neumann's Nursing program is accredited by the Accreditation Commission for Education in Nursing
100% of faculty have clinical experience in a hospital and or other health care setting
100% of faculty hold a minimum of a master's degree in a nursing specialty
93.75% of NU Nursing graduates passed the NCLEX-RN exam on their first attempt in 2017-2018
88% of students are employed within one year of graduation from NU's Nursing program
Post-Graduate Employment Options for NU Students:
So, where do nurses who graduate from NU's Nursing program go on to work? Here's a list of where some of NU's nurses are employed now:
Bayada Nurses

Children's Hospital of Philadelphia

Christiana Care Health Services

Crozer Keystone Health System

Cooper University Hospital

Franciscan Health Care Center of Wilmington

Main Line Health

Mercy Fitzgerald Hospital

Nemours, A.A. DuPont Hospital for Children

Neumann University Nursing Center

New Castle County Health Unit

Thomas Jefferson University Hospital

University of Pennsylvania Health System
Hear from a Nursing alumni:
When considering a nursing degree, it's important to hear from students who experienced the program first hand. Watch the short video below to hear from Bethany, a NU Nursing graduate, and visit our Nursing program page to hear from Connor, another Nursing major!
Skills that NU hopes to see in applicants:
At NU, we know that it's important to nurture the skills that matter in order to be an amazing nurse: patience, empathy, and interpersonal skills. We know that sometimes prioritizing these skills can be a struggle to maintain, but it's important to recognize what skills you naturally have and which ones you need to focus on strengthening.
Here are just a few of the skills that NU finds important for Nursing students to nurture as they work towards their future career in the health care field.
Compassion
Critical thinking skills
Communication skills
Detail oriented mindset
Problem solving abilities
Organizational skills
Emotional stability
Physical stamina
Commitment to ethics and service to others
Commitment to ongoing professional education
Other Nursing degrees at Neumann:
Many of NU's Nursing graduates go on to pursue an advanced degree. Below are the other Nursing degrees offered at NU.
Master of Science in Nursing

The Master of Science Degree in Nursing: Adult-Gerontology Nurse Practitioner-Primary Care (AGNP) prepares graduates to provide holistic, patient-centered primary care to older adults.

Post-Master's Nurse Practitioner

The Post-Master's Certificate as an Adult-Gerontology Nurse Practitioner is designed for master's prepared nurses, seeking specialization as an Adult-Gerontology Nurse Practitioner in Primary Care (AGNP).
Jumpstart your nursing career at NU!
We offer undergraduate (and graduate) program options that are designed to prepare you for your dream career. Beyond academics, Neumann also creates a welcoming environment for all students, from recent high school graduates to students figuring out how to transfer colleges, from international students to first-generation college students. No matter your situation, Neumann is dedicated to preparing the next generation of leaders.
We encourage you to contact us today; we can't wait to help you transform your future as a nursing student!
Check out our digital resource page — The Pathway to College: How High School Students Can Best Prepare for College — for tips, advice, and tools related to every step of the process!