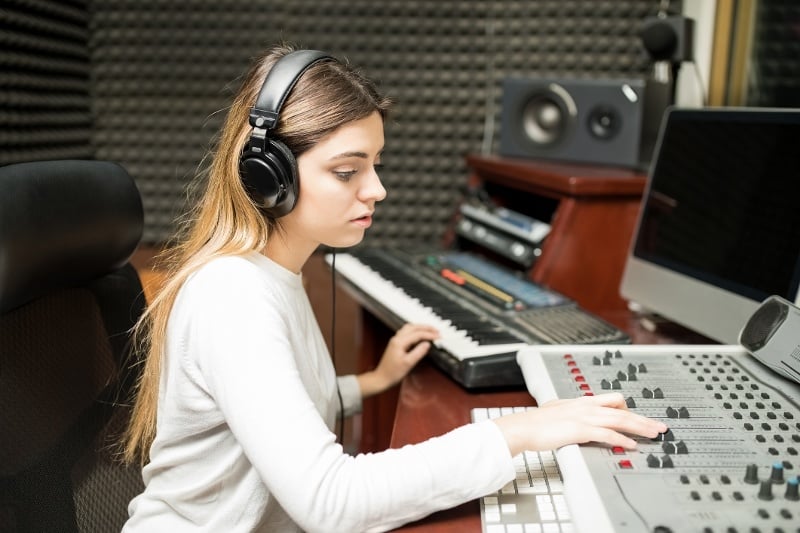 Neumann University offers a Bachelor of Arts in Communication and Digital Media; a degree that's perfect for creatively-inclined college students who would like to pursue a career that combines communications, broadcasting, digital media, and storytelling.
Let's take a deeper dive and learn more about this multifaceted, creative college major.
If you want to pursue an undergraduate degree in Communication and Digital Media, you need to have an interest in cultivating the following skills: creativity, problem solving, communication skills (written and verbal), attention to detail, organization skills, and adaptability. In addition, you need to recognize that digital media is constantly changing, and you need to be prepared to challenge conventional thinking and embrace innovative methodologies as they evolve in the field.
Once enrolled in Neumann's program, you can choose from a variety of tracks within the degree. After choosing either Production and Digital Broadcasting, Journalism and Digital Media, or Digital and Strategic Communication, you will learn different skills all relating to understanding how to effectively communicate information and tell stories on a range of digital platforms.
Let's examine some particulars surrounding job opportunities in this field and where graduates of Neumann's Communication and Digital Media degree have gone on pursue their own careers.
"I started my own radio show right away, and now, I'm executive editor of the Neumann News."
— Andrea Roe, Communication and Digital Media major
Career Opportunities:
So, what can you do with a degree in communication and digital media? Below are just a few of the career opportunities you'll have once you obtain a Communication and Digital Media degree from Neumann University.
Advertising
Broadcasting
Corporate Communications
Event Coordination
Government
Graphic Design
Hospitality & Tourism
Marketing Research
Media Production & Direction
Podcast and Mobile Platform Managers
Public Relations
Radio & Television
Social Media Communication
Research and Analytics
Video & Film
Wire Services & Syndicates
Writing/Editing/Copywriting
Internships & Job Placements:
Students are required to complete a minimum of three credits related to an internship experience involving Communication and Digital Media. A large percentage of Neumann University Communication and Digital Media graduates are employed in their field or pursue advanced degrees after graduation. Here is a partial list of organizations who either hired our students as interns or graduates as full-time employees:
ABC 7, New York
ABC Television Network, New York
Columbia Records

Crozer-Chester Medical Center

Flyers

Habitat for Humanity

iHeart Media

NBC Sports Philadelphia

The Pennsylvania Athletic Conference

Phillies

The Rachael Ray Show

SMG World

TIBCO Software Inc.

Washington Capitals

Wendy Williams Show
Communication and Digital Media: Fast Facts
FIVE — Studios in the new Mullen Communication Center
THREE — Student EMMY Awards won by Communication and Digital Media majors
122 — Total credit hours required
There are three tracks offered within NU's Communication and Digital Media degree:
Production and Digital Broadcasting
Journalism and Digital Media
Digital and Strategic Communication
Upon completion of this program, a graduate earns a Bachelor of Arts with a major in Communication and Digital Media and would be able to do the following:
Demonstrate experiential knowledge of contemporary communications practices through curricular and co-curricular opportunities
Design and create effective audio and video content
Demonstrate effective oral and written communication skills
Analyze communication and digital media practices using a value-driven, ethical framework
Come get creative with us at neumann:
Classes, homework, tests, and research don't have to be dry and uninspiring. If you are a creative soul thinking about what degree will keep you focused, interested, and challenge you to embrace innovation, consider contacting us at Neumann University to learn more!
Check out our digital resource page — The Pathway to College: How High School Students Can Best Prepare for College — for tips, advice, and tools related to every step of the process!