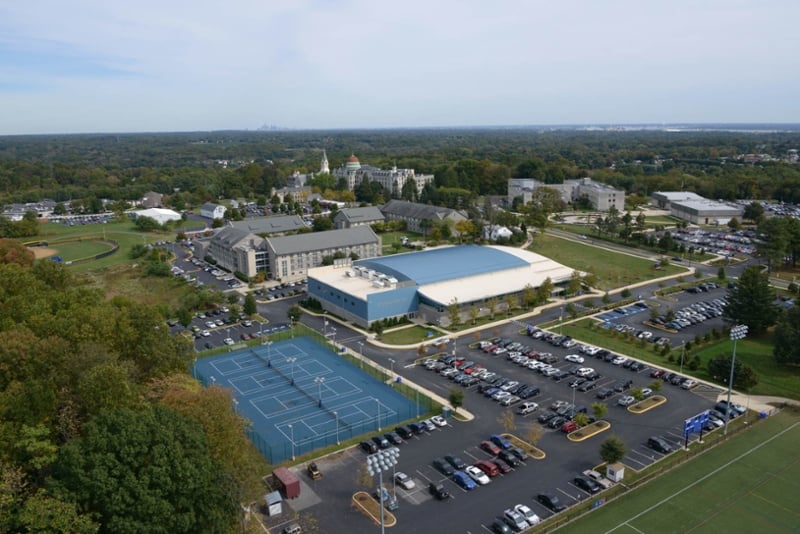 Are you more than a fan? Do you see yourself coordinating and planning major sporting events? Does the idea of scheduling interactions with other fans and establishing a budget for a multi-million-dollar complex interest you?
Whatever your career goals, the Neumann University Sport Management program will prepare you with the skills and knowledge you need to maximize your earning potential for a rewarding career in the sports industry.
"I don't think I've been more grateful and felt more blessed at any other moment in my life." —Darien Moore, Sport Management Major (Upon learning that the Philadelphia Eagles had offered him a job)
Sport Management/Sport Business (4+1):
Neumann University is proud to offer a five-year program, which leads to both a B.S. in Sport Management and an M.S. in Sport Business. All undergraduate students pursuing a degree in Sport Management are guaranteed automatic acceptance into the master's program as long as they meet the acceptance requirements.
Expert Faculty and advisory board members WITH Real INDUSTRY EXPERIENCE:
In Neumann University's Sport Management program, you'll learn from teachers and interact with guest speakers and advisory board members who have extensive experience working within the sports industry with organizations such as the Philadelphia Union, NBC Sports Philadelphia, Major League Soccer, Philadelphia Flyers, Philadelphia Eagles, National Lacrosse League, and so many more!
Our staff is dedicated to finding you opportunities for internships and career placement because students work directly with our program director and industry relations specialist to create strategic volunteer and internship plans leading to job placement, from the moment they enter the program.
Sport Management CAREERS & Job Growth:
There a variety of career positions and roles available in the sport management industry. If you're a recent graduate of a sport management program, you may want to consider pursuing one of the positions listed below. Securing an entry-level position and gaining some experience could lead you to bigger and better career possibilities later on in your career.
Sales Associate: Prospecting, targeting and servicing clients and accounts for sports teams, events and facilities
Facility and Events Operations Coordinator: Athletic venue planning, staffing, game day management and ticket operations
Production Assistant:

Researching, writing, and logging for networks like Fox, NBC, and ESPN

Social Media Coordinator:

Writing, editing, and public relations for sports teams, sports manufacturers, and sports networks

Marketing Coordinator:

Advertising/promoting, brand development, and research for athletic departments, online sports properties, and live event productions
Additionally, the U.S. Bureau of Labor Statistics predicts that job growth in sport management will grow faster than the average industry growth through 2026 because of expansion due to multi-billion-dollar profits from the sport industry.
Some popular industries that are interested in someone with a sport management degree are:
Major or minor league teams and league offices
College and university athletic departments and conferences
High School athletic departments
Sports facilities and event management firms
Community and Municipal Park and Recreation organizations
Sport Marketing Agencies
Hospitality and Concession Management firms
Suppliers to the global sport industry
put your passion into action at Neumann:
Set in the heart of Delaware County, Neumann's scenic campus offers an intimate, small-town atmosphere with easy access to the cultural hub of Philadelphia, which is less than 30 minutes away by car. Neumann University is also a short distance from Washington D.C. and New York City, as both are about 2 hours and 30 minutes away. Neumann's proximity to these bustling cities — where industries and jobs are booming — is advantageous for both Neumann's undergraduate and graduate students alike.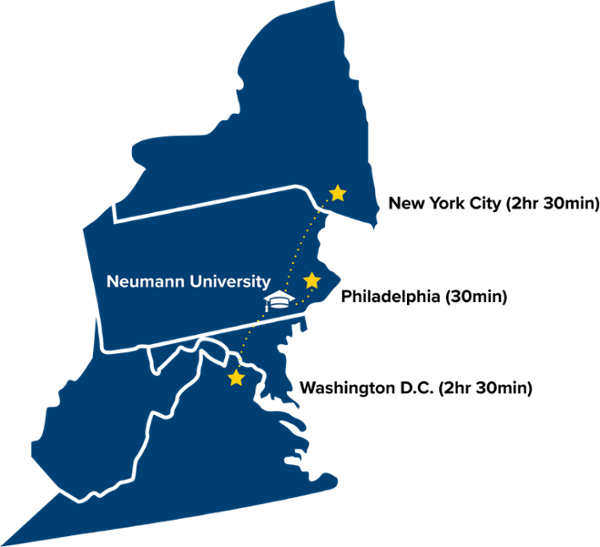 Whether you're a transfer student, an international student, or first-generation college student, Neumann University is dedicated to preparing the next generation of leaders. At Neumann, we're excited to get to know you and help you be the best you can be, both professionally and personally.
Contact us today to learn more about starting your degree in Sport Management!
Explore our digital resource page — Financing Toolkit: A Resource for College-Bound Students — for advice on how to pay for college!