At Neumann University, we are dedicated to preparing students in all of our programs for academic success today and for professional success tomorrow.
We chatted with three students who participate(d) in Neumann University's Master of Science in Sport Business and got their take on why NU's program has prepared them for success as thought leaders in the field of sport business.

Meet Michael Pascarella:
Before I started my academic career at Neumann University for my Master of Science in Sport Business, I was searching for my passion.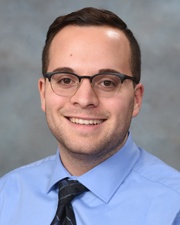 In the midst of a career change, I looked to the one thing that remained constant in my life: sports!
I felt that Neumann's Sport Business program was right for me and for advancing my career in sports. I have stood firm on that belief since my first meeting at the school in March of 2017.
This program has prepared me for my future and has helped me build connections with students, professors, and guest speakers that will prove valuable to me as I further my career in sports. It has also prepared me for my internship that I have now and is readying me for when that internship translates into something full time.
I am certain that Neumann's Sport Business program is leading me on the right path to becoming successful in the sports industry, and I am looking forward to what is to come with my future in and outside the program.
Meet Robin Baxter:
As a 2006 graduate of the Neumann Sport Management graduate program, and as a current adjunct professor, I have a unique perspective about the program!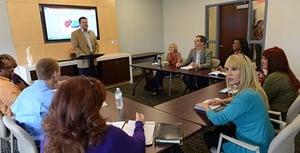 Being able to witness first hand how classes and curriculum has changed and evolved over the years has been fun to watch and be a part of. By bringing in local industry experts to support the curriculum, not only as guest speakers, but as actual adjunct professors, students are getting to hear from industry insiders with real-life experience and connections.
Practical application and discussion will prove to be far more advantageous to students and their futures than simply learning straight from a textbook.
Meet Joe Lake: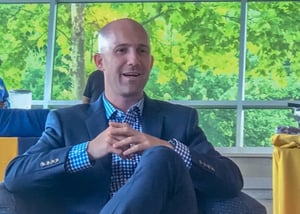 I decided to further my education at Neumann University knowing that a master's degree would help me regarding my career development, but I underestimated the relationships I would form and how they would help further develop my professional career!
This program has been more than just "textbooks and papers." It has been about staying ingrained in what is happening in the sport business market as a whole. I have not only been able to stay up-to-date with industry trends, but I have learned first hand from industry leaders.
I am confident that I will be able to excel in the sport business industry by using the tools and knowledge I gained at NU!
Want to learn more about Neumann's graduate program in Sport Business?
A specialized business degree in Sport Business can allow you to demonstrate your expertise in a sports-centric field and will appeal more to employers and thought leaders as you look for careers in sports.
Neumann University's Master of Science in Sport Business is a great way to gain more knowledge and experience regarding how the industry functions and how to jumpstart a successful career by standing out from your peers and by building credibility through professional networks.
Come find out if Neumann University's Sport Business master's program is the right place for you to start following your academic and professional dreams.
You can request more information here!
LEARN MORE ABOUT STARTING YOUR degree IN SPORT BUSINESS BY CHECKING OUT OUR DIGITAL RESOURCE PAGE — EVERYTHING YOU NEED TO KNOW ABOUT A CAREER IN SPORT BUSINESS!