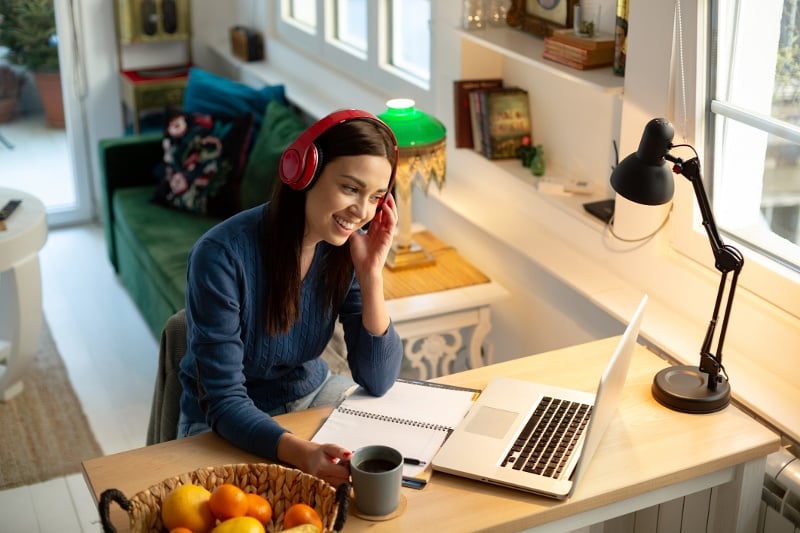 Going back to college and earning your degree in an online learning program might sound ideal — you can learn from the comfort of your home, save money on commuting costs, and even vacation without missing class.
While there are advantages, there are also challenges to enrolling in a fully-remote or online college degree program. As a busy adult, you may have family responsibilities or work obligations that are difficult to balance along with an academic program, but there are ways to combat these challenges.
In order to thrive in a fully online degree program, you need to develop a solid plan for when, how, and where you will succeed.
1. Getting A college degree online requires you to Get (and stay) organized.
When obtaining a college degree online, organization is everything. Unless you have a system for staying organized, you will struggle to meet deadlines, keep track of projects, and maintain your many other personal responsibilities. Whether you use your smartphone calendar, an app, or a bullet journal to stay organized, choose a method and stick to it.
2. Before enrolling in an online degree program, Communicate your boundaries to family and friends.
As you enter a new stage of your life, it will be important for you to communicate with your loved ones regarding your goals, plans, and boundaries. Set expectations regarding your availability and ask that your friends and family respect your schedule and support you as you go back to school for a bachelor's degree.
3. Establish a work station where you'll be uninterupted during online coursework.
It's important to establish a workspace that is conducive to uninterrupted, online learning. Even if you don't have the space to set up a home office, choose a quiet spot that you will use exclusively for studying and tuning in for class. Keep your laptop charger, textbooks, and note-taking supplies close by, and as much as possible, refrain from using that space for anything other than coursework — this will help you to switch gears and really focus when it's time to learn.
Pro Tip: If you don't have a separate room where you can set up a work station, keep all of your school supplies in an accessible bin or bag so that you can transport your work station as needed!
4. Speak up and Participate in online class discussion.
Be present and proactive when it comes to online class discussions. Participating in online college classes will teach you active listening skills and inspire critical thinking, but it will also create an environment of collaboration and knowledge-sharing. By voicing your opinions and insights, you'll also establish yourself as a forward-thinking, ambitious student who really wants to learn with and from others in your program.
5. Take initiative to connect with professors.
If you don't take the initiative to stay connected, it can be easy to feel removed from your peers and professors while in an online learning program, but you can combat that barrier by making it a point to speak one-on-one with each of your professors. Early on in the term, reach out to each of your professors and set up a time to chat. By doing so, you'll establish a professional relationship and might even feel more comfortable asking for help later in the semester if you find yourself needing assistance. When it comes to peer relationships, you could suggest virtual study or brainstorming sessions to get to know your fellow students.
6. Block off "deep work" times.
Studies show that we are much more productive, creative, and detail-oriented when we dedicate "deep work" time. Coined by author Cal Newport, deep work is the ability to focus without distraction, which in turns allows you to retain information and produce results in less time. In order to make the most of your valuable energy, you should commit to eliminating distractions and cultivating a spirit of intentionality with your time. You'll find that your dedication to deep-focus time will pay off in the quality of your work.
7. Don't forget to Take mental breaks.
Getting a college degree online while navigating other personal responsibilities will not be easy, but it'll be worth it. In the meantime, it's important to find ways to motivate yourself, so reward yourself for your hard work — take breaks, exercise, and spend time with friends and family. By giving yourself regular mental breaks, you'll ensure that you're putting your best self to work during allotted work and study times.
NEUMANN UNIVERSITY'S ONLINE DEGREE COMPLETION PROGRAMS:
Neumann University is proud to offer two online degree completion programs — accelerated academic programs for students who are looking to complete a four-year degree:
Because our programs are designed for busy or working adult learners, we are dedicated to making obtaining a bachelor's degree flexible, affordable, and accelerated.
Connect with us to jumpstart Your journey towards earning a college degree online:
If you are interested in boosting career, and if you are considering college as a way of doing so, then we encourage you to connect with us:
Best of luck on your journey! We can't wait to help you achieve your career goals.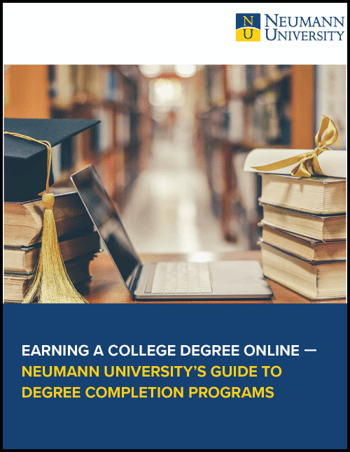 Thinking about getting a college degree online? Download Neumann University's Guide to Getting a College Degree Online!