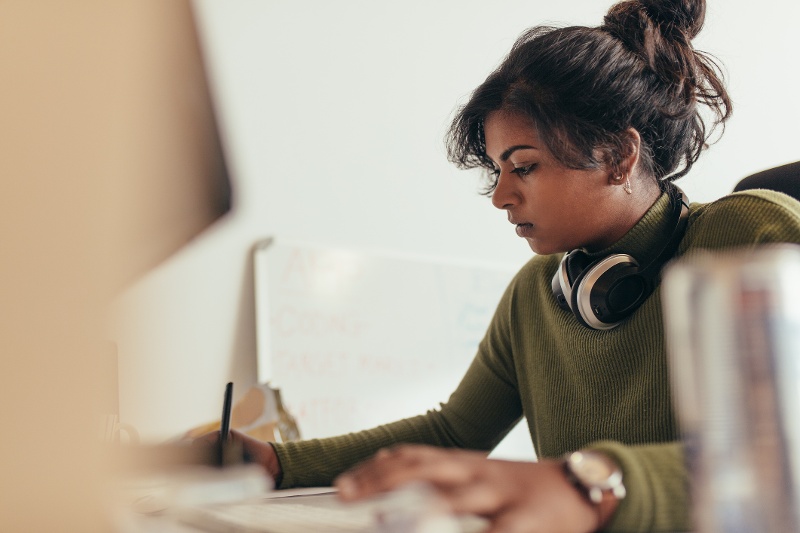 Many adults who are considering going back to school to finish their four-year degree and who are specifically considering a degree completion option often wonder: Can I work while completing my degree?
These adults might have reservations about trying to tackle work, school, and personal responsibilities, and that's totally valid! But at Neumann University, we're here to tell you that not only do you have the ability to work and complete your four-year degree, but there are a few reasons you should actually consider doing so!
1. you'll help support yourself and your family:
While there are certain academic programs that suggest you don't work while completing the program, Neumann University designs the degree completion programs for adult learners, many of whom are working professionals.
Neumann designed the degree completion programs in this way because we understand that many students seeking a degree completion option are often compelled to continue working to pay for their education and to support themselves and their families. So, take advantage of the opportunity to make money while you complete your four-year degree by finding a job that fits your academic schedule.
2. You'll take out fewer loans:
Many students need some amount of financial assistance. And while there are financial aid options available to adult learners in degree completion programs, you should avoid borrowing more money than absolutely necessary.
Working while completing your degree can augment your income! In other words, if you have a job while in school, you can cut down on the amount of money you have to take out.
3. You'll gain practical work experience:
Working while in school can be stressful, but it is absolutely doable. If you have a job in your desired field that's related to your academic program, that's even better! You'll also be gaining valuable job experience in your field that can be applied to your resume and other future career decisions.
On-the-job experience is also one of the factors that makes degree completion students highly motivated, real-world learners, who can draw on their practical and professional experience to help them complete their degree.
Exploring Neumann's Degree Completion Programs:
At Neumann University, our Faculty designed our degree completion programs specifically to work for adult students, who also have full-time jobs. We have customized these programs to be the most convenient and affordable option for returning to school to earn your undergraduate degree, and we are committed to providing a supportive environment to every student who joins us.
Our unique degree completion programs honor your sacrifices through its flexible online learning model, dedicated and experienced faculty, supportive admission staff, affordable tuition and financial assistance, and quality four-year degree delivered in an accelerated format.
Below are Neumann University's degree completion options:
BS Business and Organizational Studies
BS Public Safety Administration
The Faculty at Neumann University who teach the courses in our degree completion programs are experts with field experience, many of whom are still working in their specific industries. Professors nurture students and help them to grow and thrive by cultivating an environment of questioning, creativity, critical thinking, and problem solving — all of which develop the talents needed for a successful career.
We invite you to request more information today!
Explore our digital resource page — Degree Completion Programs in 2020: Here's What You Need to Know!