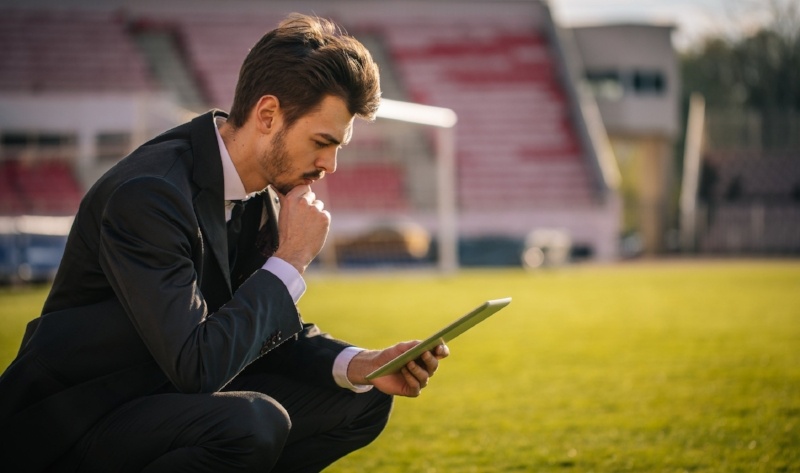 The sports industry is looking for winners — people willing to put in the time and effort necessary to get a leg up on the competition — people like you. But it's not enough to know the sport – you need to know the business of the sport.
Sometimes referred to as sport management in other academic institutions, Sport business teaches business knowledge in a sport-focused setting — resulting in a much more specific kind of business degree.
But which careers in sports can you pursue with a graduate degree in sport business? Let's dig a little deeper.
Entry-Level Positions:
If you're considering looking for more experience before pursuing a director and/or management position, there are many entry-level positions offered to you while you're studying sport business or right after you graduate.
Some examples are:
1. Production Assistant:
Researching, writing, and logging for networks like Fox, NBC, and ESPN.
2. Social Media Coordinator:
Writing, editing, and public relations for sports teams, sports manufacturers, and sports networks.
3. Marketing Coordinator:
Advertising/promoting, brand development, and research for athletic departments, online sports properties, and live event productions.
4. Graduate Assistant:
Assistant coaching on a collegiate or high school level, assisting the athletic department.
Director/Management Positions:
One of the most important elements of earning any master's degree is the kind of job opportunities that will become available once you graduate and in the years to come.
The following positions are available to graduate degree holders in sport business:
5. Athletic Director:
Collaborating with other administrators to develop athletic programs for schools, usually for middle school students or older, possibility of supervising coaches.
6. Recreation/Fitness Studies Professor:
Teaching courses pertaining to recreation, leisure, and fitness studies, including exercise physiology and facilities management.
7. Operations Manager:
Setting, reviewing, and managing budgets to ensure that sports-related industries or athletic organizations run smoothly.
8. Account Executive:
Serving as the direct link between the advertising agency and the existing client, managing day-to-day affairs and ensuring customer satisfaction.
9. Financial/Contract Analyst:
Researching macroeconomic and microeconomic conditions, gathers financial information along with company fundamentals in order to make business, sector and industry recommendations to the company.
Why get a sport business Degree?
Maybe a Master of Science in Sport Business is starting to sound pretty interesting to you right now, but maybe you also have some lingering doubts: What sets Sport Business apart from other graduate degrees?
Well, for one, if you're interested in working with sports teams, Neumann University's program features staff and faculty ALL with expert experience in the industry with companies like NASCAR, NBC Sports, Major League Soccer, and the National Lacrosse League.
In addition, students can work directly with Neumann's Industry Relations Specialist to create "volunteer, internship and job placement opportunities" while you earn the degree. This Specialist is dedicated to helping students create their brand and build relationships with organizations in the sport industry.
Connect with Neumann University:
Neumann University's Master of Science in Sport Business is a great way to gain more knowledge and experience regarding how the industry functions and how to jumpstart a successful career by standing out from your peers and by building credibility through professional networks.
Neumann wants anyone with a love of sports, no matter their education and career background, to feel encouraged to study Sport Business with the intentions of gaining and enhancing the skills necessary to succeed in this growing and competitive field.
Come find out if Neumann University's Sport Business master's program is the right place for you to start following your academic and professional dreams. We invite you to request more information today!
Explore our digital resource page — Careers in Sports: Everything You Need to Know About Getting a Sport Business Degree!