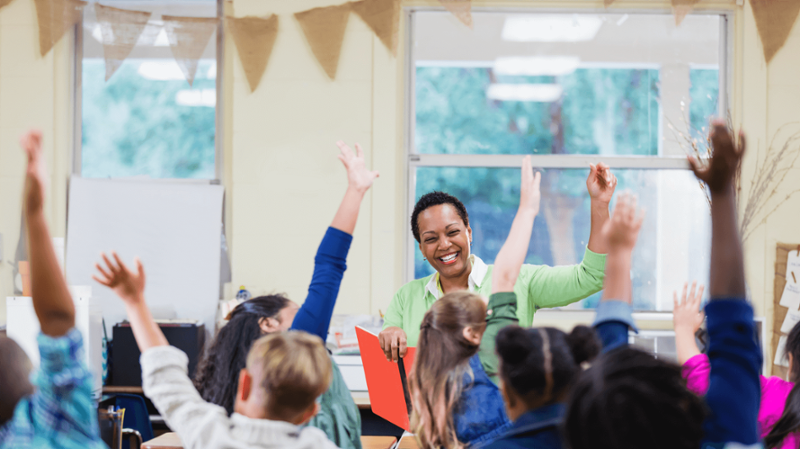 Teachers who hold a master's degree are sought after in many school environments, and if you are considering giving yourself a competitive edge with a graduate education degree — you should know that there are different degrees to choose from.
With different degrees come different abbreviations. Let's break down the top two abbreviations you'll encounter in your pursuit of a master's degree in education:
MA = Master of Arts
MS = Master of Science
There are differences between a Master of Science in Education and a Master of Arts in Education that are important to understand when planning your academic future. We've unpacked these differences so that you can make the best choice for your teaching goals.
What does the MA stand for in an education program?
A Master of Arts in Education will give you a deeper theoretical understanding of teaching and education. But it's important to recognize that a Master of Arts in Education is specifically focused on the arts and humanities.
An MA in Education is a valuable option to pursue if you're interested in obtaining an advanced degree that is rooted in the humanities and if you think you may want to teach subjects related to the liberal arts.
what is a master of science in education?
A Master of Science in Education will also give you a more technical understanding of the art of teaching. But a Master of Science in Education, compared to a Master of Arts in Education, is specifically focused on scientific and technical fields.
An MS in Education is an excellent choice for those interested in teaching subjects that are more technical in nature. And since this degree is rooted in STEM (science, technology, engineering, and mathematics) ideology, many educators choose to obtain an MS in Education in order to jumpstart a teaching career that is specifically focused on STEM disciplines.
What is a STEM teacher?
The STEM fields are advancing more rapidly than ever, and for this reason, the need for competent and passionate STEM teachers has also increased at a rapid rate. Schools all over the country need data-minded educators who have specialized in one subject at the secondary level, such as biology or computer science.
With a Master of Science in Education, you can fill a significant talent gap by entering the classroom with the technical skills needed to teach the STEM disciplines that are so critical to the advancement of countless industries.
Your master's degree in education will equip you to work with the best in this impactful field and give you the tools to teach the next generation of STEM-focused professionals.
Here's why you should consider obtaining more credits (even if you already have a master's degree in education).
Did you know that teachers who obtain additional credits (on top of holding a master's degree) are actually eligible for higher salaries?
Many teachers who have invested in a master's degree in education choose to continue their education by earning a certification or endorsement — giving them more graduate-level credits, which in turn, leads to a salary increase. So, even if you have a master's degree already, there is value in achieving more credits through a certification or endorsement program.
Neumann University offers a variety of Master of Science in Education programs, certifications, and endorsements for educators who wish to advance their skills and for teachers who want to obtain additional credits in order to facilitate a salary increase.
Neumann University: Your Next Step into the STEM education field.
At Neumann University, we know the value of getting ahead of the competition, so we developed several graduate education programs to choose from — depending on your specific area of interest.
We offer a variety of Master of Science in Education programs (and certificates and endorsements) that are specifically designed for driven teachers looking to make a difference. The Master of Science in Education that you choose will sharpen your competitive edge and make you an excellent candidate for hire in diverse school environments.
Want to know more about our programs? Request more information or read some stories about how education impacts the world.
Ready to start your next steps into the graduate world? Apply now.
Explore our interactive education resource and take our quiz to find the master's program in education that's right for you.