The hand of the Lord feeds us; he answers all our needs. - Psalm 145

The compassion and tenderness that Jesus showed towards the crowds is not sentimentality, but rather the concrete manifestation of the love that cares for the people's needs.
-Pope Francis, reflecting on the Gospel of the Loaves and Fish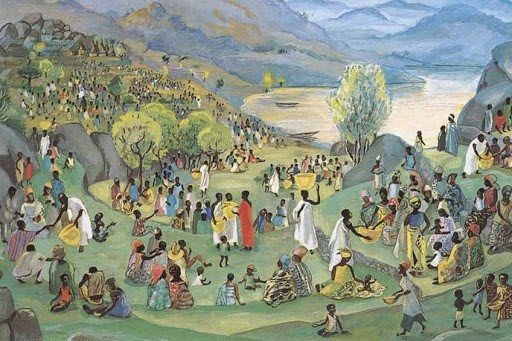 Feeding a Multitude, Bénédite de la Roncière
God is good!
Listen to Fr. Suresh's homily for the Eighteenth Sunday in Ordinary Time
Read or re-read yesterday's scripture, as Fr. Suresh prompts; all of the readings are very consoling. ​Listen to Miracle of Grace for further reflection on the compassion of Jesus.
Knights in Action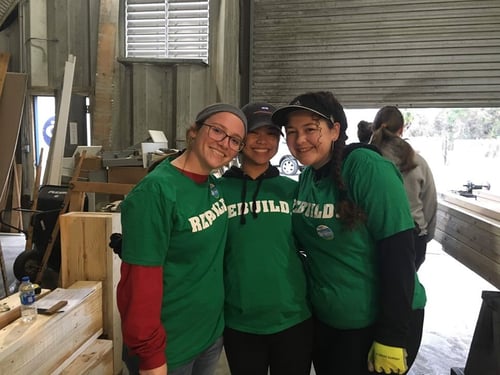 Two alumnae are following the "compassion and tenderness that Jesus showed" in this week's Gospel as they embark on a year of service. Read Annie McCaskill and Julia Howell's reflections as they prepare to serve at this unique time.
Feast of Our Lady of Angels
Yesterday, August 2, was the feast of Our Lady of Angels of Portiuncula. What is that? How do you even say Portiuncula? Read more on this important day for Franciscans and listen to Fr. Suresh's reflection.
Portiuncula means "little portion" and refers to the small chapel which served as St. Francis's home base for his ministry. The chapel is preserved in the Basilica of St. Mary of the Angels in Assisi.
St. Clare of Assisi - Pray for us!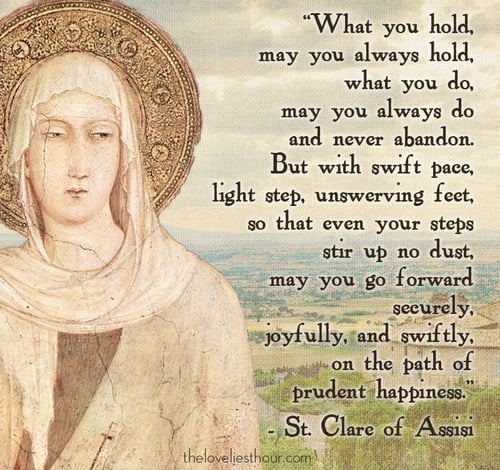 Another important Franciscan feast is coming up next week - the Feast of St. Clare of Assisi on August 11. Sign up for this novena to St. Clare or make a prayer request here. Let us pray to St. Clare for health and healing in our world.