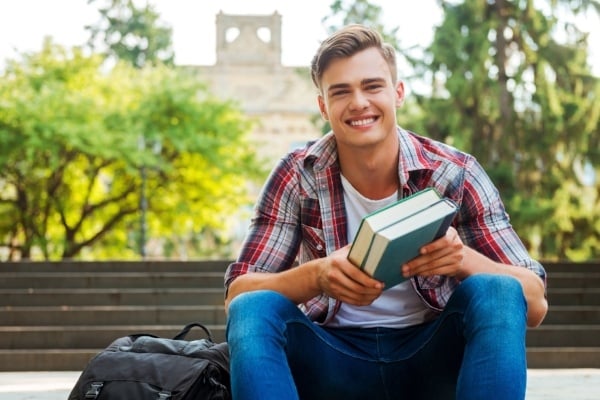 So, you're a first-generation college student? Good, this blog post is for you!
First of all, congratulations on your achievements! You may not know exactly what you're doing next, but that's okay. We know how hard it can be to navigate the college admissions process when you have a lot of help, but we know it's even more challenging for college-bound students who can't ask family members for personalized advice.
But thankfully, Neumann University is here to help. We've gathered a list of seven need-to-know pieces of advice so you can be a successful and happy college student.
1. Think strategically about your major, minor, and elective classes.
It's never too early – even as a high school freshman or sophomore – to start thinking about how you can most efficiently prepare for college. Likewise, it's never too early to start thinking about what you want to study in college.
When considering what to study, here are some questions to ask yourself, when determining your interests and passions:
What did I love as a child?

What are my hobbies?

What skills do I have?

Who do I admire most, and what do they do?

If money were not part of the equation, what kind of career would I want to pursue?
Something that's often overlooked is the importance of taking elective courses and choosing a minor(s). Both can be used to complement your major or give you the chance to explore a passion that isn't directly related to your major studies.
Neumann has a variety of minors to choose from including Art, International Business, Communications and Digital Media, and even Sport Management.
Also, don't be afraid to take an elective class just because. You're only in college once, and once you're "adulting," you won't have readily available opportunities to take that course in music appreciation, creative writing, or acting you always meant to do.
2. Don't forget to enjoy yourself on campus — get involved!
You're probably aware of the importance of extracurricular experiences while you're applying to college, but now that you're in college, however, you're going to discover that clubs are a great way to make friends!
Neumann University has several Clubs and Organizations to choose from including clubs for students interested in environmental advocacy, dance, education, mental health awareness, sports and many more!
3. It "pays" to know your financial aid options – FAFSA.
Every student – regardless of financial status – is encouraged to fill out the FAFSA (Free Application for Federal Student Aid). The Department of Education, as the largest provider of student financial aid in the nation, provides over $120 billion annually to help students finance their education. Be aware that you must fill out the FAFSA for each year you're enrolled in college!
Neumann University also offers some financial aid options you should consider researching! You've got nothing to lose by applying and only money to gain!
4. Speaking of financial aid, keep an eye out for first-generation specific scholarships and other forms of aid.
Getting accepted to your dream college is a serious achievement, and if you're the first in your family to attend college, know that there are a number of financial resources designed to help you out!
College Greenlight, Student Success Academy, and Strive For College are sites you can consider for scholarships, and you'll find helpful, general advice for first-generation college students there as well.
5. Be aware of Neumann's Mirenda Family Scholarship.
Outside of traditional scholarships and grants, Neumann is proud to offer its own scholarship to provide financial assistance for first-generation students.
The Mirenda Family Scholarship was created in 2003 to honor Dr. Rosalie M. Mirenda, President of Neumann University. Students who are currently enrolled in a full-time degree program and who attended a Catholic or religious-sponsored high school are eligible to apply.
6. Take advantage of your college's resources!
Many colleges offer a variety of resources ranging from career exploration to interviewing tips. If you need additional assistance navigating the resources, you should reach out to your college of interest and chat with a career counselor.
7. Ask for help! Utilize professors, tutors, and study groups.
If high school was about showcasing your potential for college success, then college is about being the very best you can be in order to prepare for life post graduation. But that said, no one's expecting you to navigate college alone.
Attend office hours to collaborate with professors, invite classmates to study for exams with you, seek out teacher's assistants and academic tutors from your department, and set up meetings with your academic advisor.
They want to help you succeed – but they can't help if you don't communicate how you need assistance.
In short, we know that making the jump from high school to college as a first-generation college student can be a bit daunting, but there are so many resources available to you to make the transition efficient and easy.
We hope these tips have been helpful, and if you're interested, we hope you'll request more information about Neumann University!
Discover more tips and helpful advice on navigating the college process as a first-generation student by checking out our new, free digital resource:
The Pathway to College — How High School Students Can Best Prepare For College
!