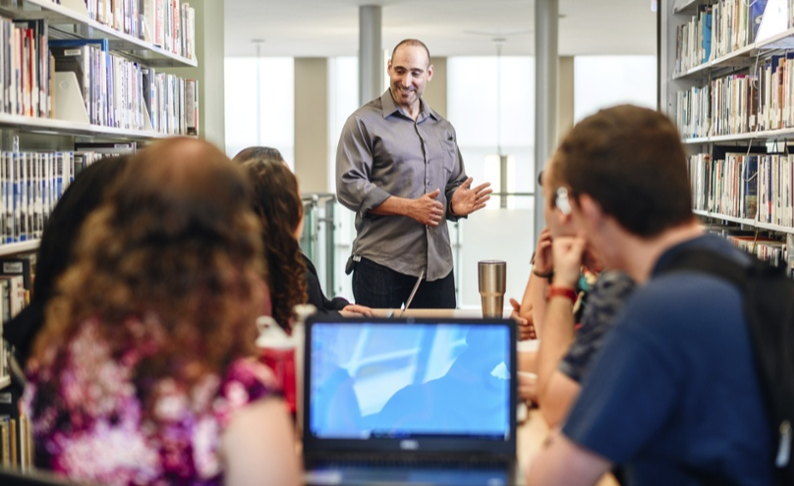 Maybe you went right from high school to the workforce because you had a job lined up that you really wanted. Or maybe you started on your college degree but had to take some time off due to personal or financial factors.
Whatever your particular reason for not completing college, you're now at a point in your career where you're considering the return on investment that can come from finishing your four-year degree.
So, whether you're in your twenties or your sixties, you should know that Neumann University's degree completion programs are designed specifically for people like you — people who are dedicated to increasing their knowledge and skills by going back to college to get a bachelor's degree.
While Neumann offers three degree completion programs, we're here for the purpose of highlighting our Business and Organizational Studies degree completion program.
Let's dive into some of the reasons that this degree completion program is perfect for people who want to become leaders in business, change careers, or who even want to become an entrepreneur.
But wait: What is a degree completion program?
So, what is a degree completion program, after all?
Simply put, a degree completion option is designed specifically for adults with some post-secondary education but who have not yet completed a four-year degree. Applicants often bring some college credit to the table, whether from a four-year university or a community college, and some may have earned an associate's degree or hold some prior work experience.
The degree completion option exists to build upon the work students have already completed and to help them earn a four-year undergraduate degree to better their personal and professional lives.
Okay, but is there measurable value in going back to college?
Sure, you may have some questions regarding the overall value of going back to college to finish your four-year degree. Luckily, we have several industry indicators that suggest that getting a college degree will earn you more money, advance your career, and even make you a happier person.
Let's talk money.
Did you know that a college graduate can expect to earn $800,000 more on average, by retirement, than a high school graduate who doesn't go on to pursue a bachelor's? We'd say that's a pretty significant increase in earnings. And if you're someone who's on the closer end to retirement, getting a college degree will allow for the potential of a raise or promotion before you choose to retire.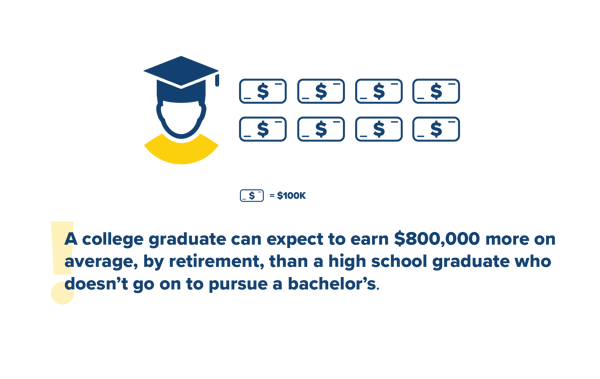 Not only does your earning potential significantly increase with an undergraduate degree, but individuals holding these degrees also experience other forms of better compensation. They are more likely to have access to quality benefits such as health insurance, 401Ks and retirement plans, life insurance plans, maternity/paternity leave, vacation and sick leave, paid holidays, cost of living increases, and more.
Okay, but why isn't my high school education good enough?
It can be a tough pill to swallow, but the truth is this: When weighing the value of a high school diploma or some college credit, against a four-year degree, research is clear that an undergraduate degree outperforms in every area of consideration.
When it comes to the number and quality of jobs that are open to graduates, the amount of education that you have makes a difference. College graduates are dominating the economy, as a growing percentage of workers hold college degrees. Candidates who hold a four-year undergraduate degree are more likely to be hired over those who have an associate's degree. Earning your undergraduate degree provides you with the skills and experience that employers desire, while also demonstrating to a potential boss that you are hardworking, dedicated, and ambitious.
Now, what about personal satisfaction?
Apart from earning higher salaries and having greater job options and security, four-year college graduates often report higher levels of self-satisfaction when evaluating their employment.
College graduates are often able to pursue careers that they're actually passionate about, which directly impacts overall career and personal satisfaction. After all, who doesn't want to land a job that they're actually excited about going to every day? And if you're already in your dream job, that's great! Getting a college degree will allow you to continue to advance in the job you already love.
NU's Business & Organizational Studies Degree Completion Program:
The Bachelor of Science in Business and Organizational Studies Accelerated Degree program at Neumann University is designed to provide adult learners, who may have earned previous college credits, with the opportunity to complete the Bachelor of Science degree.
With this program, students develop, enrich, and improve critical competencies sought by today's organizations while moving through an accelerated format. The Business and Organizational Studies degree completion program is offered in seven and a half week seminars and is offered fully online.
Students learn how to apply their learning experience to the work environment, while improving their writing, critical thinking, and communication skills. The uniqueness of this degree completion program is the accelerated format that utilizes experientially-based learning projects that blend theory and practice. Projects can be professional initiatives that enable students to further research and develop projects from places of employment, as a return on investment (ROI) for employers.
What can you expect to learn in this degree completion program?
Graduates of Neumann's Business and Organizational Studies degree completion program will be prepared to enter the workforce with the leadership skills and business acumen needed to succeed in a variety of competitive business environments. Other program outcomes of this degree completion program include:
Demonstrate the ability to think critically and creatively in organizational problem-solving
Demonstrate effective presentational and communication skills
Identify and describe key functions and competencies to be effective in today's workforce
Utilize effective writing and oral communication skills
Describe organizational dynamics through multiple perspectives
What careers can you pursue after getting a business-related bachelor's?
When considering a degree completion program that's related to business and leadership, like Neumann's Business and Organizational Studies program, you might be wondering: What is the career outlook for me? What is the real ROI of a degree like this? What kind of jobs can I pursue?
Here are just a few of the careers that could be in your future after pursuing NU's accelerated degree in Business and Organizational Studies:
Connect with a community of leaders at NU!
The Faculty at Neumann University who teach the courses in the degree completion programs are experts with real-world training and field experience, many of whom are still working in their specific industries. Professors nurture students and help them to grow and thrive by cultivating an environment of questioning, creativity, critical thinking, and problem solving — all of which develop the talents needed for a successful career.
If you see yourself investing in your future by enrolling in a degree completion program, we invite you to request more information today!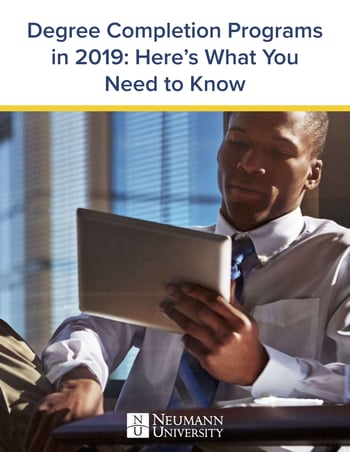 Explore our digital resource page — Degree Completion Programs in 2019: Here's What You Need to Know!