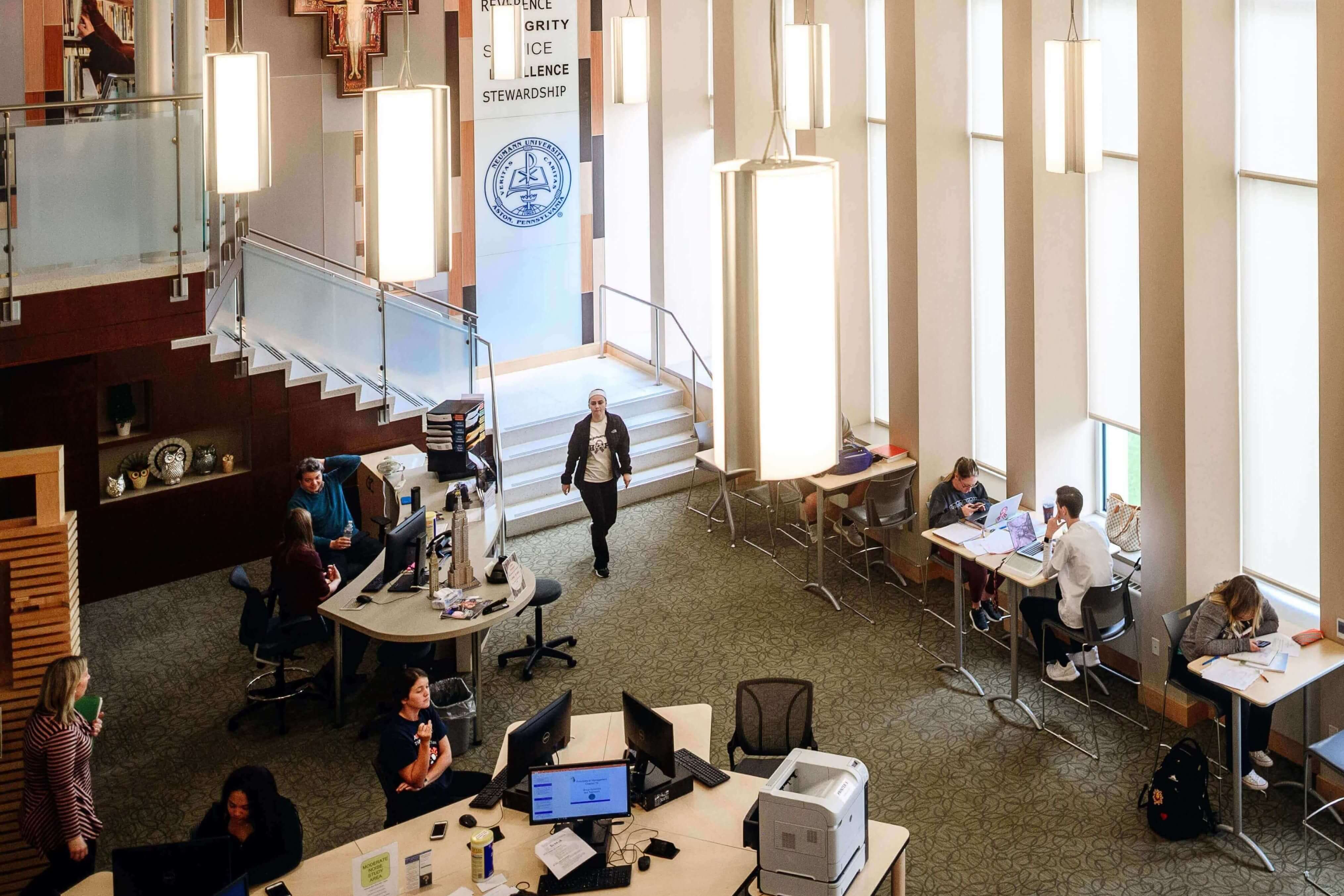 As a working professional navigating the field of public safety, perhaps you're considering how going back to college for a four-year degree will affect your professional future.
Perhaps — as a law enforcement officer, firefighter, EMS professional, security guard, or emergency dispatcher — you've prioritized your service career and are now wondering how to increase your chances of landing a management role or getting a promotion.
If this sounds like you, you're in the right place.
If you're currently enrolled in one of the careers mentioned above (or another public safety-related career), you are exactly the kind of working professional that would thrive in a degree like Neumann University's Public Safety Administration degree completion program. The world of public safety administration is an important field, and we're here to explore how this degree completion program will allow you to continue doing what you're passionate about, while increasing your chances of career advancement.
Pro Tip: You should also know that the skills and prior training you have received working in public safety will be considered as you apply for the Public Safety Administration program at Neumann University. You can request more information about this unique program here.

Going back to school takes courage — we get it.
Adult learners who are thinking about finishing their four-year degree often have a lot of concerns regarding going back to college. If you're a working professional thinking about going back to school, you may have questions like these:
I've been out of school for years! Will I be able to keep up with the coursework?
Can I work while completing my bachelor's degree?
Is a four-year degree really going to help me in my career?
College is expensive! What are my options regarding how to pay for college?
Will I have the self-discipline to thrive in an online learning environment?
If any (or all!) of these questions are running through your head, we want to acknowledge that A) these are valid concerns, B) you're not the only adult learner who has these questions, and C) degree completion programs are designed specifically for working professionals like you who want to finish their undergraduate degree. With this in mind, the professionals at Neumann University are here to help you make the best possible decision regarding your academic future.
For now, let's dive into some information regarding the field of public safety administration and then discuss five public safety-related professionals who would benefit from pursuing a degree in this niche field.
What is public safety administration?
Let's define public safety administration. It's important to understand that public safety administration is not the same as the traditional field of public administration. It is a niche area of study that focuses on nurturing and sharpening the skills needed to meet the challenges in public safety structures — specifically focusing on the management of first responders, safety management professionals, and other on-the-ground professionals who work to perpetuate public safety.
This field is in need of ambitious, results-driven professionals who have the skills needed to make a real difference in the lives of others — skills that are cultivated by pursuing an advanced field of study in public safety administration.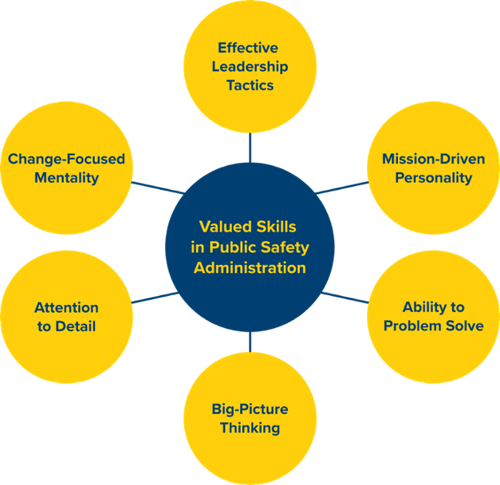 A public safety administration degree is also unique in that it's designed for adults currently working in the fire service, law enforcement, and emergency medical services. In other words, many public safety administration programs (including Neumann University's own degree completion program) have an expectation upon admission that professionals have prior training or even education directly related to the field of public safety.
Now, let's talk a little bit about five kinds of public service professionals who should consider pursuing the degree completion program in Public Safety Administration at Neumann University.
1. Law Enforcement Officers
Law enforcement officers are tasked with protecting the community in a variety of ways. From taking reports, to conducting complex investigations, to testifying in a court of law, law enforcement officers are critical figures in the overall field of safety administration, and society in general.
In your current career, you have already begun to nurture the critical thinking skills, decision making abilities, and ambition needed to positively affect the lives of others. The Public Safety Administration degree completion program at NU will allow you to sharpen the skills you've already started to develop, and in doing so, will increase your job security and earning power tremendously, making pursuing this degree one of the best decisions you can make.
2. Firefighters
Firefighters respond to situations where property, the environment, or human life is at risk. As a working firefighter, you already understand the importance of increasing your skills and knowledge as a way of providing the best possible firefighter practices. You know full well the importance of making decisions based on facts, as well as instinct.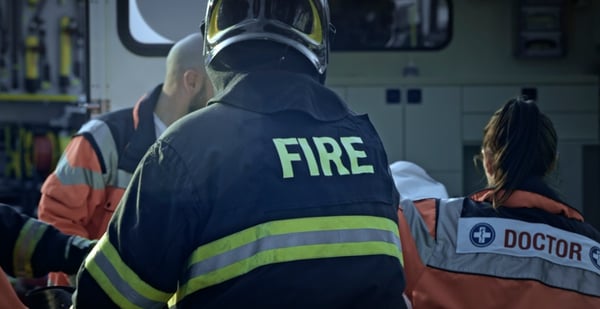 NU's Public Safety Administration program is specifically designed to take your existing skills and sharpen them, preparing you for career advancement. Further, during your career as a firefighter, you have to take promotional exams, and having a college degree can add critical points to your exams, making it even easier to land promotions and increase your earnings.
3. Emergency Medical Service Providers
When working as an EMS professional, you are truly the first line of response to emergencies and thus, are perfectly equipped to appreciate the perks of a program that focuses on public safety. The world needs your change-driven mentality, your caring spirit, and your results-focused personality, and the NU Public Safety Administration accelerated degree will add to your overall impact and ability to serve, while also increasing your chances for promotions and higher pay.
4. Security Guards
Security guards and gaming surveillance officers patrol and protect property from illegal activity. Your role in your community is crucial. With high visibility, you'll often rub shoulders with the average person and the public at large. You know the importance of proactive communication and building relationships.
The 120-credit Public Safety Administration program at Neumann will allow you to explore the ways you can grow, in leadership and training, and expand your business acumen in the public safety administration field.
5. 911/Emergency Dispatchers
Public safety telecommunications professionals, including police, fire, and EMS dispatchers, answer emergency and nonemergency calls. As a dispatcher, you are highly skilled in responsiveness, attention to detail, and communication. You're trained to leave nothing to chance when it comes to the safety of those you're responding to.
By applying to the Public Safety Administration degree at NU, you'll have the chance to expand your skills without quitting your job — since the program has no set log in times, the coursework is accessible and convenient for professionals employed in shift work. More importantly, you'll gain valuable knowledge and training that will give you more experience in the larger field of public safety administration, empowering you to approach your responsibilities with more confidence.
Join a community of public safety professionals:
In Neumann University's accelerated Public Safety Administration degree completion program, the coursework is varied, offered exclusively online, and brings to bear all your current practical and important experience, while giving you new perspectives, insights, skills, and tools.
We know it takes courage to take that first step in going back to college to finish your four-year degree, but we're here to make sure your journey toward getting a bachelor's degree is as stress-free as possible. The Admission professionals at Neumann University are standing by, ready to answer all your questions and to help you figure out if this unique program is for you.
We encourage you to reach out to us today!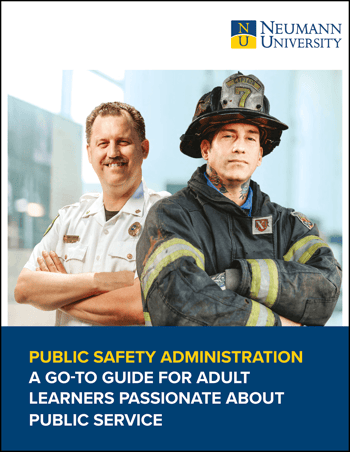 Explore our digital resource page,

Public Safety Administration: A Go-To Guide for Adult Learners Passionate About Public Service!