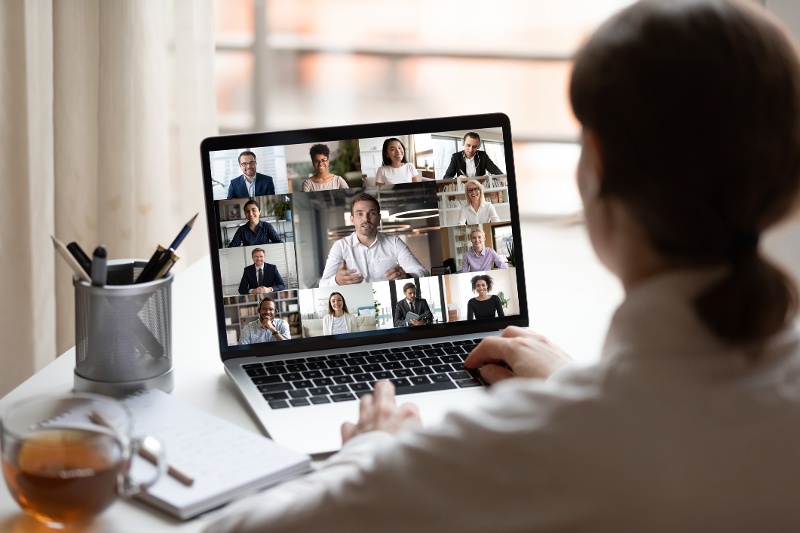 Meet Bettsy McKlaine — Neumann University's Director of Adult and Graduate Admissions.
She graduated in 2015 with a master's degree in Business and Organizational Leadership from Neumann University. We had the opportunity to chat with her about her experience in this impactful and transformative graduate leadership program that's designed for driven, ambitious leaders who work in a variety of important industries.
What made you think it was time to consider getting a graduate business degree?
There was transition in leadership at my workplace at the time, and I was given more responsibilities — I wanted to advance my degree to also grow.
I believed a graduate business degree focused on organizational change and leadership would allow me to not only strengthen my leadership skills, but to also understand the business perspective behind decisions made.
Also, I was initially attracted to Neumann University's graduate degree in Business and Organizational Leadership because of its completion format: The 18-month accelerated program allowed me to fit graduate school into my very demanding work schedule.
Did you ever consider getting an MBA? If so, why did you choose a different type of graduate business degree?
I do also have an MBA, but I loved Neumann University's leadership degree and how the courses dove deeper into leadership theories/topics. I also loved that my cohort had experts from various industries and not just business.
Pro Tip: For more information on various types of graduate business degrees, check out Types of Business Degrees to Consider (Alternative to an MBA).
What was the most transformative element of the program?
The most challenging yet rewarding element was working on our Capstone thesis. It allowed me to do research on a passion of mine. I explored the psychological struggles of first-generation and "new american" women ages 18-25 regarding: gender roles, education, marriage, relationships, and physical appearance.
I am looking forward to starting my Ed.D program at a local university in the future to build on my Capstone.
How did learning about the human elements of business and organizational change hone your skills as a leader?
The human elements play a major role, especially in today's technology-dominated world. As a leader, it is critical to understand emotional intelligence so that you can adapt to your team and the people who look to you for guidance.
Have you changed how you lead and manage others since graduating from Neumann's graduate degree in Business and Organizational Leadership?
Perspective — I always take the time to sit back, listen, and think of other viewpoints to any situation before making a decision.
Emotional intelligence — Learning social and emotional intelligence is key and has allowed me grow my interpersonal skills to build teams and relationships both internally and with outside organizations.
Perfect mix of people and business — I am a natural people person, but the program helped me to better understand business decisions and management through data, policy, and conflict management courses.
How did this business and leadership degree affect your professional opportunities post-graduation?
In the 18 months it took to earn this degree, I was promoted twice and had the opportunity from another employer who reached out to offer a leadership position.

Pro Tip: For more information on Neumann University's unique business and leadership degree, read 7 Need-to-Know Facts About Neumann University's Leadership Degree.
Tell me about one faculty member who positively impacted your experience in the program.
The program director, Dr. Sam Lemon. He rejected my first Capstone proposal and encouraged me to get out of my comfort zone. At first, I hated that! But then, I realized no one ever grows by staying comfortable.
Because Dr. Lemon pushed me to be better, I have turned my Capstone thesis into a reality: I run a non-profit called Sneham — an organization that is dedicated to empowering people of all ages.
Leading organizational change with a graduate business degree from Neumann University:
Neumann University's Master of Science in Business and Organizational Leadership prepares professionals to lead high-performing teams, develop effective strategies, and make a positive impact in the lives of others. Graduates develop the tools necessary to find innovative solutions to business management and societal challenges.
Through a curriculum that ranges from knowledge management, legal issues, and public policy, to fiscal planning, leading organizational change, and ethical responsibilities, students emerge ready to assume advanced leadership careers in the workplace and the community.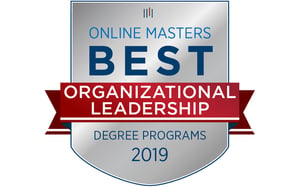 Neumann University's MS in Business and Organizational Leadership is proud to be home to individuals from a range of professional backgrounds — because the curriculum is broad and interdisciplinary in nature, the program attracts experienced professionals from diverse backgrounds including technology, banking, insurance, marketing, research, health care, education, law enforcement, public affairs, and engineering. This graduate business degree is also an attractive option for professionals who are passionate about leading organizational change and who are seeking direction on how to become an entrepreneur.
If you are interested in learning more about boosting your leadership career by obtaining a graduate business degree at Neumann University, we encourage you to schedule an individualized appointment with an admission counselor or begin your online application today.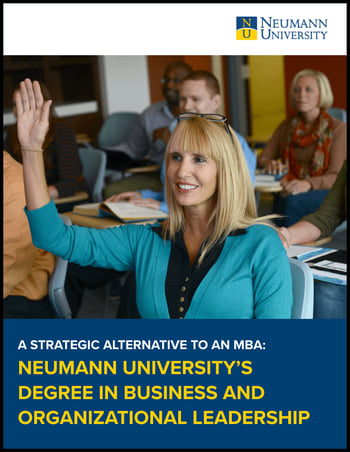 Choose to boost your leadership career in 2020. Download Neumann University's Business and Organizational Leadership Guide.