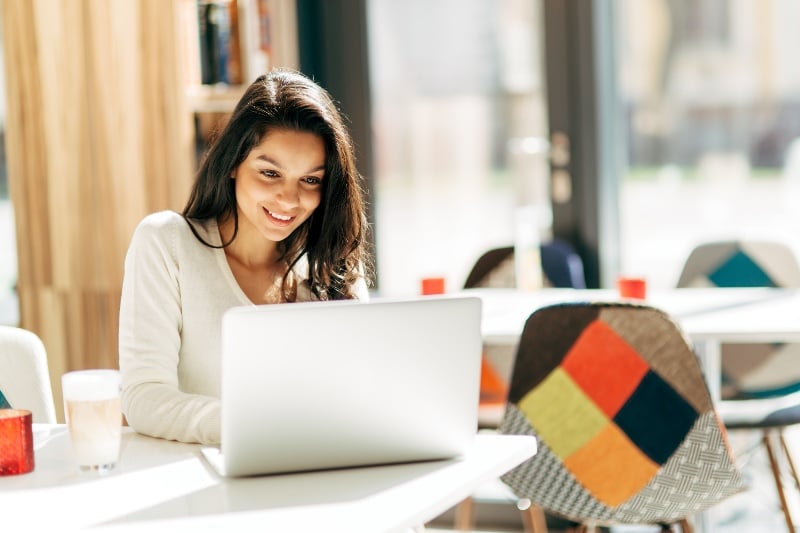 You may have wondered why exactly you need a bachelor's degree in order to secure a meaningful career.
It's important to question how and why you should advance your professional knowledge with formal education. After all, a four-year degree is an investment of time, money, and energy. That said, research shows that professionals with an undergraduate degree enter the workforce much more marketable and competitive than those who do not hold a bachelor's degree.
So, let's examine just three of the reasons you should considering getting a bachelor's degree.
1. Getting a bachelor's degree leads to Higher Pay.
Research by the Federal Reserve Bank of New York asserts that "the average college graduate with only a bachelor's degree earned $78,000, compared to $45,000 for those with only a high school diploma." With this in mind, you can be confident that post-graduation, you'll be able to command higher salaries upon hire compared to professionals who do not hold a college degree.
2. Another benefit of college? Job Security.
Data shows that those with a college degree are less vulnerable to experiencing unemployment. According to the Bureau of Labor Statistics, "the higher the level of education, the lower the unemployment rate." In fact, those with a college degree only experience an unemployment rate of 2.2 percent — compared to those who have some or no college credit (3.7 percent and 4.1 percent, respectively).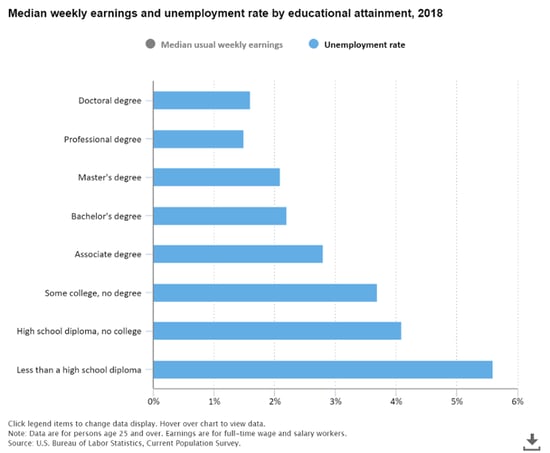 3. You will experience More Career Opportunities after going back to School.
Job opportunities tend to shrink for professionals who only hold a high school diploma: "A large majority of high school graduates work in the service industry, in low paying jobs that don't offer many opportunities for advancement. College graduates, on the other hand, tend to have skills that qualify them for a broad range of employment in fields that offer more upward mobility." Armed with a four-year degree, you can expect to qualify for a variety of meaningful careers that you otherwise would not.
Should you get a college degree online?
There are some obvious differences between obtaining a college degree in person versus online — i.e. one option requires on-campus attendance, and the latter allows for virtual participation.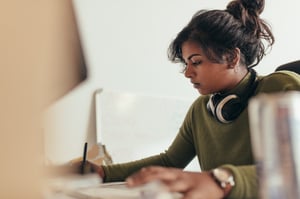 While getting a college degree online is a great option if you're looking for flexibility, you need to decide whether an online program is conducive to your learning style. This is an overlooked but incredibly important factor to consider. Students who are self-disciplined and motivated will thrive in an online learning format, while students who have trouble being proactive and organized will experience more challenges.
So, ask yourself some tough questions and determine if you have the drive to successfully complete a college degree online.
Note: Looking for additional tips? Check out this article: "7 Tips for Adult Learners Going Back to College."
Neumann University's 2 online degree completion programs:
Neumann University is proud to offer two online degree completion programs — accelerated academic programs for students who are looking to complete a four-year degree: Business and Organizational Studies and Public Safety Administration.
Because our programs are designed for busy or working adult learners, we are dedicated to making obtaining a bachelor's degree flexible, affordable, and accelerated.
If you are interested in boosting career, and if you are considering college as a way of doing so, then we encourage you to connect with us:
Best of luck on your journey! We can't wait to help you achieve your career goals.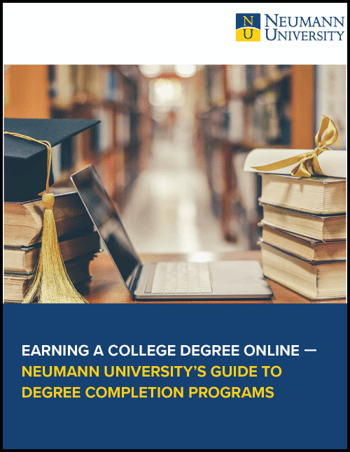 Thinking about getting a college degree online? Our newest resource will answer all of your questions about getting a bachelor's degree in an online setting — download the guide today!